The construction industry continues to be a hotbed of innovation, with activity driven by an increased focus on environmental sustainability and workplace safety, and the growing importance of technologies such as the Internet of Things (IoT) and robotics. In the last three years alone, there have been over 248,000 patents filed and granted in the construction industry, according to GlobalData's report on Environmental Sustainability in Construction: Atmospheric water harvesting.
However, not all innovations are equal and nor do they follow a constant upward trend. Instead, their evolution takes the form of an S-shaped curve that reflects their typical lifecycle from early emergence to accelerating adoption, before finally stabilising and reaching maturity.
Identifying where a particular innovation is on this journey, especially those that are in the emerging and accelerating stages, is essential for understanding their current level of adoption and the likely future trajectory and impact they will have.
80+ innovations will shape the construction industry
According to GlobalData's Technology Foresights, which plots the S-curve for the construction industry using innovation intensity models built on over 179,000 patents, there are 80+ innovation areas that will shape the future of the industry.
Within the emerging innovation stage, smart toilets and green roofing are the disruptive technologies that are in the early stages of application and should be tracked closely. HAWT wind turbines, environmental barrier coatings, and vacuum-insulated glazing are some of the accelerating innovation areas, where adoption has been steadily increasing. Among maturing innovation areas are hybrid electric heavy machinery and energy-efficient HVAC system, which are now well established in the industry.
Innovation S-curve for environmental sustainability in the construction industry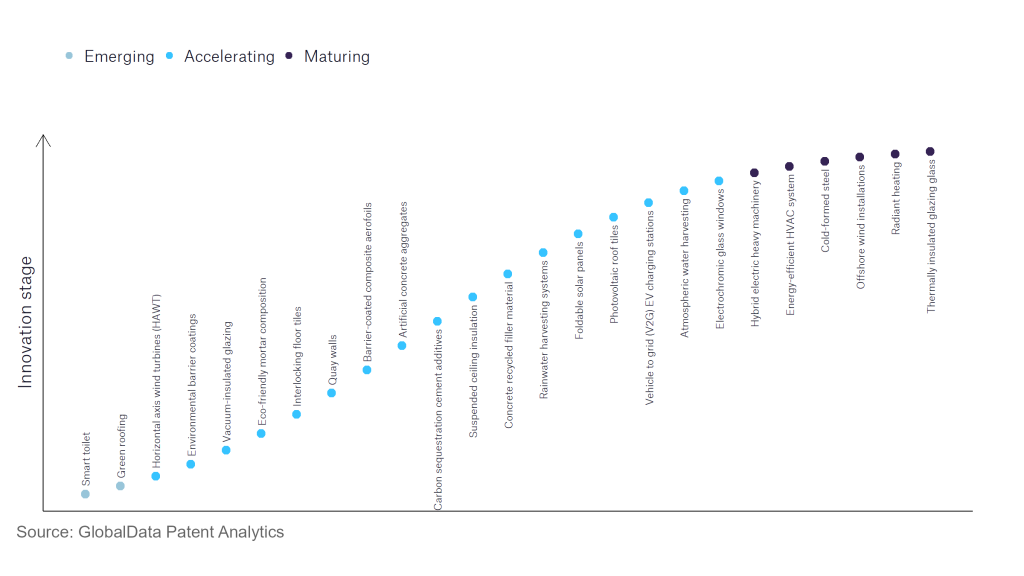 Atmospheric water harvesting is a key innovation area in environmental sustainability
With building and construction works requiring significant amounts of water, new technologies focused on atmospheric water harvesting to collect water from the air can help to reduce demand for mains water, enhancing the environmental sustainability of construction activities.
GlobalData's analysis also uncovers the companies at the forefront of each innovation area and assesses the potential reach and impact of their patenting activity across different applications and geographies. According to GlobalData, there are 10 companies, spanning technology vendors, established construction companies, and up-and-coming start-ups engaged in the development and application of atmospheric water harvesting.
Key players in atmospheric water harvesting – a disruptive innovation in the construction industry
'Application diversity' measures the number of different applications identified for each relevant patent and broadly splits companies into either 'niche' or 'diversified' innovators.
'Geographic reach' refers to the number of different countries each relevant patent is registered in and reflects the breadth of geographic application intended, ranging from 'global' to 'local'.
Patent volumes related to atmospheric water harvesting
Source: GlobalData Patent Analytics
Watergen is one of the leading filers in the development and implementation of atmospheric water harvesting solutions, using its patented GENius technology. Other leaders including Zero Mass Water, Siemens and GENESIS SYSTEMS. The latter's liquid-based technologies are stated to be capable of generating mass water from the air at daily volumes ranging up to 100 million gallons.
In terms of application diversity, the top position is held by Panasonic, which in 2022 revealed that it would invest to expand the production of air-to-water heat pumps at its Czech Republic plant, demand for which has been growing. By means of geographic reach, Lta held the top position.
To further understand the key themes and technologies disrupting the construction industry, access GlobalData's latest thematic research reports on Construction.