H20 Group has become a leading designer and manufacturer of stormwater management and wastewater treatment systems. We provide innovative, efficient and sustainable solutions for stormwater management, rainwater harvesting and wastewater treatment. Within the group we have a hugely experienced team with extensive knowledge in these sectors who can help you design and provide the best possible system for your given application, supporting clients' initial ideas and concepts with fully compliant and leading edge systems.
The group has two subsidiary companies :
H20 Water Management: working with architects and consultants on project design as well as dealing with the groups, OEM clients and all export sales
Black Hat Systems: manufactures for group and markets the range in the UK Construction Industry through extensive network of builders' merchants and distributors
Flood and rainwater management systems
In this sector we have several world class products that have proven performance capabilities:
Geoceptor – a very compact oil / silt separator which has been fully tested and approved for use throughout Europe to EN858. Geoceptor has proven to separate out hydrocarbons and silts from surface water flows to less than 0.05mg/l. This very efficient separator comes in a range of 8 products which will deal with surface water run-off from catchment areas up to 11,000m².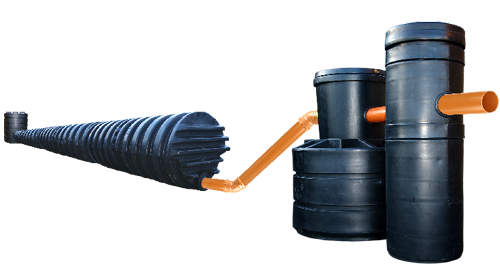 Flood Management Detail above shows a Stormpod Flood Management System with Geoceptor separator connecting into a line of Stormpods and then finally into flow control unit for managed discharge.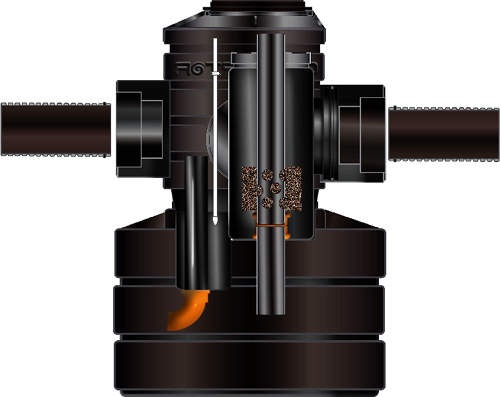 Geoceptor- Oil/Silt Separator. This high performance Bypass separator willSeparate oils and silts to less than 0.05mg/l. For use in drainage areas up to 11,000 sq metres.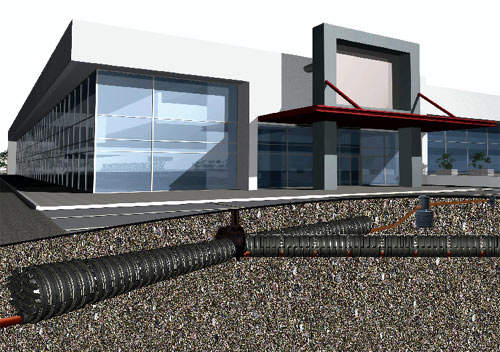 Commercial Rainwater Harvesting. Detail above shows a typical Aquapodinstallation with lines of pods from both roof and ground areas flowing into a central control system.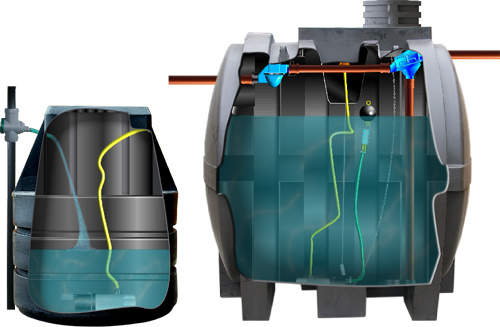 Aquarius Rainwater Harvesting Systems offer sustainable recyclable rainwater for use around the home and business. Replacing mains water supply for use on appliances internal and externally.

Modulus Sewage Treatment and Septic Tank upgrade systems. These modular sewage treatment systems are simple to install and and have been tested to comply with European standard requirement en12566.
Stormpod – our unique flood management/Attenuation system has been designed in conjunction with leading engineering institutions to offer a fully sustainable alternative to modular box or crate type systems. The complete Stormpod stormwater management system features a Geoceptor separator sited upstream, this filters out any pollutants before entering the designed Stormpod storage system. Downstream of the Stormpod storage is the flow control chamber with an integrated flow control which is designed to restrict the flow into the main sewer, in so preventing localized flooding through overload.
The main storage pods in the stormwater management system have been designed to be installed in the most adverse ground conditions ie: high water table areas In a minimum stone surround. They are lightweight but very robust and can be installed in minutes with limited effort or plant and machinery. With a large solids flow channel running throughout its base the Stormpod can be used in some waste water applications. They are manufactured from recyclable HDPE and need no welding, wet jointing our membranes.
Aquapod – as the use of potable water is an expensive commodity, particularly in industrial and commercial applications we decided to develop a hybrid system of the Stormpod that would recycle the clean filtered water supplied via the Geoceptor. The Aquapod system works in the same way as the Stormpod but unlike its sister product the Aquapod has a pump control system fitted into a final discharge/control chamber. This control system then distributes the clean filtered water stored within the pod system to the required appliances, typically toilets, vehicle wash, irrigation and some laundry applications. The Aquapod is unique in that because of the Geoceptor upstream it has the ability to re cycle contaminated ground water from carparks and hard standing areas giving far more storage potential from smaller sites than just roof water.
Rainwater harvesting systems
This comprehensive range of above and below-ground rainwater harvesting systems features our high-strength HDPE tank range as the main storage vessel. The integrated filtration and control system has been designed and developed to meet future standards and requirements for the UK and European market.
Featuring proven world class filtration, pump and control systems sourced from leading manufacturers. All Aquarius systems are designed for longevity. All systems carry a minimum ten year installation guarantee.
Wastewater treatment systems
We have also developed an extensive range of wastewater treatment systems for sewage treatment, greywater recycling, grease treatment and catering waste.