AUSDRAIN™ develops and distributes modular underground stormwater harvesting tank solutions and drainage cell for residential and commercial developments.
Since manufacturing the first interlocking drainage cell product in 1998, we have provided drainage solutions for a wide range of projects worldwide, including construction, landscaping, and civil works.
Rainwater harvesting tanks for residential and commercial properties
The AUSDRAIN EnviroModule2 Tank offers a cost-effective solution for underground water storage requirements in both commercial and residential areas. Collected water can be effectively recirculated for applications such as toilets, laundry, car washes, swimming pools and garden maintenance.

AUSDRAIN manufactures rainwater harvesting tanks for residential and commercial buildings.


The AUSDRAIN EnviroModule2 Tank collects and redistributes water for applications such as toilets, swimming pools and garden maintenance.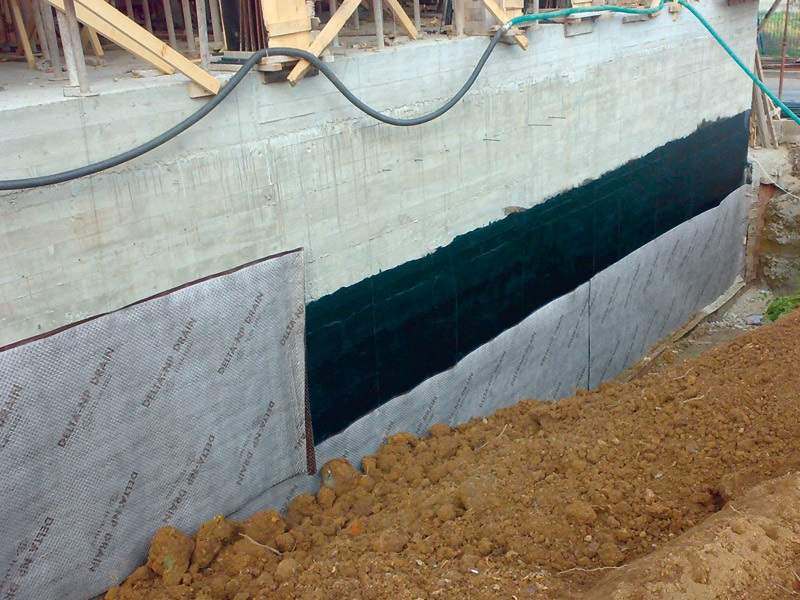 We are the exclusive distributor of DÖRKEN Delta NP high-performance drainage sheets.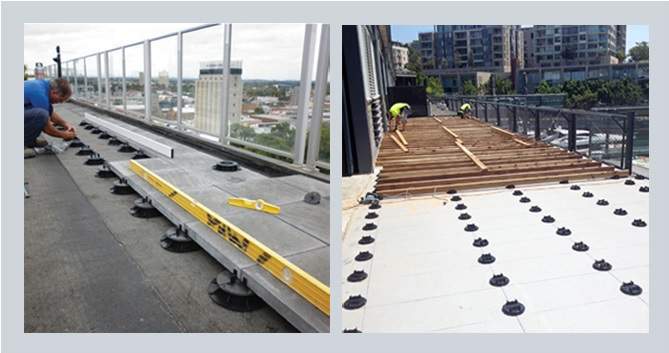 We supply Buzon pedestals, which are used to develop raised floors across a wide range of design and construction projects.

Our 50mm drainage cell was used in the Burj Khalifa in Dubai, UAE.
The EnviroModule2 Tank System replaces sizable aboveground tanks and can be customised to meet specific project requirements.
For limited areas, the EnviroModule2 extra-duty modular tank can be installed under the driveway, optimising land area and design flexibility. The system can also be easily modified to convert swimming pools into underground water storage tanks.
The customisable AUSDRAIN EnviroModule2 features a durable, high-tensile strength, factory-welded waterproof liner, which is supplied as a base and cap to ensure watertightness.
In 2018, a 1.5Ml EnviroModule2 tank was installed under the newly built Marsden Park Playing Fields.
AUSDRAIN was selected and approved by Blacktown City Council to provide recycled water to maintain the sports fields.
The 24m x 48m x 1.35m tank comprises 14,240 EnviroModules, which can collectively withstand loads of up to 20kPa. The tank was surrounded in a 2mm high-density polyethylene (HDPE) liner to create a watertight system.
AUSDRAIN's Flushmax™ system was also incorporated within the tank structure to provide an access point for long-term inspection, flushing and maintenance.
Our solutions offer a cost-effective and environmentally friendly alternative for underground rainwater harvesting tanks.
On-site water detention tanks
AUSDRAIN's EnviroModule2 on-site detention tanks can be easily installed in landscaped areas, car parks and driveways.
Each tank is sealed with a strong and durable waterproof liner, and compared with concrete tanks, there are no footings/slabs, blockwork or reinforcement needed.
Available in standard and heavy-duty configurations, our EnviroModules enable stormwater to be temporarily stored inside the tank before being discharged to the selected outlet.
Our portfolio ranges from small tanks for residential properties to large systems for commercial buildings. Council approval is required prior to installation.
Stormwater filtration units
The AUSDRAIN EnviroSump has been developed as a low-cost, effective and easy-to-maintain stormwater filtration system.
The solution is accompanied by a solid plastic lid or galvanised grate. A 600mm x 600mm x 300mm riser is also available to allow flexibility for required pipe invert levels in residential and small-scale properties.
Stormwater quality improvement devices (SQIDs)
AUSDRAIN's stormwater quality improvement device (SQID) is a pit insert that treats water at the source.
Suitable for car parks, driveways, gardens and courtyards, the SQID can be used in high-density urban developments. The solution is made with ultraviolet (UV) stabilised polyethylene and accompanied with high-grade stainless-steel mesh screens.
It eliminates all pollutants and waste, as well as prevents contaminants from entering underground water management tanks.
Suitable for new or retrofit stormwater installations, SQID filters are cost-effective, easily maintainable and can be modified to suit a wide range of pit internal dimensions.
Maintenance and inspection systems for rainwater harvesting tanks
AUSDRAIN managing director Gerard Jorna said: "For many years, councils and consultants have asked 'how can modular underground tanks be accessed for cleaning?'"
An industry first in Australia, the innovative AUSDRAIN Flushmax system offers a cost-effective solution to inspect and maintain our EnviroModule2 tanks.
Any solids contained in the Flushmax are collected and flushed out using a high-pressure hose to enable an efficient and uniform water discharge throughout the tank and flow to external pump systems.
Drainage cell for direct water flow
AUSDRAIN offers drainage cell with permanent, non-clogging voids measuring 30mm and 50mm, which enables a direct flow of water to designated outlets, avoiding the risk of moisture build-up and penetration.
The lightweight 30mm cell reduces structural weight by 98% in comparison to gravel, making it suitable for planter boxes, roof gardens and landscaped podiums. In comparison, the 50mm model is ideal for heavy trafficable areas such as driveways and access roads.
The 50mm drainage cell was used in the construction of the Burj Khalifa in Dubai, where 50,000m² was installed as podium drainage at the base of the structure.
We also offer AUSDRAINTM 30mm wall drain panels, which are a rigid, high-strength drainage cell solution for underground applications and retaining walls.
The 1,000mm² panels withstand heavy compaction, and ground and structural movement, and are pre-wrapped with filter fabric, which facilitates installation and minimises unnecessary waste.
The panels create a structural vacuum between the wall and back-fill in order to protect the waterproof layer and offer high-drainage efficiency, while eliminating the need for gravel as the main back-fill material. This results in a continuous discharge of water, preventing any water contact with the wall and avoiding damage from hydrostatic pressure.
Vertical drainage sheets for high-performance filtration

AUSDRAIN is the exclusive distributor of DÖRKEN Delta NP drainage sheets, which provide high-performance filtration through specially configured dimples.
Suitable for vertical construction and civil engineering applications, the sheet has an integrated geotextile fabric to filter suspended soil particles and provide constant drainage.
Height-adjustable paving and decking pedestals
AUSDRAIN is the exclusive distributor for award-winning Buzon pedestals in the Australian Capital Territory (ACT) and New South Wales.
The pedestal can be used with paving, timber decking and steel grating in order to create raised floors on balconies, terraces, green roofs, temporary floors and water features.
Available in heights between 17mm and 850mm, the pedestals create a gap that facilitates cost-effective access for any necessary maintenance. The pavers or timber decking can also be easily removed to locate and repair leaks without disrupting the surrounding area.
Buzon pedestals are designed, manufactured and tested in Belgium and can support weights of up to 1,000kg. The extensive range of pedestals and accessories provides designers with a permanent solution for a variety of applications.