Scheuten Solar is a globally operating, innovative and leading solar company that develops, produces, designs and sells photovoltaic (PV) solar modules and total PV solar solutions. In addition Scheuten Solar is a PV system integrator, active in design, development and realization of turnkey PV systems with both standard as well as glass-glass modules. Scheuten Solar has a wide experience in the realization of large eye catching PV projects as well as domestic PV solutions. Our range of PV products includes Optisol® glass-glass modules and design laminates for building integrated solutions, as well as Multisol® standard PV modules.
BIPV solutions – combining solar power and aesthetics
The Optisol® solar elements combine an aesthetically attractive appearance with high tech solar power. The Optisol® solar elements can be tailor made in sizes up to 4m x 2m and can be combined with all state of the art glass technologies for building applications. Optisol® solar elements are ideal facade and skylight elements in situations where a combination of function and aesthetics is required.
Durable, flexible and high quality
Real building creativity adapts to the needs of people and the environment. This means that ecology and aesthetics are equally important. Optisol® is able to fulfill both of these needs to a high degree.
The Optisol® range includes numerous variants from opaque to semi-transparent, with varying degrees of light permeability and different electrical ratings. This is exactly what individual building design requires. Thanks to many years of experience we have built up a high level of added value and service.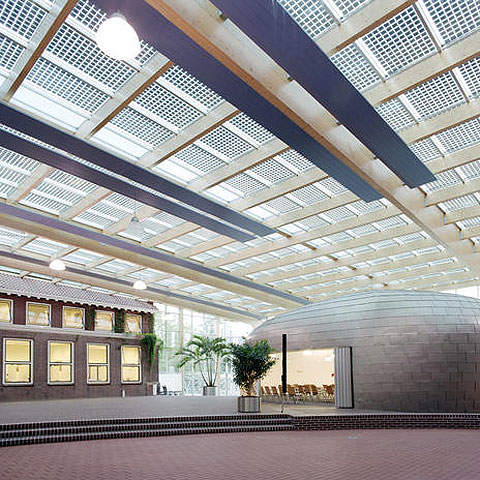 The Optisol® BIPV modules combine high tech solar power with an aesthetically attractive appearance.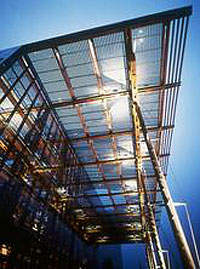 Optisol-LS uses a PVB interlayer between the front and the rear pane.
Optisol® façade elements copy the pattern of the outer skin of Hotel Industrial in Paris in a beautiful way.
Environmentally friendly solutions have rarely looked this good in practice: the shapes and colors of Optisol® elements can be manufactured in a number of different ways to perfectly adapt to the appearance of the outer skin of the building. The design in which solar cells are embedded in cast resin or PVB interlayer between two glass panes means that Optisol® elements can be significantly larger and more flexible than standard solar modules. This is a major advantage in terms of design and installation. Solar cells from various global manufacturers can be fitted in the Optisol® elements. The resulting diverse range of visual appearances of the photovoltaic modules allows the architect to exercise his creative freedom.
BIPV modules for overhead applications
Optisol-LS® uses a PVB interlayer between the front and the rear pane. This type of interlayer is widely used in the glass industry. Complying with EN 14449 / 12543, Optisol-LS® is considered as laminated safety glass, making it perfectly suitable for integration in overhead glazing applications. Optisol® modules can be planned and built just like standard glass facades or glass roofs and may be electronically connected similarly to standard PV systems.
The Optisol-LS® module consists of:
Front pane: low iron glass, high light transmittance, ESG/TVG
Interlayer: clear PVB film, colors on request
Rear pane: float glass, tempered/heat-strengthened
Module size: max 3,500mm x 2,000mm (oversizes on request)
Cells: 5 inch and 6 inch cells, mono or poly crystalline (special cells on request)
PV glass/back sheet design laminates
With our Design Laminate range, we combine our know-how in the field of standard solar panels with the flexibility provided by the BIPV production line for glass-glass modules. This enables us to manufacture glass/back sheet modules in a range of sizes and offer the optimal cell coverage for the format of solar panel desired. Together with the customer, we identify the available surface area to be covered with solar panels with a view to ensuring maximum output. Design Laminates are thin, light and easy to handle.
Features include:
Max dimensions: 3,500mm x 1,600mm, oversize on request
Form: rectangular, square, trapezoidal etc.
Front pane: 4mm highly transparent tempered glass
Cell type: 6 inch poly or mono crystalline
Cell coverage: 50%-90% coverage
Back sheet: black, white, transparent
Junction box: flexible positioning of junction box, patented system with multiple bypass diodes
Standard PV modules
Our Multisol® products are high-performance standard solar modules which, due to their low weight and sturdy design, are especially suitable for grid-connected PV systems, where flexible mounting and a high energy yield are required. All Multisol® modules are equipped with a robust aluminum frame and prefab multi-contact cabling. Scheuten Glass also offers a comprehensive range of structural glass products for the construction industry.