Ecoglo International designs and manufactures Engineered Solutions for emergency egress. Ecoglo's patented manufacturing process produces highly durable photoluminescent materials that are incorporated in sustainable and fail safe emergency lighting and signage systems.
The products provide superior visibility in daylight, a bright glow that lasts all night for dim or dark conditions and anti-slip material for all weather safety.
Ecoglo's patented products have been used worldwide in facilities as varied as the Melbourne Cricket Ground, New York's 'Jazz at the Lincoln Center', Singapore Supreme Court, Toronto's Eaton Centre, London's Bond St Underground Station and Dubai's 160 floor Burj Khalifa.
Activated by sunlight or artificial light the highly durable products work equally well in indoor and outdoor applications and will last for the life of a building.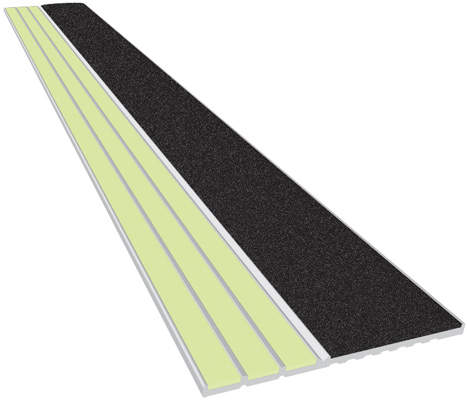 The photoluminescent material produces a bright glow that lasts all night for dim or dark conditions and the anti-slip material provides for all weather safety.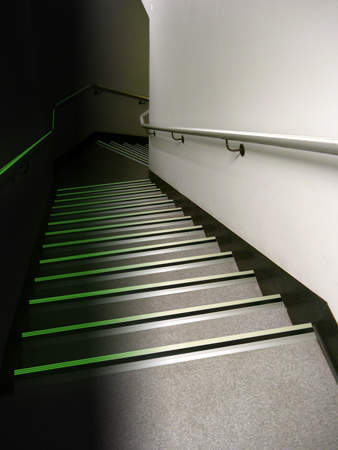 Ecoglo's high visibility step edges can help prevent debilitating injuries from slips and falls and can greatly enhance a building's overall safety and therefore reduce lawsuits.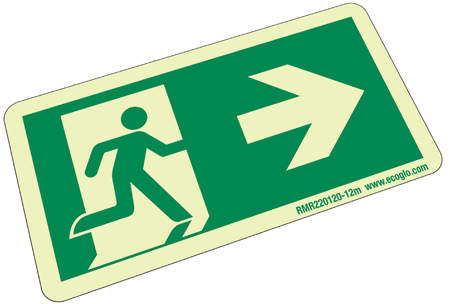 A complete pathmarking system can be designed with step edgings, handrail strips, seat numbers and emergency signage for ease of access in daylight and fast escape in blackout emergency situations.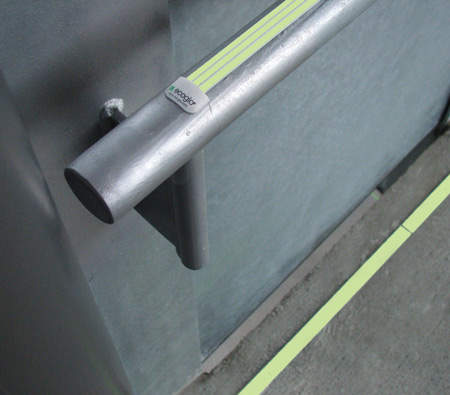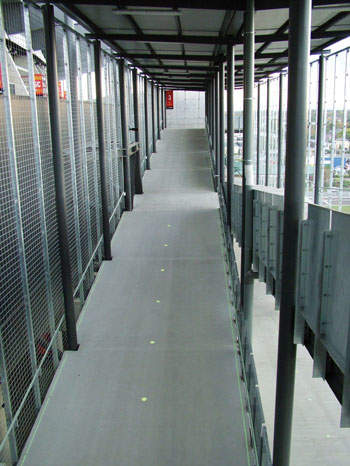 Owners and managers of stadia and arenas, education facilities, public housing and other public facilities are realising the many benefits of using Ecoglo photoluminescent products. These include:
Providing failsafe signage and emergency lighting, either standalone or as an enhancement
Reducing reliance on electricity and thereby creating more sustainable buildings
Reducing everyday slips and falls in daylight and in dark conditions
Providing aisle lighting
Emergency lighting
Ecoglo has recently released high performance Emergency Exit signs that can be engineered to meet performance requirements in any jurisdiction with a performance based building code. Buildings in USA, Canada, New Zealand, Australia, Singapore, India and UAE have fitted or retrofitted engineered solutions to provide a sustainable answer to emergency lighting issues.
After exposure to natural or artificial light the photoluminescent crystals are activated and this causes them to emit a steady bright glow which continues for many hours after activation. With egress signs, step nosings and edges, strip products and handrail markers a complete way-finding system for fast escape in blackout emergency situations can be provided. Ecoglo has been installed in facilities around the world for both slip and fall prevention and as an integral part of emergency lighting systems.
Reducing slips and falls
"Clearly slips and falls pose a very real threat to personal independence and well-being, and at the same time have the potential to significantly increase a building owner's liability," CEO of Ecoglo International, Trevor Dimond says.
"Ecoglo's high visibility products can help prevent debilitating injuries, particularly for the elderly, who suffer a majority of these falls, and at the same time can greatly enhance a building's overall safety and therefore reduce lawsuits."
For the same cost as painting with a good quality paint you can install Ecoglo slim line step edgings. You won't need to repaint because Ecoglo's unique manufacturing process creates an aluminum product of high durability, thereby providing a permanent solution.
When a step edge is visually defined and there is material underfoot that prevents slipping, people can move safely and therefore move confidently. Confidence in movement enhances speed of movement so large numbers of people can be efficiently relocated. Confidence in movement also means people can safely leave their seats and return from concession stands in stadia, arenas and theatres more frequently. This can mean more profits for facility operators. The visually impaired also benefit from the enhanced orientation and way-finding provided.
Sustainability
There are many ways to become more environmentally friendly and one of these is to endeavour, wherever possible, to use new technology products that are more sustainable. By harvesting sunlight or recycling the existing light in a building, Ecoglo products provide sustainable building solutions.
As well as reducing electricity usage Ecoglo products incorporate recycled aluminium and the manufacturing factory is carbon neutral. All products are non toxic and non radioactive. Being very durable they will last the life of the facility and can then be readily recycled.