Airius are world leaders in building temperature destratification and offer a range of highly efficient ceiling fans to destratify buildings with ceiling heights from 2.5m to 31m.
Destratification fans
Warm air naturally rises in buildings to produce a thermal imbalance floor to ceiling; temperatures in some buildings can exceed floor temperatures by anything up to 25°C or even more. Airius destratification fans prevent this difference from occurring therefore achieving significant energy savings of between 20% and 50%.
Airius can also help make better use of cooling equipment by re-distributing cool air much more efficiently throughout building interiors.
Airius fans are unique for effective internal warm/cool air distribution; the fans are inexpensive to purchase, very quiet, require near zero maintenance, are easy install into new build or retro fit and have very low running costs.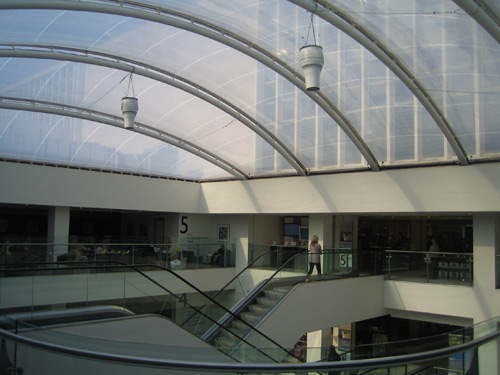 Airius 100 units destratifying a 30m high escalator well in a leading Oxford Street, London department store.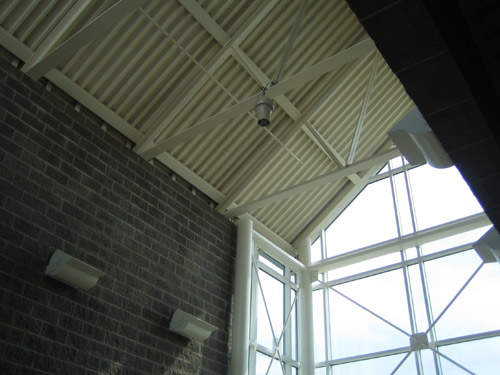 Airius 35 free hanging unit destratifying a high atrium.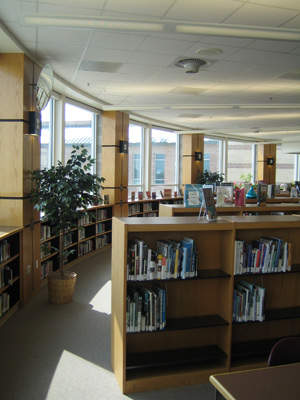 Airius suspended ceiling destratification fan installed in a library.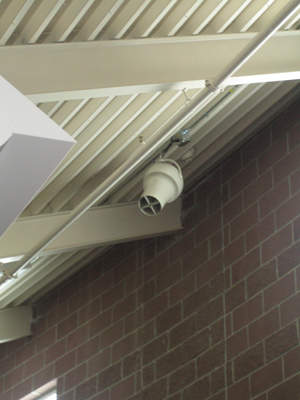 Airius destratification fan unit blowing warm air at an angle off a mezzanine floor into the central part of a building - NO DUCTING IS REQUIRED!!!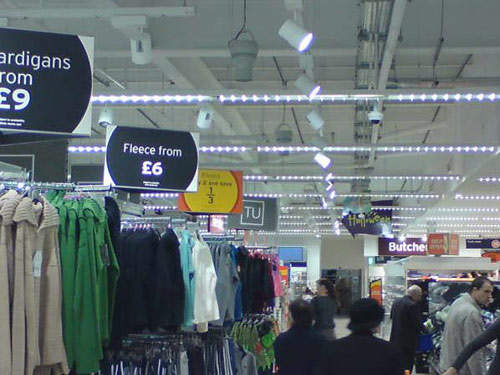 Airius free hanging units installed into a London supermarket.
HVAC-compatible destratification fans
Airius destratification fans work very well alongside all types of HVAC equipment to make better use of the warm / cool air produced. Wear and tear on HVAC equipment will also be greatly reduced as this equipment will not have to work so hard to maintain required temperature levels.
Ductless environmental control
Airius fans will move warm/cool air more efficiently throughout a building's interior taking the place of normal forms of ductwork therefore saving money on fabrication and installation and also implementing good energy savings as air friction and the need for large fan output is eliminated.
Fans for multiple environmental control applications
Airius fans can be used in a wide variety of buildings from warehouses, offices, aircraft hangers, manufacturing facilities, schools, sports centres, swimming pools, communal buildings, showrooms, supermarkets and general retail stores etc. Airius fans also benefit buildings with split levels, mezzanine floors and atriums.
Improved internal atmospheres
Airius fans move air slowly throughout the whole interior of a building eliminating warm/cold spots and improving internal air quality all year round.
Energy saving
Airius fans will not only make better use of your HVAC systems but will also use ambient heat from the sun, lighting and heat generated by any processes which take place inside a building which will enhance energy savings.
Manufacturing: One customer saved 45% on their 08/09 winter heating bill.
Retail: Fan units now being installed by major supermarket chains to save energy and also improve interior atmospheres by eliminating cold air problems in chilled aisle sections.
Warehousing: A major pharmaceutical company had major problems trying to keep the internal temperature of their main drug storage building within legal drug storage temperature parameters; Airius units were installed which more than solved the problem and at a fraction of the cost of anything comparable.