Balcony facades stands form the face of a building: through its balconies a building and its residents interact with the surrounding environment. The spirit of the building and its appearance are based on successful decisions. Lumon balcony facades correspond to the challenges placed by today's architecture and construction sectors – well-defined technical solutions accelerate construction and also give the designer the tools to create high quality architecture.
Lumon balcony glazing systems provide a convenient way of adding space to your home. Balcony glazing protects your balcony from rain, snow wind and dirt. A glazed balcony can be furnished and decorated, for example, as an addition to your living room.
Lumon procedures control the total supply chain from design to installation, and make the procurement decision very easy.
Glass and aluminium balcony facades
Glass and aluminium are materials that support sustainable development. By using these materials it is possible to design light feeling structures. Together they integrate the balcony facade, balustrades and balcony glazing systems to create a durable structure. There is no water sill required between balustrade and the balcony glazing system. Even when seated there is an unobstructed view from the balcony.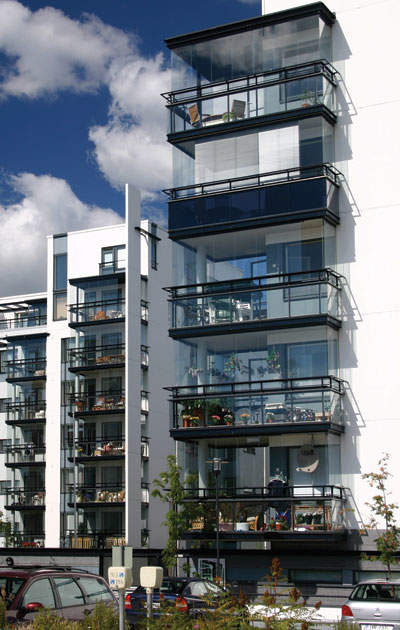 The finer technicalities and components of Lumon balcony glazing come together to maximize usability. The glazing can be completely opened aside, so cleaning is made safe and easy.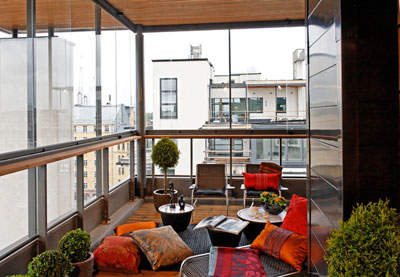 Lumon balcony glazing compliments a variety of furnishings and decor to complete a pleasant and functional leisure space.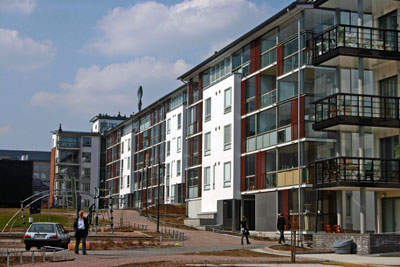 The clean, aesthetically pleasing Scandinavian design of Lumon balcony glazing combined with great usability forms the perfect balcony glazing solution.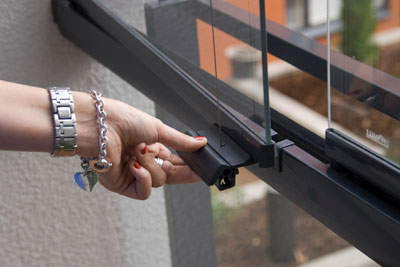 The Lumon balcony glazing system is a joy to use. The glass panes can be opened with just one hand and can be easily moved to one side.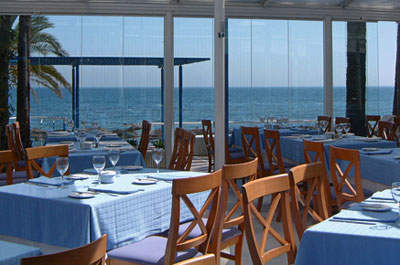 Whether it is a restaurant on the Riviera or a conference room in Brussels, Lumon offers a variety of options for privacy and functionality.
The aluminium colour can be chosen to match the overall building's colour. Various available balustrade fixing methods, variety of profiles and colours employ imagination. Glass as infill material enables the use of versatile and nuanced options. In addition to the basic selection of Lumon's laminated glass it is also possible to make very personalized, nuanced and even patterned surfaces. Furthermore, balustrade infill selection is not restricted to glass. Louvers that can be moved on tracks create protection and give a rhythm to the facade.
Balcony glazing systems
A Lumon balcony glazing system is an important and visible part of new construction. The product is also suitable for used in renovation to raise the standard of housing to correspond with today's requirements. The solution allows retaining the present appearance of the building or regenerating the whole facade.
Turnkey balcony facades
A Lumon balcony facade contributes to an integrated design and supply of a buildings elevation. Factory-made, meticulous sub-assemblies reduce the amount of work to be done on construction sites. Specific strength calculations or technical drawings aren't needed since structural design is a part of Lumon's overall service. The Lumon balcony facade is a well proved solution. It is designed, manufactured and tested to satisfy the most stringent local and international building regulations – wind pressure, dynamic and mechanical stress. Safety glass is used throughout the balcony facade. This offers increased security to the residents and contributes to a reduction in noise from outside.
The Lumon GDL-objects help the designer to integrate the balcony facade within the overall design. The GDL-objects also make it easier to illustrate various options. The design process becomes faster and easier. Lumon is ready to provide help in order to find the most suitable solution.
Balcony glazing system
The finer technicalities and components of Lumon balcony glazing maximize usability. Small profiles and design details create a stylish wholeness and a product that is easy and comfortable to use. Lumon balcony glazing can be completely opened aside, so cleaning is made safe and easy.
Whether you choose ventilation crack, partly open or whole view / wide open positions, Lumon Balcony glazing satisfies the user's needs.