Inscape is a leading designer and manufacturer of innovative solutions for today's constantly evolving workplace, offering a continually expanding range of products and services, including office furniture systems, filing and storage systems, desks, casegoods and architectural products.
Today, amid growing complexity in office environments, Inscape helps its customers keep things simple. Providing precision-engineered products that emphasize compatibility, adaptability and integration, Inscape is dedicated to meeting the visual and functional demands of any workplace while minimizing ongoing investment. Inscape's overall portfolio includes an array of innovative, configurable product and service solutions
that combine to produce office environments characterized by optimized efficiency and enhanced organization.
Open frame office furniture system
Platform is a GREENGUARD certified innovative office furniture system that offers exceptional flexibility and cable management capabilities. Platform's unique design keeps pace with the rapidly changing needs of organizations, people, and the technology they use.
The panel's open frame, aperture-free architecture facilitates cable lay-in and fast, easy reconfiguration. Platform is designed to evolve with the office.
Generic components, lightweight steel frames, snap on and off tiles and trims, and no-post frame connections enable Platform to respond readily and cost-effectively to the need to change, add or delete workstations.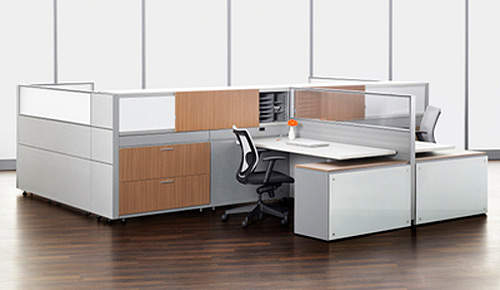 Inscape's Scala, Storwal and Planna systems integrate to create beautiful and functional workstations.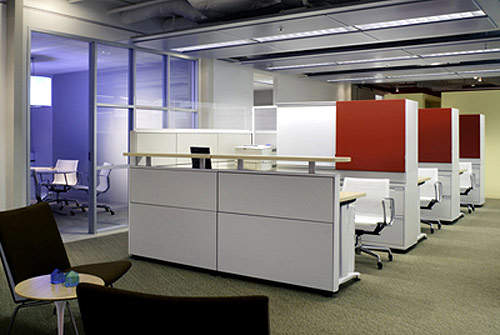 Inscape's Platform and Storwal systems integrate for efficient workstations with ample storage capacity.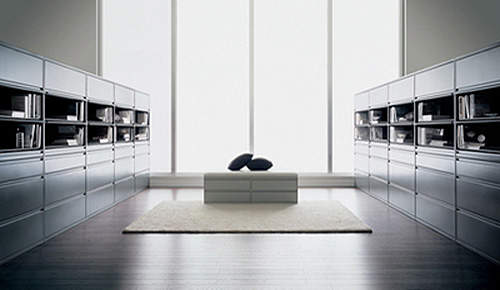 Inscape's Office Specialty filing & storage solutions offer industry's most comprehensive options.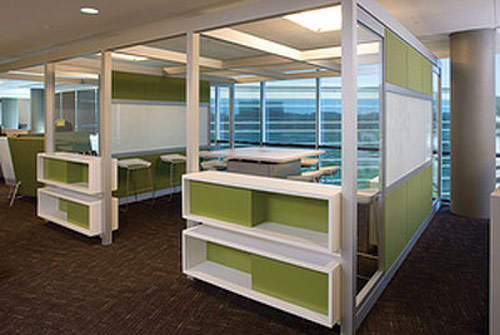 Inscape's Interval post + beam product used to create custom meeting space.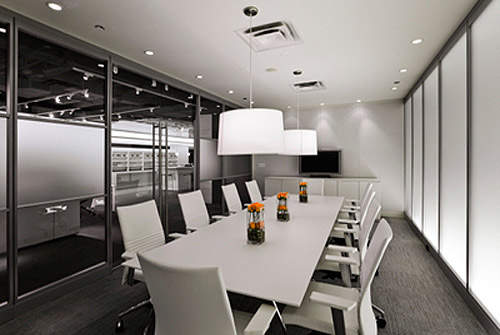 Inscape's Fronté movable storefront in boardroom application.
Workstation panel system
Designed for ultimate planning flexibility with strong visual appeal, the Scala workstation panel system raises the bar for systems products in the mid-priced category. Architectural in look with linear and horizontal planes, Scala provides a residential feel with steel-based functionality and durability.
Using tiles up to 96in wide, unmatched 2.5in thin panels, and mid-panel support for worksurfaces without legs, Scala features long, continuous worksurfaces complemented by a slim profile and light-scale feel. Ideal for work environments ranging from open to closed spaces, panel to storage based, and contract to residential aesthetic, Scala helps meet today's evolving needs with easy scalability and panel system functionality
that seamlessly integrates with a storage spine. Scala is GREENGUARD certified.
Desking and credenza system
Planna is a storage based desking and credenza system offering a high-end aesthetic and durable alternative for the mid-market category. Planna incorporates floating worksurfaces to produce long, low, intersecting lines evoking the sleek horizontal architectural styling of Tadao Ando.
Storage-based furniture system
Storwal is a different, more innovative approach to office design. Unlike panel-based systems where storage seems to be an afterthought, our solution is built around walls of storage. With Storwal, individuals have more active and useful space: no overhead bins and nothing cluttering up the work area, easier access to documents, better chair mobility. Storwal is GREENGUARD certified.
Filing and storage systems
For more than a century, Office Specialty has been a leading provider of strategic filing and storage solutions. Combining the highest quality products with unrivaled customer service, we supply the industry's most comprehensive selection of lateral and vertical files, storage towers, pedestals, bookcases and more. Office Specialty filing and storage products are GREENGUARD and cradle-to-cradle certified.
Inscape architectural products offer privacy, aesthetics and a high degree of flexibility
Inscape architectural products are designed to move effortlessly, creating inspiring spaces that address evolving needs. At Inscape, we believe a truly integrated wall solution provides privacy and aesthetics while maintaining a high degree of flexibility. In a world where workplace planning can seem like musical chairs, Inscape walls respond quickly and efficiently to any change. Inscape walls provide the ability to integrate
electrical, data and communication requirements while still providing flexibility and ease of reconfiguration in a superior finished and functional product.