Gloster offers a comprehensive range of both classic and contemporary styles of teak, stainless steel, aluminium and woven wicker outdoor furniture to suit all requirements and locations.
High-quality contract outdoor furniture
Gloster's origins as outdoor furniture makers go back more than 40 years and today the Gloster name is synonymous worldwide with the best design and the highest quality in contract outdoor furniture.
Key to our philosophy is the belief that outdoor furniture is as important a style statement as indoor furniture, hence our range incorporates both classic and modern designs to cater for all tastes and requirements. From the traditional to the contemporary, dining chairs to sun loungers, tables to modular seating – there is something for everyone in the Gloster range.
Sling, stainless steel, powder-coated aluminium and man-made woven wicker fibre outdoor furniture
Whilst Gloster is perhaps best known for teak furniture, recent years have seen the arrival in our range of the alternative and modern materials of sling, stainless steel, powder-coated aluminium and man-made woven wicker fibre.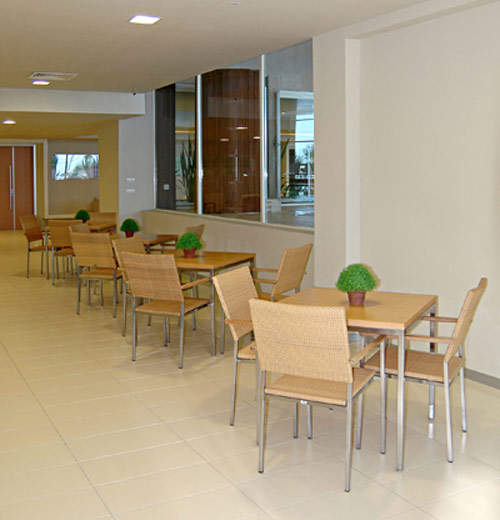 Geneva dining furniture at the Renaissance Polat Hotel - Istanbul, Turkey.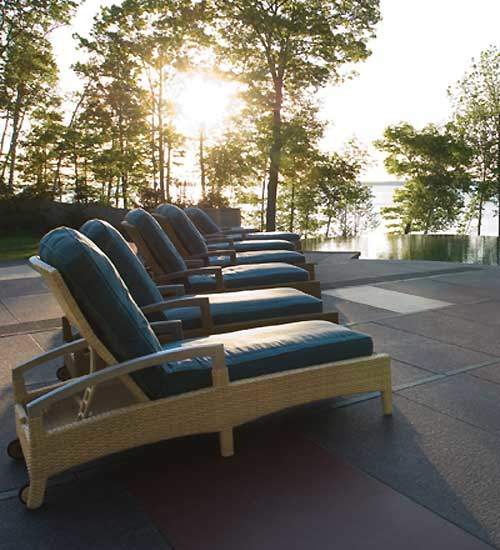 Plantation chaises at the Inn at Ocean's Edge, Camden, Maine, USA.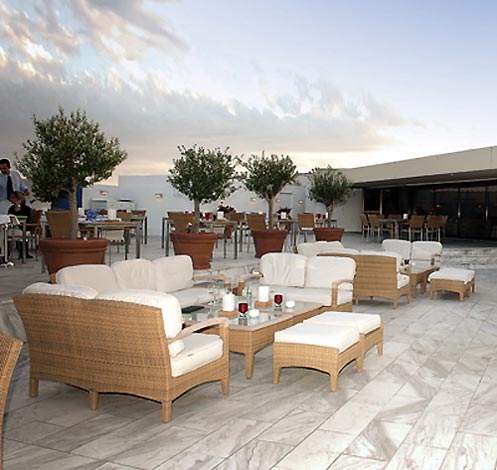 Plantation seating at the Hotel President, Athens, Greece.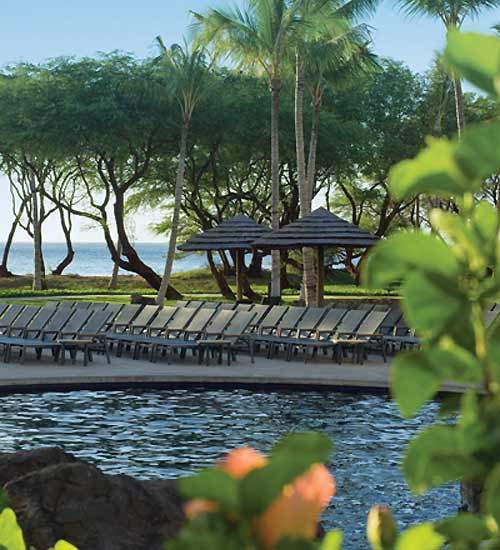 Luna Sun loungers at the Westin Ka'anapali Ocean Resort Villas, Hawaii.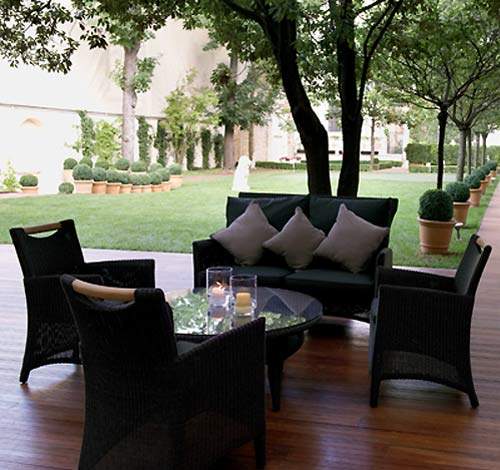 Casablanca seating at the Ritz Hotel, Paris, France.
However, whatever the raw material used, we believe that quality is everything – we do not cut any corners or manufacture our products to any price-point. You will be able to find cheaper outdoor furniture, but you will not find better.
Sustainable teak outdoor furniture
Gloster furniture is selected by the most demanding customers who insist on the best, and so we believe that we have to be the very best in all that we do, starting with the manufacturing. Gloster has its own factory near Surabaya in Java, Indonesia, which we started nearly 20 years ago. Here we use both traditional and modern methods to achieve production standards that exceed those of most other indoor and outdoor furniture manufacturers. The factory is located close to our sustainable teak plantations, is run by a European management team and employs over 500 people.
In addition to teak, Gloster is expert in the use of a variety of materials for the manufacture of our furniture. Extensive use is made of stainless steel, powder-coated aluminium, man-made woven wicker and sling material, and there are specialist departments within the factory entirely devoted to the working of these materials to the same high standards as our teak components.
Bespoke outdoor furniture
Thanks to our flexibility in manufacturing, custom products can be quickly developed and manufactured to suit a specific function, style or project. In-house manufacturing also ensures cushion quality matches the quality of the furniture.
Every piece of Gloster furniture is manufactured to exceptional standards by skilled furniture makers and each item is hand-finished to guarantee years of service in demanding conditions.
Of course, great manufacturing is wasted without great design. Gloster currently works with renowned designers such as Axel Enthoven (Belgium), Povl Eskildsen (Denmark), John Caldwell (US) and Mark Gabbertas (London) to create timeless, elegant furniture.
Environmentally friendly teak furniture
We work continually with the managers of the government owned plantations and other interested parties to ensure that everything to do with our use of Teak is environmentally correct. We also take great care that all our manufacturing activities follow good environmental practices for the good of both our own employees and the people of the local communities.
The teak trees in our plantation are cared for all year round, ensuring minimal environmental impact, provision of local employment and the highest quality of teak timber.