With its Twinson environmentally friendly outdoor ground covering, Deceuninck blends the best of both worlds: nature and technology. A combination of wood and PVC in a single base material, Twinson has a warm and natural look and feel, and is an environmentally responsible alternative to tropical hardwood decking. Deceuninck's Twinson O-Terrace and Twinson O-Terrace+ ground covering systems bring the advantages of Twinson to the residential and commercial market.
Twinson: benefits of wood and PVC in a single base material
Our decking combines the natural appearance and warm feel of wood with the usability, durability and ease of maintenance of PVC. Twinson is slip-resistant and free of splinters and splits. Plus it is water-resistant, robust and is 100% recyclable. Twinson is available in eight natural colours from almond beige to liquorice black.
Decking for paths, patios, terraces and pool-edgings
O-Terrace is the ultimate outdoor ground cover solution for garden paths, patios, terraces, pond and pool edging. O-Terrace decking material is made of Deceuninck's revolutionary Twinson material. It is water-resistant, rot-proof and splinter-free, and remains comfortable to the touch and a pleasure to look at. Its double-sided finish allows you to choose from a more robust or a more refined look. What's more, assembly is easy.
Premium outdoor decking
O-Terrace+ is a premium outdoor decking based on Deceuninck's revolutionary Twinson. It is specially designed for commercial applications such as harbours, hotels, restaurants, pubs, public swimming pools… The wave design surface is semi-flush, with no gaps but rather a shallow accent line between the planks. A nicked profile prevents small objects from becoming trapped between planks. O-Terrace+ features a new clip and slide system with limited screws. The new assembly system allows planks to be individually dismantled and replaced.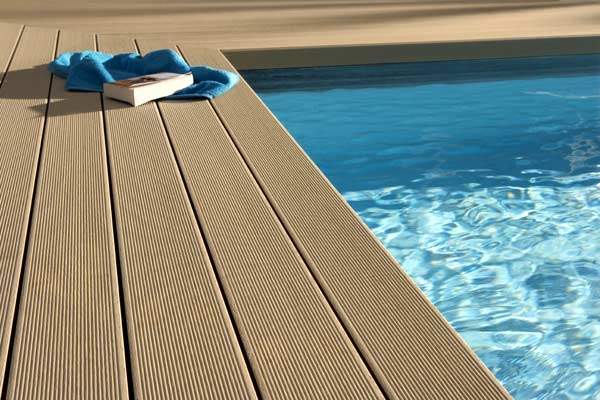 Water resistant Twinson O-Terrace decking is slip resistant and free of splits and splinters. It is ideal for garden paths, patios, terraces, pond and pool edging.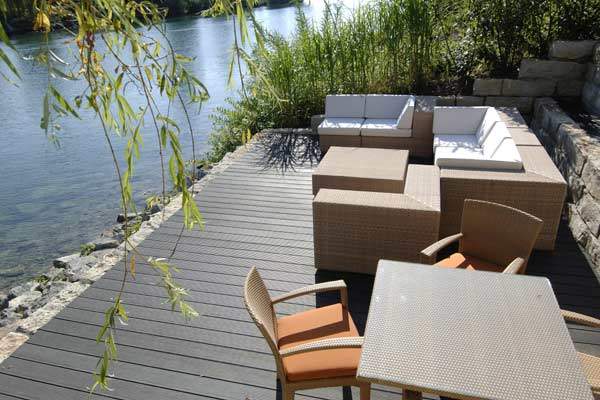 Twinson O-Terrace decking combines the comfort and elegance of wood with PVC's durability and ease of maintenance.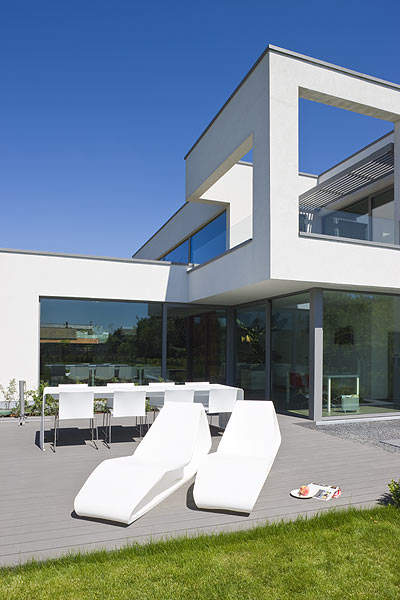 O-Terrace is a durable decking solution with a high quality look and feel that is easy to install and maintain. O-Terrace and O-Terrace+ bear the German VHI quality label.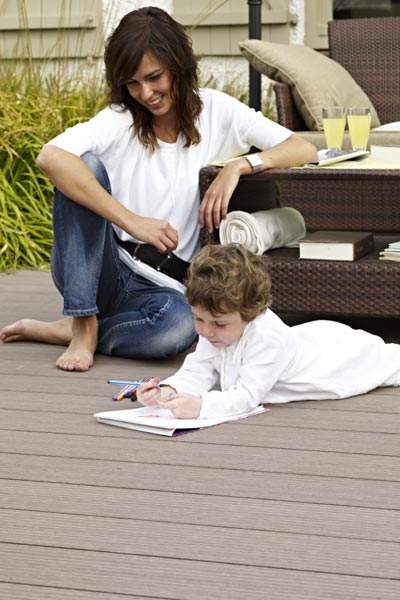 O-Terrace and O-Terrace+ decking solutions are splinter and split free, and comfortable to the touch. They retain their strength and beauty for years.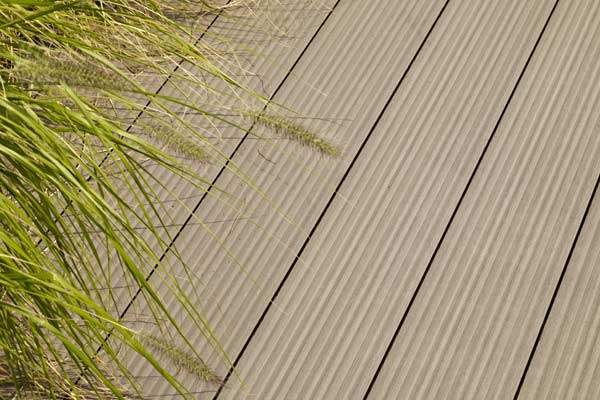 Twinson O-Terrace and O-Terrace+ are available in 8 natural colours: Almond Beige, Olive Green, Hazelnut Brown, Bark Brown, River Stone Grey, Apricot Brown, Turf Brown, Liquorice Black.
Environmentally-friendly decking material
Twinson provides all the benefits of tropical hardwood without depleting the world's natural resources. The wood in Twinson is PEFC pine, which grows quickly in forests and is continually replanted. Moreover, Twinson is 100% recyclable, and hence can be re-used without loss of quality.
About Deceuninck
Deceuninck is a leading designer and manufacturer of high quality systems for windows & doors, roofline & cladding, interior & outdoor living (terrace, fencing). Core technologies include PVC extrusion and Deceuninck's Twinson composite material. The Deceuninck Group is active in more than 75 countries, has 35 production and sales subsidiaries throughout Europe, North America & Asia, and employs 2,800 people worldwide. Deceuninck is listed on the Euronext Stock Exchange.