Lapidarist and designer Surabhi Swarup and her master craftsmen helped restore India's magnificent Taj Mahal. Their exquisite stone inlay and pietra dura work features everywhere from the Chanel flagship store in Paris and Indian palaces to five-star hotels and some of the world's most beautiful homes.
Her company, Surabhi Design, specialises in turning marble and base stone into something opulent and extra-special by fusing it with semi-precious materials using a variety of techniques, including pietra dura.
Surabhi Design's product range includes:
Flooring
Wall panels
Fountains
Staircases
Murals
Pillars
Fire places
Bath tubs
Mirror frames
Tables
Dado rails
Swimming pools
Handrails
Panels
Mantlepieces
Vanity tops
Bar tops
Pietra dura floors, walls and furnishings
Surabhi Design's discerning clients have commissioned us to create everything from luxury flooring and walls to wall panels, counters, screens, table tops, basins and statement pieces of furniture. Our stylish Maia collection uses pietra dura inlays, overlays (veneers), solid epoxy gemstone slabs, gemstone carving and artistic bas relief carving.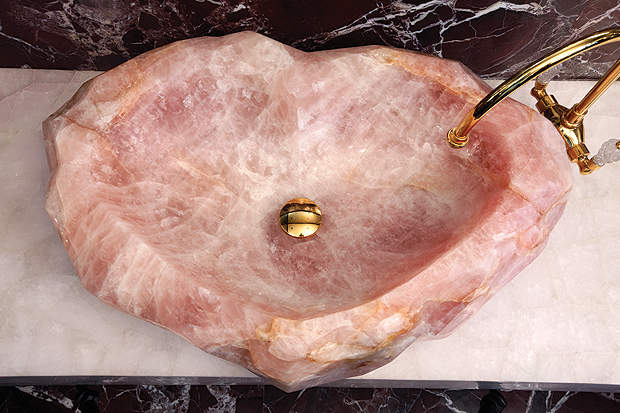 Rose Quartz (Heart shaped) basin designed for a powder room, hand sculpted and polished out of single rock of rose quartz.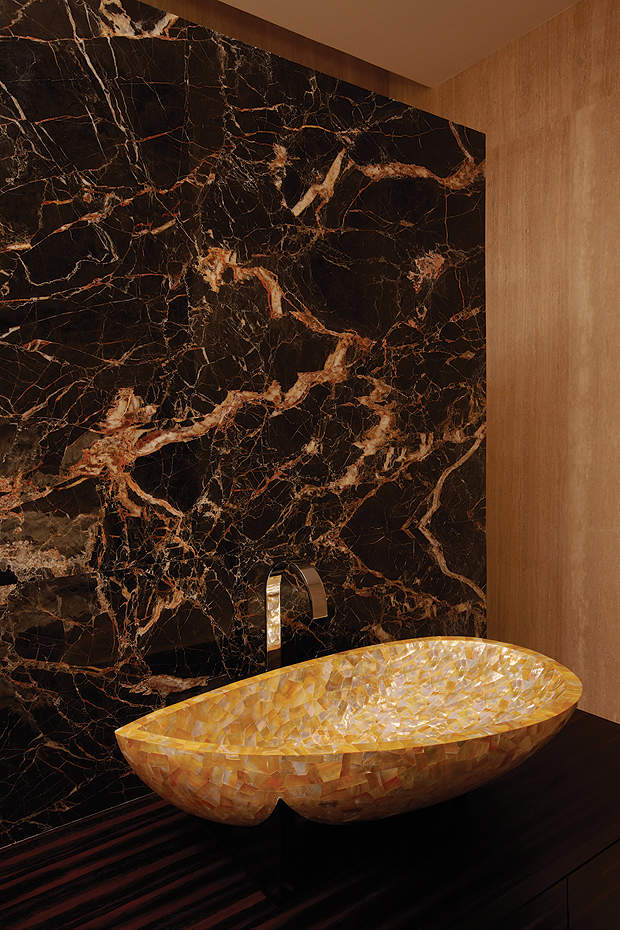 Gold Mother of Pearl (MOP) droplet, the concept basin is exclusively designed to add richness of gold in a powder room .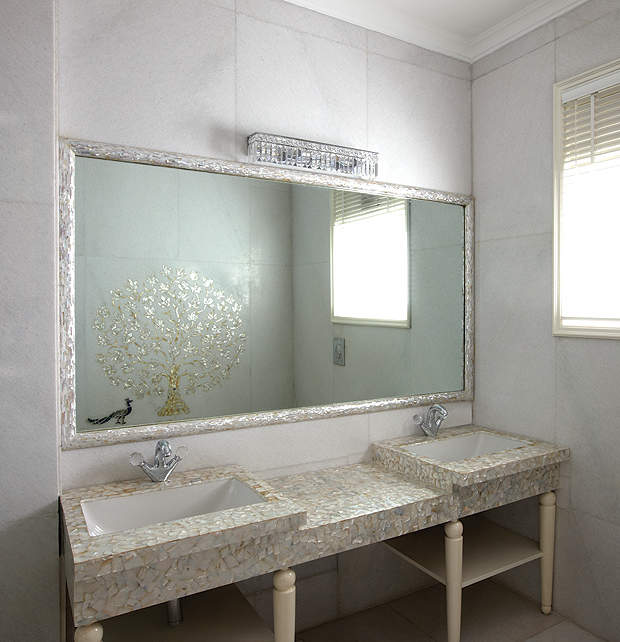 This bespoke bathroom is studded with white MOP on counter top, mirror frame wardrobe handles and inlayed with beautiful 'Tree of Life' with a colorful peacock and leaves spread around.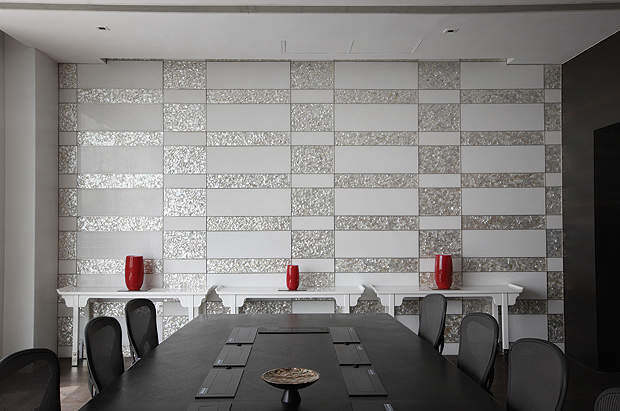 Walls of Director's conference room, crafted with white MOP, Indian marble and stainless steel.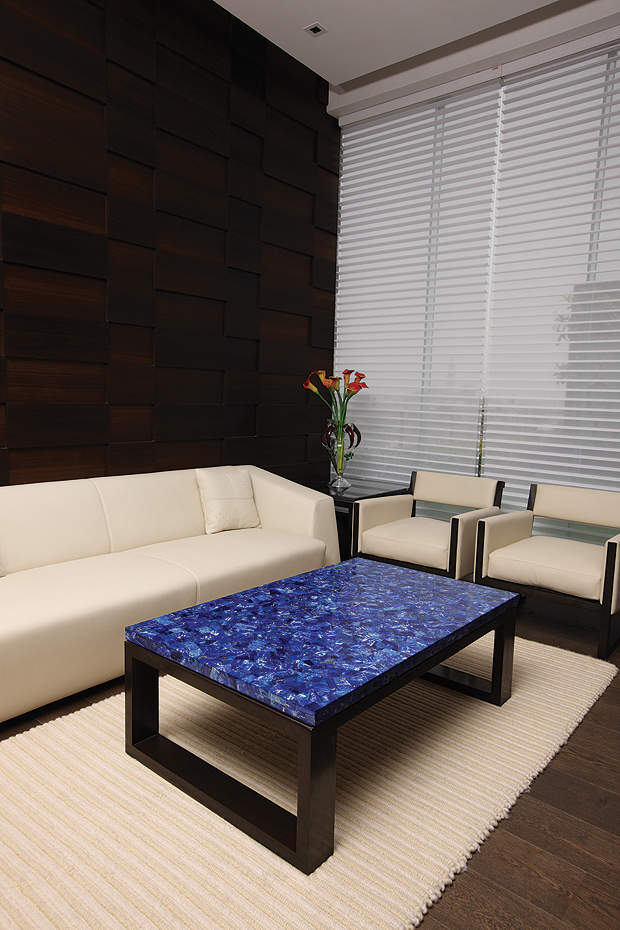 Super select lapis lusili coffee table, adding brightness and color to MD's cabin.
Our pierced lattice jali are elaborate carved screens reminiscent of the Mughal era and are used both indoors and outdoors. Jali can be carved from marble, other natural stone and wood.
Surabhi Design also offers a choice of more than 70 gemstones in an array of jewel-like colours. Some can be used in epoxy gemstone slabs for table and counter tops and all can be used as inlays to give colour and interest to marble, stone and wood. Our gemstones include lapis lazuli, pink opal, quartz, agate and amethyst. We also use mother of pearl to create an iridescent effect if desired.
Bespoke pietra dura furnishings and building decorations
All of our pietra dura work is bespoke and we pride ourselves on our attention to detail, our supreme quality and professionalism. Yet our hand-crafted, luxury products are competitively priced.
Our sophisticated clients, who include architects, statesmen, aristocrats, industrialists and Bollywood celebrities, insist on the best and often have strong ideas on design. we are also happy to help with suggestions.
Surabhi's in-house designers embrace a range of styles, including classic, traditional, classic and contemporary. We also give advice on installation, after care and cleaning.
Surabhi Swarup is personally involved in every project and looks forward to bringing a touch of the Taj to your interior.
"Our collection is bespoke and we make it very personalised as per the client's taste and adapt our design to their decor. I am very hands-on in every way to make sure my clients receive the very best," Surabhi explains. "Our product line is mostly used in the most important areas of a building like the entrance, living room, formal dining area, powder room, etc. Such areas need special attention in terms of aesthetics, quality and finish. We also design for grander locations, such as classical palaces and plush offices across the world. And since our clientele are based worldwide, quenching the aesthetic desires of different people from different cultures is a quest that inspires us to create a variety of classical and modern designs."
Pietra dura for building decoration
Since launching in 2004, Surabhi Design has revived interest in the long-lost tradition of pietra dura and has created countless pieces of functional building decoration using stone as a canvas. Historically used by Italian artists and beloved by the Mughals of India, this highly-skilled craft involves cutting and inlaying polished gemstones to create patterns and even pictures in marble, base stone or wood. The result is stunning, sparkling and truly mesmerising.
Gemstone accessories and stone inlay for building decoration
The most famous example of pietra dura is at the Taj Mahal in Agra. Created in the mid 17th century boasts many intricate inlays. Some of our India-based craftsmen are descended from those who worked on the Taj for Shah Jahan. Surabhi is honoured to have worked on this awe-inspiring building after being asked to help in its sensitive restoration.