The Lighting Design House was founded in 1995 by Mary Rushton-Beales. Our experience includes all aspects of interior and exterior lighting design for existing and new build projects including airports, commercial areas and shopping centres, resorts, retail facilities, hotels, and hospitality as well as specialist projects with unusual requirements such as the creation of healthy, physiologically beneficial environments, light festivals and light
installations with artists.
For the last 13 years the practice has worked overseas in the Middle and Far East and current projects are in the UK, Ireland, Russia, the UAE and surrounding areas of the Middle East.
Lighting design and analysis
We work with design teams from all over the world developing lighting designs from the preliminary concept and feasibility stage, through concept design, detailed design, implementation and construction and commissioning. We also have experience in daylighting analysis and design, detailed 3D modelling for light level calculations, integration of digital media within environments, incorporation of light within art with over ten years experience of working with different artists, constantly mindful of current regulations in energy saving and sustainability.
Throughout the existence of our practice we have worked directly for clients, for architectural practices such as Blampied and Partners, for brand experts and designers such as SCG London and The Design Solution, and for services consultants such as FHP Partnership. We fully understand the need for cooperation and communication on all levels, throughout all phases of the project. We believe this understanding is vital for projects today.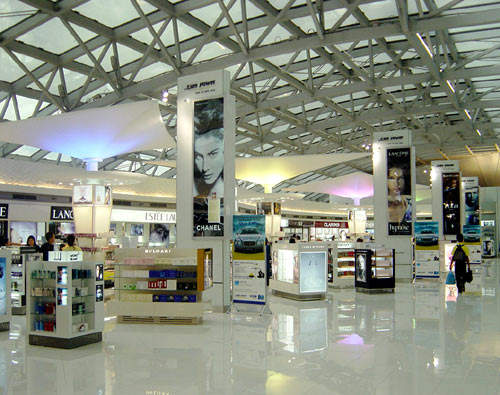 Suvarnabhumi Airport, Bangkok. Designers: The Design Solution. With TDS we developed the concept of uplit light rafts to provide locations for highlighting, reflected background light and define shopping zones.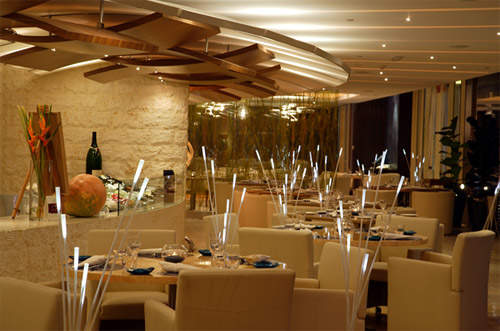 Mahi Mahi Restaurant, Dubai. Designers: Bishop Design Associates. A subtle combination of different shades of white light complements the eclectic contemporary theme.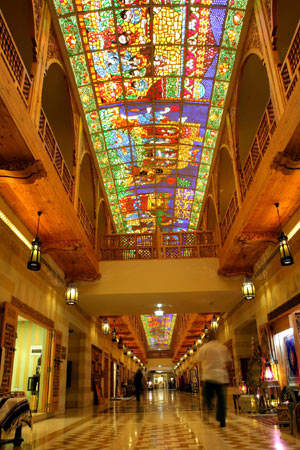 Khan Murjan Underground Souk, Dubai. Architects: Arif & Bintoak. Our challenge was to balance the backlighting of the huge stained glass vaulted ceiling with the background environment and the craft outlets. Several mock ups were necessary.
Wafi, Dubai. Architects: JR Harris. As part of the design for the scheme as a whole, a custom interior lighting system was developed to enhance the stained glass window.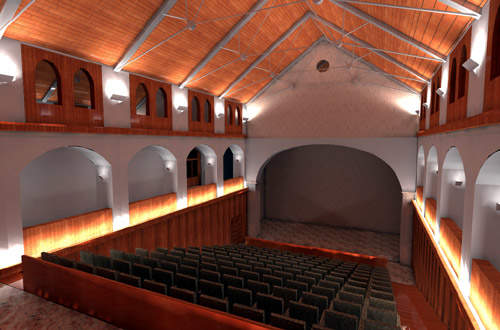 Auditorium, Oxford Centre for Islamic Studies. Architect: Blampied & Partners. This example of our 3D modelling and calculation service was used to prove the feasibility of localised lighting integrated with seats.
Turnkey lighting design services
As well as our full service we can also be commissioned to look at a particular aspect of a project or development and provide professional reports and analyses. Typical work has included reports relating directly to planning applications and restricting "light pollution" e.g. the information needed to meet the planning requirements of the "Clean Neighbourhoods Environment Act 2005/2006 Statutory Nuisances (artificial light).
Other reports include proposals for urban lighting strategies, feasibility studies and our "one-stop" service where we help designers and architects quantify how much light they are achieving in a scheme they have already planned and if it complies with the relevant guidelines and regulations.
Detailed 3D modelling for light level calculations
Since 1999 we have been using a specialist lighting calculation program alongside traditional calculation methods to analyse the natural and artificial lighting effects in environments and propose appropriate lighting techniques. We have several case studies where we can demonstrate the accuracy of the calculated effect in comparison to the final outcome.
Teaching lighting design
Mary has been teaching Designers about lighting since 1988 and has lectured at UCE, Birmingham, Reading and Bournemouth Schools of Art and design, University of the Creative Arts, Farnham and the RSA. Over the last 15 years she has been reaching a wider audience, lecturing for the International Association of Lighting Designers, the Institution of Lighting Engineers and at international conferences on behalf of Philips Lighting. She is regarded as an industry expert in the field of physiologically beneficial lighting. These links with design education keep the business at the forefront of current design ideology.
Lighting design team
Our team is drawn from design, engineering and fine art backgrounds. Our service combines imagination, technical expertise, pragmatic and practical experience, and understanding of the vital need for co-operation within the design and construction team. We are active within related professional associations such as the Chartered Society of Designers, and the International Association of Lighting Designers; Mary served as a board member for IALD from 2005 – 2008. Mary is also an active member of the global entrepreneur network XL World.