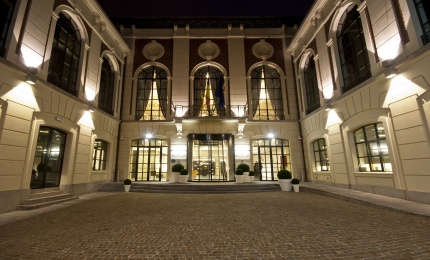 With over 40 years of experience as a lighting manufacturer, LEDS-C4 has established itself as an international reference point in the hospitality sector.
LEDS-C4 is a specialised lighting manufacturer for the hospitality industry, with more than 40 years' experience in the design, development and production of lighting equipment. The company has a presence in 138 countries worldwide.
Bespoke, global lighting service
LEDS-C4's added value is its capability to offer a global service. An all-round expert in the possibilities of light and luminaire production, it provides bespoke development, which allows it to take part in any project, at any time and in any place.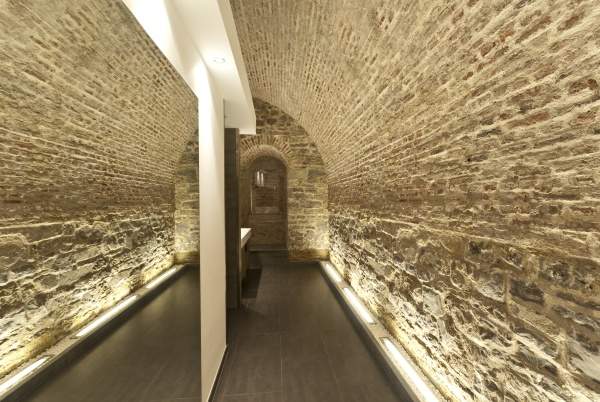 LEDS-C4 provides bespoke developments for any lighting project.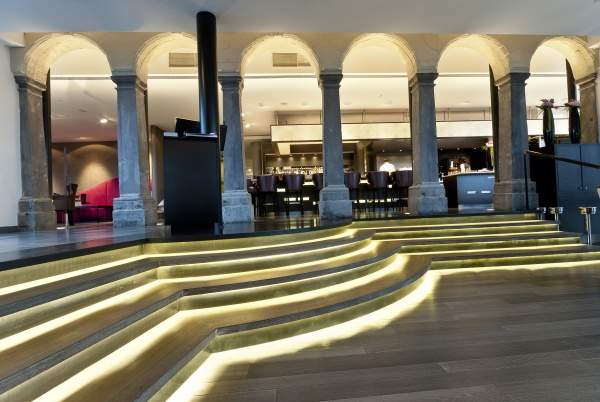 LEDS-C4 will carry out simulations until the desired affect is achieved.
Learning from its customers lets LEDS-C4 develop totally personalised lighting.
Bespoke headboard lights featured both ambient and LED lights.
For years, leading global hotel chains and other groups have trusted in LEDS-C4's wealth of knowledge for their projects as a guarantee of quality, efficiency and commitment.
Recent completed projects include:
Hard Rock Hotel Panama Megapolis, Panama City, Panama
Marriott Renaissance Tuscany Il Ciocco, Lucca, Italy
Meliá Paradisus Playa del Carmen, Mexico
Park Inn by Radisson Abeokuta, Abeokuta, Nigeria
Radisson Blu Hotel Oslo, Oslo, Norway
Hotel Riu Palace Tikida Agadir, Agadir, Morocco
Sofitel Quiberon, Quiberon, France
The St Regis Doha and Gordon Ramsay restaurant, Doha, Qatar
The Hotel, Brussels, Belgium
Thon Hotel EU, Brussels, Belgium
Van der Valk Hotel Charleroi Airport, Gosselies, Belgium
Lighting consultancy
LEDS-C4's in-house lighting projects technical department advises customers about any matter related to lighting, and carries out lighting calculations to determine the optimum type of lighting, product and distribution for each project, according to the requirements of the areas in question.
Customers are also offered the possibility of working with Dialux, a leading lighting-planning software. With the LEDS-C4 plug-in, 3D-rendered lighting can be used for any project to provide details of the distribution of light intensity and other data.
Energy-efficient lighting
Constant innovation and the desire to improve make for continuous progress towards excellence. By applying design management in all processes, from the initial briefing to the final installation, and exhaustive quality control during each phase of production, LEDS-C4's engineering department guarantees absolute customer satisfaction for each of its products.
The company's management model has been designed so that its activity will only have positive effects on society and the environment. This respect for the environment has been acknowledged by the award of the ISO 14001 certificate.
LEDS-C4 works with energy-efficient light sources and develops non-polluting lighting systems in accordance with the strictest current regulations.
Customer-orientated organisation
LEDS-C4 works alongside its customers, with the conviction that their satisfaction depends on its capacity to adapt to their needs. Listening to, understanding, and constantly learning from its customers' requirements enables LEDS-C4 to develop totally personalised products.
The firm believes in light: applying its knowledge in the development of every new luminaire or lighting project, with the aim of achieving the right idiosyncrasy for every illuminated area.
Case study: The Crowne Plaza Hotel, Liège
The Crowne Plaza Liège stands out because it is made up of three individual buildings. Two are historic buildings that have been converted into a luxury hotel with 32 VIP suites of more than 50m² from the seventeenth and eighteenth centuries. The third is a new construction, which boasts 126 guestrooms, each more than 30m² in size.
LEDS-C4 was responsible for lighting up these spaces by bringing together design, quality, functionality and energy efficiency. The lighting was carefully selected for the two historic buildings by Belgian designer Eric Goffin, who used his experience as an antiques dealer to bring the latest LED technology into line with the historic elements of the suites, choosing lighting from the Grok and Architectural LEDS-C4 lines.
For the new construction, a new solution was designed for these guestrooms, which was developed and manufactured by LEDS-C4. The bespoke headboard lights consist of ambient lighting (with energy-saving lamp), and an integrated reading lamp (with LED technology), which complement the designer desk lamp and the pendant light. The fabrics of the lampshades were also customised to complement the fitted carpet and wall coverings.
The ballroom was converted into a multifunctional events room. Here, the original bronze chandeliers have been restored and LEDS-C4 produced bespoke pendant lights which combine metal halide lamps with crystal trims.
LEDS-C4's in-house lighting projects department carried out lighting calculations and proposed sustainable solutions for all the spaces in the hotel. The company carried out 3D renderings and simulations until they achieved the effects that the designer and owner of the hotel were aiming for. The use of LED technology was the guideline which was followed in the corridors. Downlights from the architectural range were installed along with 2,700ºK LED to achieve a warm atmosphere.
Lighting fixtures from the outdoor range were chosen for the 700m² of gardens and the tower, thus creating a spectacular lighting effect in the historic complex.
The spa and wellness areas had to be functional, so lighting from the architectural and outdoor lines was installed. This combined energy-saving lamps and LED.
LEDS-C4 believes in light, and applies its knowledge in the development of each luminaire, of each lighting project, with the aim of achieving the desired singularity in the area(s) that need lighting.