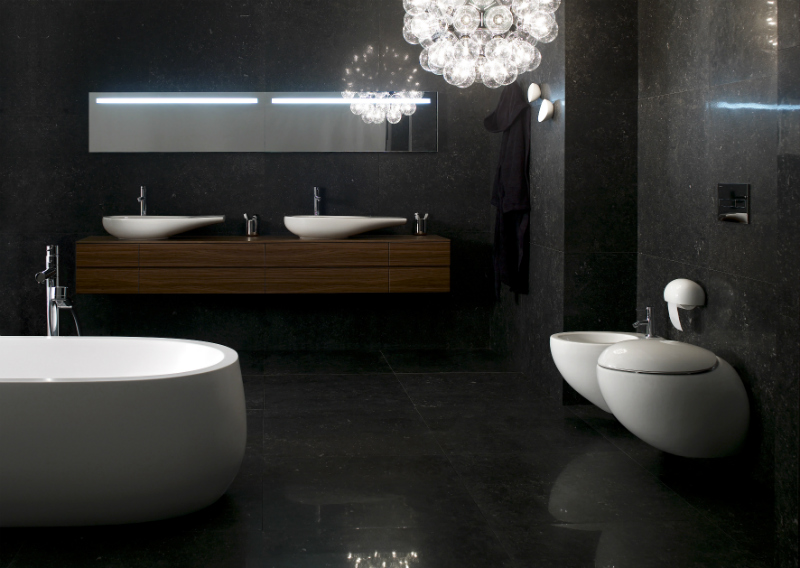 Laufen Bathrooms manufactures durable ceramic bathtubs, faucets, and bathroom furniture and accessories.
Innovative bathroom materials and designs
Laufen has developed SaphirKeramik, a durable ceramic with greater flexibility. It can create entirely new shapes with thinner walls than previously seen in sanitary ceramic.
Laufen's new ceramic brings luxury and cutting-edge design to the bathroom. Around 40% lighter than fine fire clay, SaphirKeramik's reduced weight stems from its strength, which means it can be manufactured using less material during the production process.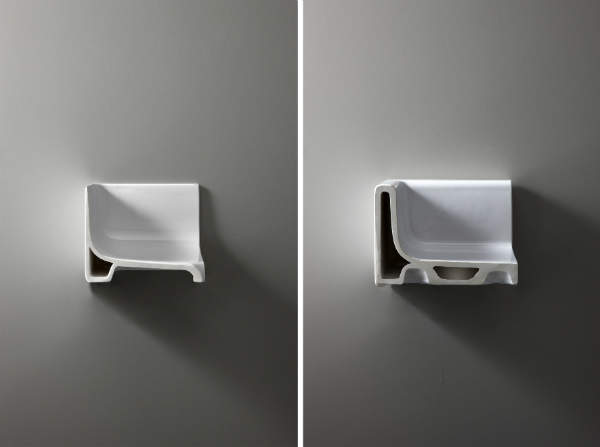 Cross sections of SaphirKeramik (left) and traditional ceramic (right) washbasins. The SaphirKeramik washbasin is slimmer and more robust, while maintaining high levels of hygiene.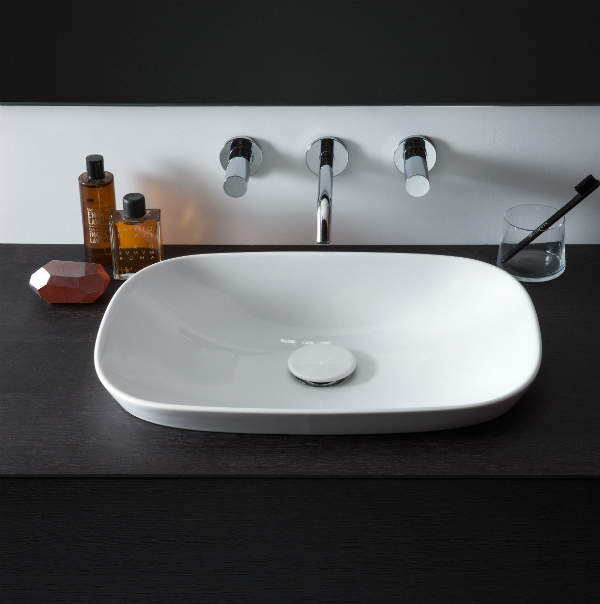 Laufen's drop-in washbasin is spacious and features wafer-thin walls.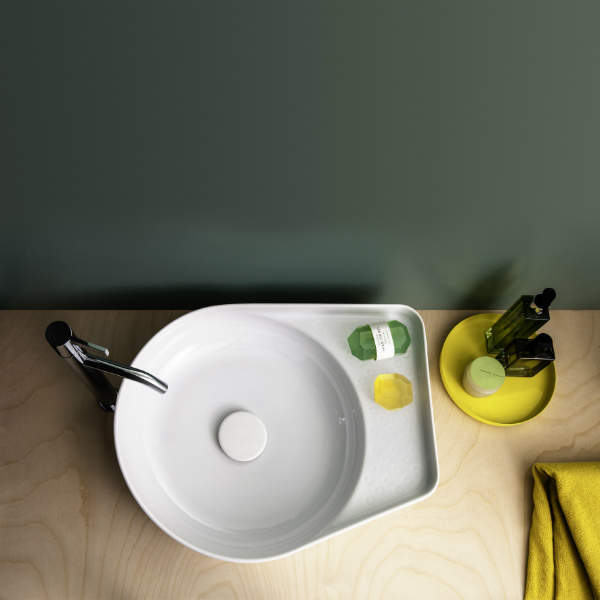 Ideal for storing soap and cosmetics, this asymmetric washbasin bowl from the Val collection by Konstantin Grcic features an integrated storage shelf, and a tactile surface that provides semi-dry areas.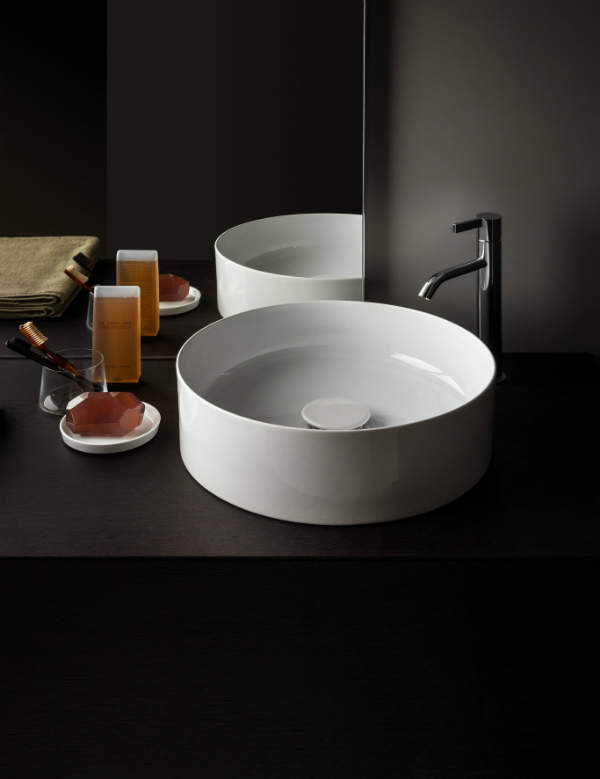 The company has extended its high-quality Kartell by Laufen line, which offers a range of elegant faucets and operating lever.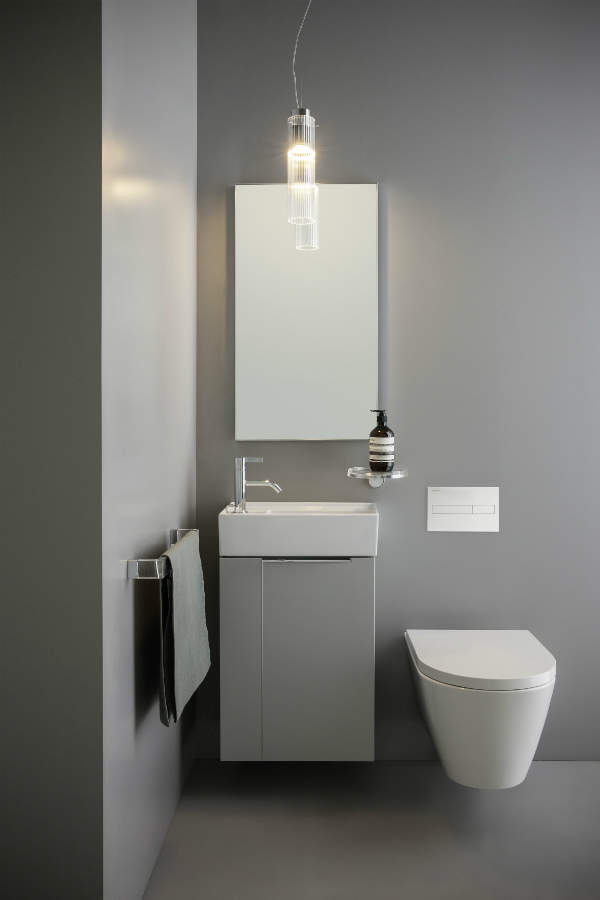 Laufen can provide smaller bathrooms with this ideal space-saving solution.
Enviromentally friendly, ceramic materials
Ceramic material is environmentally friendly and largely consists of the raw materials kaolin, clay, feldspar and quartz sand. It can be produced in large amounts at a low price.
The material can safely be used in bathrooms for many years without contaminating drinking water, and can even be recycled after its long lifespan.
Rimless toilets for bathrooms
Laufen innovative designs include its range of hygienic rimless toilets. The company have continued to extend their portfolio to meet specific design and price choices.
Customisable bathroom appliances
When combined with innovative concepts provided by international designers, Laufen's advanced manufacturing techniques create seamless design finishes in challenging spaces.
From washbasins, countertops, accessories, furniture, shower trays, bathtubs, sinks, through to wall cladding, Laufen's customisable materials enable complete design flexibility.
Chemical-resistant, hygienic bathroom surfaces
Laufen Clean Coat (LCC) is an optional surface finish that is fired on top of the original glaze, making the surface super hard and smooth, and reducing contamination from dirt and germs.
LCC is also highly resistant to aggressive cleaning agents and chemicals, ensuring the highest standard of long-term cleanliness and hygiene. This very special finish can be applied to most Laufen ceramic products.
About Laufen Bathrooms
Established in 1892, Laufen Bathrooms is a Swiss company specialising in high-end bathroom solutions. Its head office is located just outside Basel.
Laufen currently employs a workforce of 1,800 employees with seven factories across Switzerland, Austria and the Czech Republic. It produces three million ceramic items a year.
Laufen's export team delivers strong communication and unrivalled customer service worldwide due to the company's global business infrastructure.
It has collaborated with design companies Kartell and Alessi, as well as renowned international designers such as Toan Nguyen Konstantin Grcic, Vetica Design, Platinum Design, Phoenix Design, ps+a/Ludovica and Roberto Palomba, Stefano Giovannoni (ILBAGNOALESSI One).