Floorsafe Australia is a manufacturer and supplier of anti-slip safety products for a wide range of customers throughout Australia, New Zealand and overseas.
Our portfolio includes anti-slip strips, stair nosings, tactile indicators, cable and ladder rung covers, and surface primers.
Anti-slip solutions for stairways and tiles
Developed and manufactured in-house, our unique Floorsafe Anti-slip system is designed to make slippery floor tiles safe to walk on.
We also offer a large range of anodised aluminium with rubber or carborundum infills, safety treads or rubber stair nosings to help prevent accidents on steps and stairways.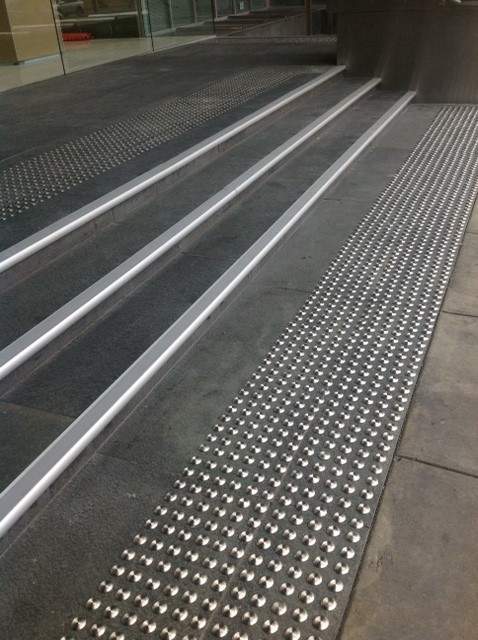 Floorsafe develops anti-slip solutions to improve safety.

Our carborundum nosings offer a higher level of durability and wear-resistance when compared with PVC nosings.
Full lengths can be purchased or custom-cut to required sizes, saving wastage and time.
Carborundum inserts and nosings for stairways
With safety and long-term wear factor becoming an increasingly important aspect in the workplace, stair nosing inserts made with rubber and similar materials are gradually being replaced with carborundum inserts.
Carborundum offers optimal grip and wear capabilities, especially on external stairways where pedestrian safety is a key concern. Neatly rebated hard-wearing carborundum strips are moulded into a high-quality aluminium profile, which is also anodised for additional protection.
With our aluminium partners, we now have addressed the costs and now have a range of cost-effective carborundum stair nosings that meets Australian quality standards and building codes.
Floorsafe has seen an 80% increase since we introduced and offered a fully coated carborundum insert to replace the standard polyvinyl chloride (PVC) rubber serrated insert.
Tactile indicators for ramps and pedestrian areas
Along with safety stair nosings, tactile indicators are required by law to be installed on all new ramps, stairways and pedestrian areas.
As one of the largest suppliers of tactile indicators in Australia, Floorsafe has a complete range to choose from, including individual stainless-steel studs and tactile plates, as well as polyurethane-coloured individual tactile indicators, ceramic tactile pavers, and silicon rubber tactile pads.
About Floorsafe

For more than 28 years, Floorsafe has provided expert advice, quality and products at competitive prices.
Our warehouse carries a large amount of stock to ensure we maintain our high-quality service. We have a large team of experts across Australia so enquiries can be followed up quickly and products can be installed in a professional matter.
We source and find suitable cost-effective safety products to deal with every issue, especially when complying with the new laws that have been introduced for stairway safety.