Marr Contracting ('The Men From Marr's') is an industry leader in the design and delivery of heavy-lift luffing craneage solutions and services for the large-scale construction industry, as well as the mining, power, oil and gas, nuclear, major transport infrastructure and marine sectors.
Marr Contracting offers one of the widest ranges of heavy-lift luffing cranes in the world. Its flexible fleet includes the Marr 40R (M40R), the smallest capacity tower crane in the world, and the Marr 2480D Heavy Lift Luffing (HLL), the world's largest capacity tower crane.
Custom craneage solutions and services for construction projects
The company's expert team supplies heavy-lift crane solutions designed to suit the bespoke needs of clients and their projects.
Its equipment portfolio includes the world's largest capacity luffing tower cranes with a lifting capacity of 330t, complete travel bases, towers, internal and external climbing systems, modular tie systems and grillages. We also supply accessories such as kibbles, first aid cages, fuel tanks and man boxes.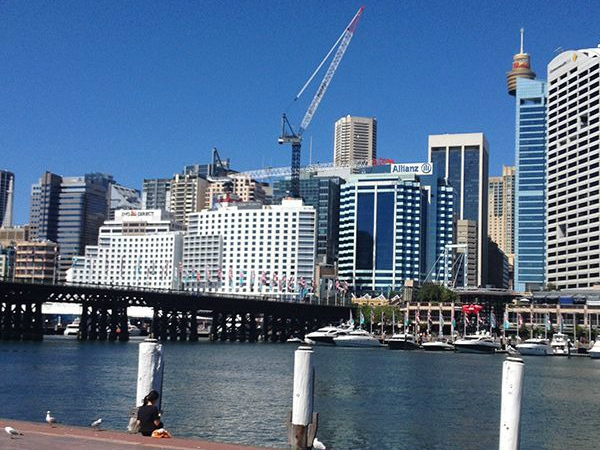 'The Men from Marr's' demonstrated their ability to provide craneage solutions for high-density inner-city infrastructure projects.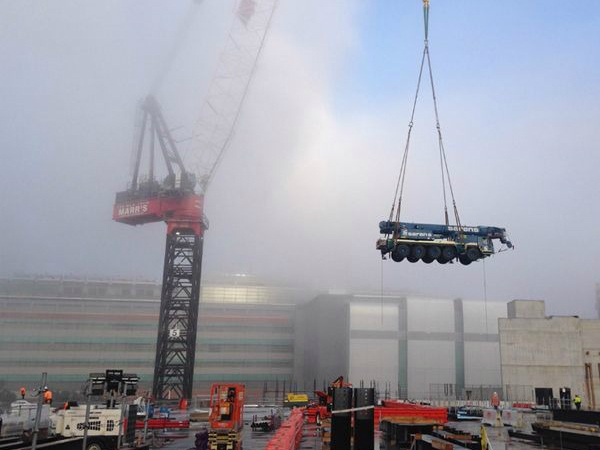 After analysing the lifting requirements for the redevelopment of Darling Harbour, Marr Contracting developed a heavy-lift crane fleet solution that accommodated all project requirements.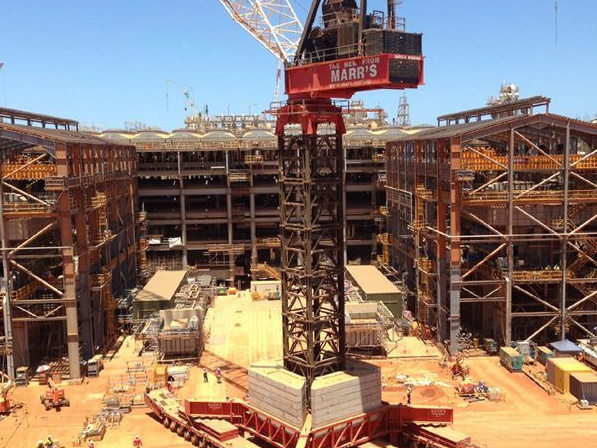 Marr Contracting offers a wide, versatile range of cranes for large-scale industrial construction projects.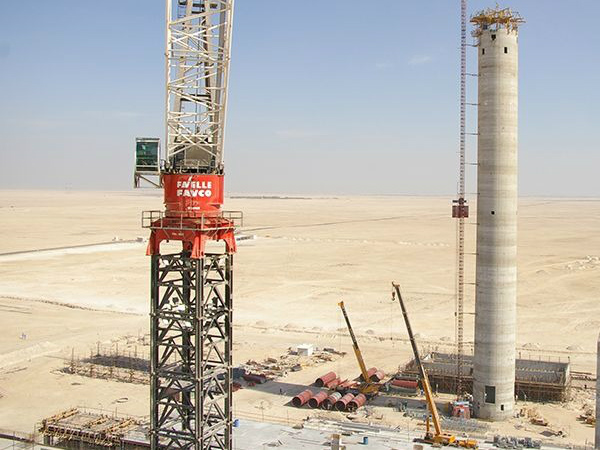 Marr Contracting's M2480D became the world's largest tower crane when designed in 2007 and was first put to use on the construction of a domestic waste centre in Qatar.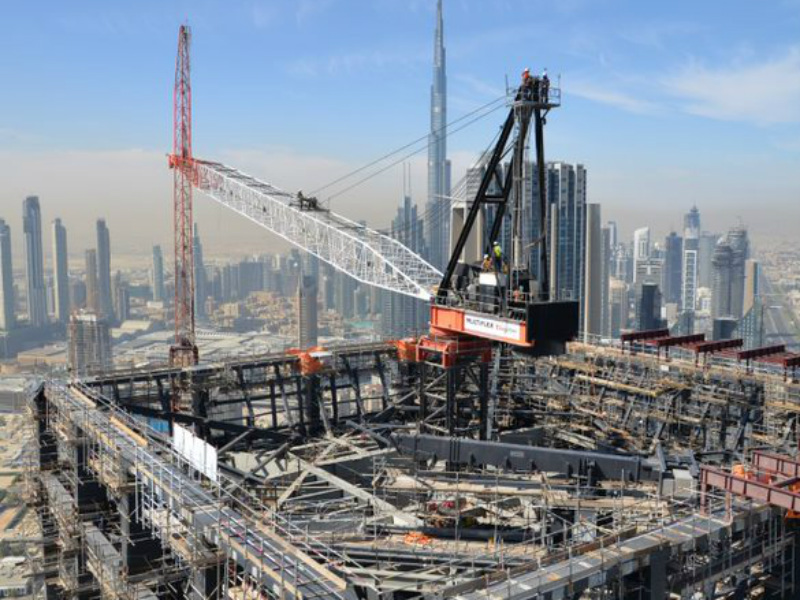 Marr Contracting is currently working on constructing ICD Brookfield Place, a major construction project in Dubai International Finance Centre.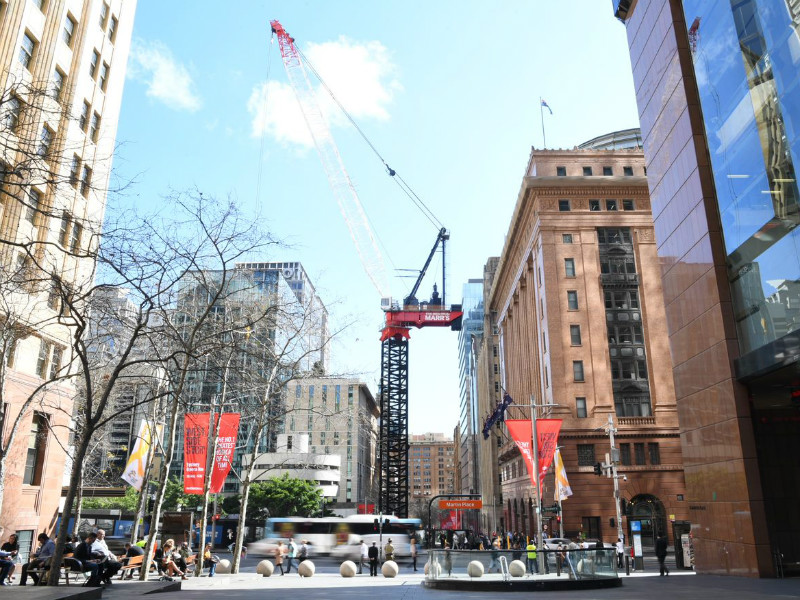 Marr Contracting luffing places are currently constructing two towers over the Martin Place metro station in Sydney.
Marr Contracting also provides recovery crane systems, engineering and fabrications services, expert rigging services, on-site maintenance and mechanical repair workshops, as well as industry-compliant safety management systems and a full suite of project management support to deliver any project.
Heavy-lift luffing cranes for any complex, large-scale project
Marr Contracting's fleet comprises both mobile and tower cranes to meet the requirements of large-scale and complex projects across any sector. Additionally, the company has the expertise to custom-design cranes to meet specific needs.
The Men From Marr's also provide project management services, recovery systems, engineering and fabrication services, lift studies and job site planning, as well as maintenance and mechanical repair workshops.
Through investments into new-generation technology, Marr Contracting has also ensured that its equipment and processes are efficient and sustainable while working in collaboration with clients to comply with environmental management policies.
Heavy-lift crane fleet systems for industrial and CBD infrastructure projects
Heavy-lift crane fleet systems are predominantly used for large-scale industrial projects. However, in 2013, Marr Contracting demonstrated its successful application on a high-density inner-city infrastructure project: the redevelopment of Sydney's Darling Harbour.
The project also included the construction of 1,400 residential apartments, 1,000 student accommodation flats, 7,000m² of retail space, 15,000m² of commercial space, 2,000m² of community space and a 400-bay car park.
Marr Contracting developed a craneage solution that was flexible enough to accommodate the project's scale and variables, with lifting solutions ranging from 10t to 100t for its multiple new buildings and structures.
Tower crane solutions for increased productivity
Designed in 2007, Marr Contracting's M2480D HLL became the world's largest tower crane and was launched as a solution that could replace the need for large crawler cranes on large-scale construction projects.
The crane was put to use that year in Qatar for the construction of an integrated domestic solid waste management centre and four waste transfer stations. With a greater lifting capacity of 330t, the M248OD took up less ground room and eliminated on-site congestion caused by managing heavy lifts from multiple locations. The result was a 30% to 50% productivity increase, and strong subsequent demand for the crane model in Australia, the Middle East, Europe and the UK.
In 2014, Marr Contracting's tower cranes provided the perfect solution for the construction of Four Points by Sheraton, one of Sydney's largest hotels and conference centres. The location of the site in Sussex Street, alongside a major road, meant that the project required an efficient solution to maximise the government permission granted for costly night road closures of just four to five hours.
The client's initial plan to use mobile cranes caused concern due to the time that would have been lost in setting up and packing away the cranes each night, as well as the risk of heavy fines if delays occurred.
Marr Contracting's innovative solution eliminated these concerns with the installation of the M86OD tower crane onto the operating hotel's rooftop. The M86OD crane was then used to erect an even larger M128OD tower crane onto the roof.
Productivity was once again the main benefit of the two rooftop tower cranes. Meanwhile, Marr Contracting made history by being the first to deploy a crane of the M128OD's size over an existing building in Australia.
Heavy-lift luffing cranes for large-scale construction projects
In 2019, Marr Contracting was given another opportunity to break records when its 2480D luffer crane was deployed to work in Turkey's Gallipolli region to work on the construction of what is to become the world's longest suspension bridge.
The 1915 Canakkale Bridge will cross the Canakkale Strait, connecting Gallipoli on Turkey's European side to Lapseki on the Asian side. The 2480D's ability to lift loads three times heavier than other existing cranes and reach up to 318m made it an ideal choice for the large-scale project, which is scheduled to be completed in 2022.
The Men from Marr's are also currently working on a number of high-profile construction projects in Australia and around the world, including: ICD Brookfield Place, Dubai; ALEC One Za'abeel, Dubai; Alba Potline, Bahrain; Hinkley Point C nuclear power station, UK; Crown Sydney and Circular Quay Tower, Sydney; Barangaroo and Martin Place Stations (Sydney Metro).