Euromecc delivers concrete production and transportation solutions for the design, road, mining and petrochemical industries, with a portfolio that includes mobile, compact, stationary and on-site batching plants, as well as trailer pumps, recycling plants, cement silos and feeding systems.
Stationary concrete batching plants for the design industry
All Euromecc plant models are suitable for cement and concrete applications on settled construction sites. Each unit can be equipped with a concrete mixer, distinguishing wet and dry concrete batching plants.
Wet batching plants blend additives, aggregates, cement and water to guarantee an improved concrete quality, optimising the water to cement ratio.
Fully mobile concrete batching plants for the design industry
Euromecc offers clients a range of mobile batching plants, which provide the same production as a stationary batching plant while ensuring fast installations and easy transportation.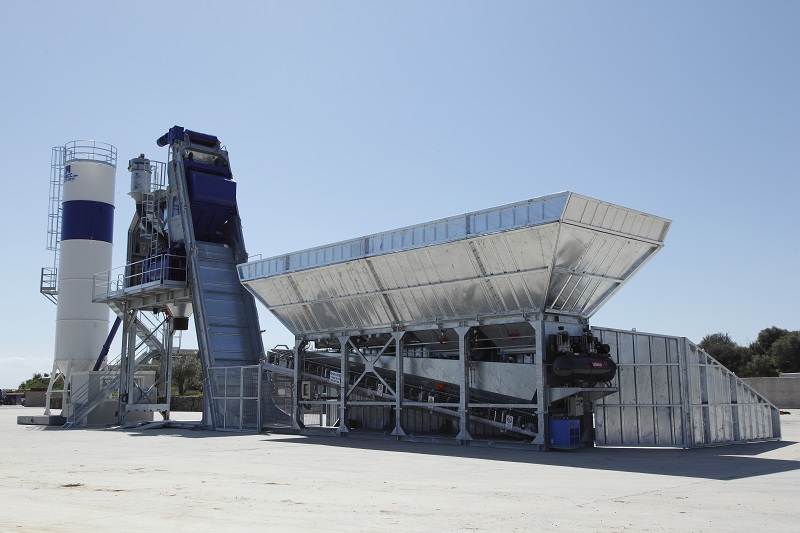 Each batching plant is suitable for settled road construction sites.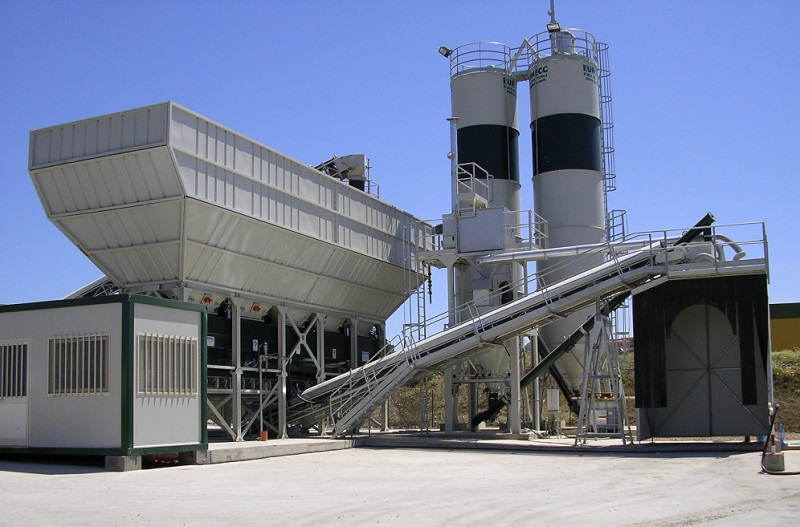 Euromecc's precast concrete plants ensure the production of homogeneous high-quality precast concrete.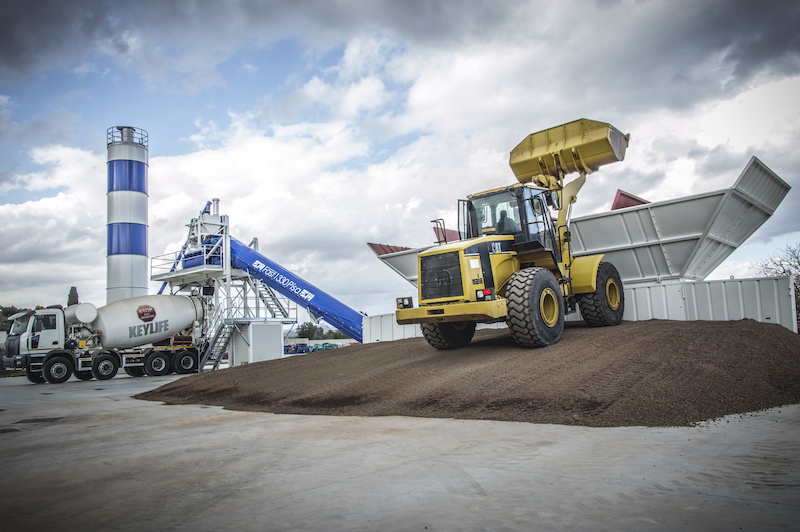 The Fast1339 Pisa is a mobile plant capable of a theoretical hourly output of 120m³/h of wet mix concrete.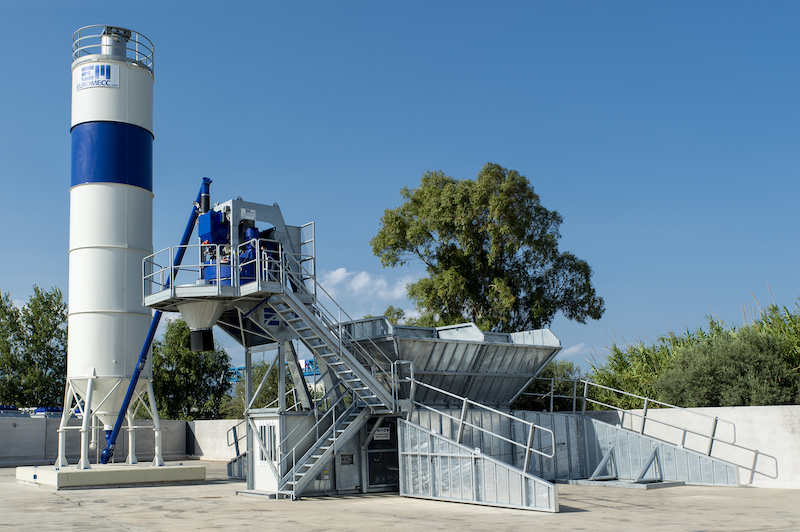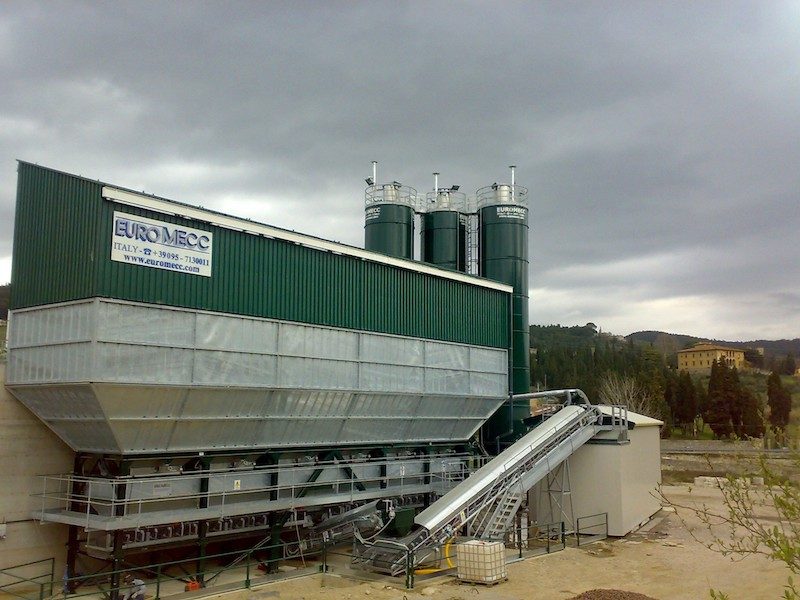 The DP Max 2T is a stationary batching plant with the productive capacity of two plants in one, offering great production capacity with high levels of aggregate storage.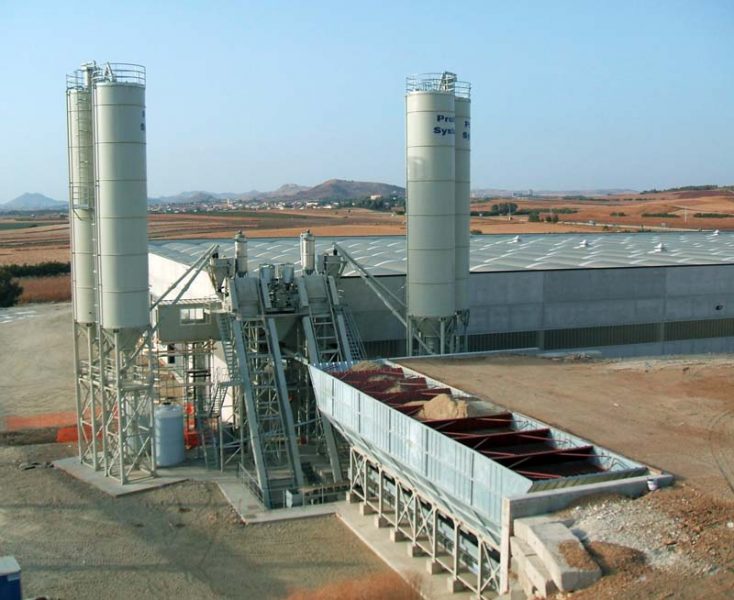 This EURO MIX / MP precast concrete plants is equipped with a planetary mixer and six bin configuration.
The Euromobil T20 has been designed for dry concrete production. With a theoretical hourly output of 60m³/h, the Fast 2000 / 1330 Pisa is equipped with a planetary mixer and is suited for wet concrete production.
Both the Fast 1500 / 1000 Milano and the Fast 750 / 500 Torino are ideal for pre-mixed concrete production.
Pug mill continuous mixing plants
Designed for road basement foundations and zero slump concrete, continuous mixing plants offer an hourly output of up to 300m³/h. The quantity of cement produced is measured by a weighing system with three loading cells arranged on the batch.
Models such as Euro 2 Mix / MC Mobile, Euro 2 Mix / CMA Mobile and Euro 3 / 4 Mix / MC Stationary offer aggregate storage capacities from 30 / 125 and have hourly outputs between 150m³/h and 300m³/h.
Concrete precast batching plants for construction companies
Equipped with a planetary mixer, Euromecc's precast concrete plants produce homogenous high-quality precast concrete.
Multiple mixer models are available, with a compacted concrete output per cycle that ranges from 0.25m³ to 3m³, including:
Euro 3 Mix and Mix / MP: small plants that produce three to six bins of concrete
MOD: a medium-to-high plant that produces 2 – 12 bins
Euro 3 Mix / 2 MP: comes with two planetary mixers and a deviator to meet the production requirements of girders, bricks and blocks
Euro Colormix: a distribution system for concrete of various colours, comes with two, three or four hoppers for colours accumulated within the same frame.
The combined storage capacity of the plant varies from 95m³ to 260m³.
Recycling and concrete washing systems
Euromecc is dedicated towards environmental issues and offers its clients solutions that comply with industry regulations. The company's concrete recycling systems resolve the issue of the recovery of washing truck pumps, mixers and residual concrete.
With a spiral system that rotates inside an inclined drum, Euro-wash is a concrete separator that splits solid materials with diameters of up to 0.15mm. Water, cement and fine particles are discharged into overflow storage tanks for reuse within the production cycle. Three Euro-wash models are available, with hourly capacities between 10m³ and 25m³.
Euro-eco is a recycling system characterised by its compact structure. Solid constituents of remaining concrete are washed through a screw, allowing the system to retrieve aggregates with a diameter of more than 0.3mm enclosed within the washing water of concrete pumps or mixers.