Founded in 1930, Souchier has become one of the leading actors in the market for daylight, daily and natural smoke ventilation.
Our three factories and 350 employees manufacture more than 60,000 vents per year, all tested to EN 12101-2 standards. These human, technical and logistic capacities allow for a production of the highest quality and result in short delivery times.
Thanks to the experience and knowledge of the Souchier team, global solutions for lighting and smoke extraction for any type of buildings can be offered. Souchier also contributes to various French and European standardisation committees as a specialist in natural smoke ventilation.
Smoke ventilation systems
Smoke ventilation systems are used for the following applications: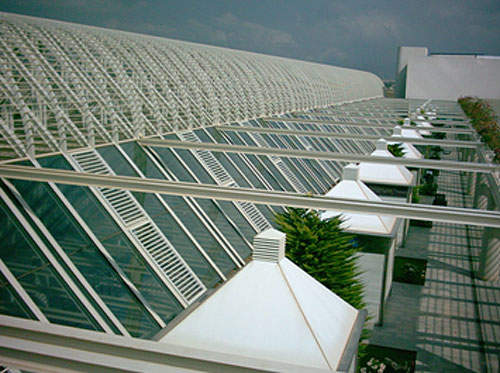 Palma Mallorca Airport (Spain)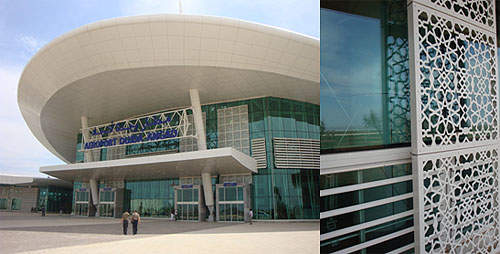 Oujda Airport (Morocco)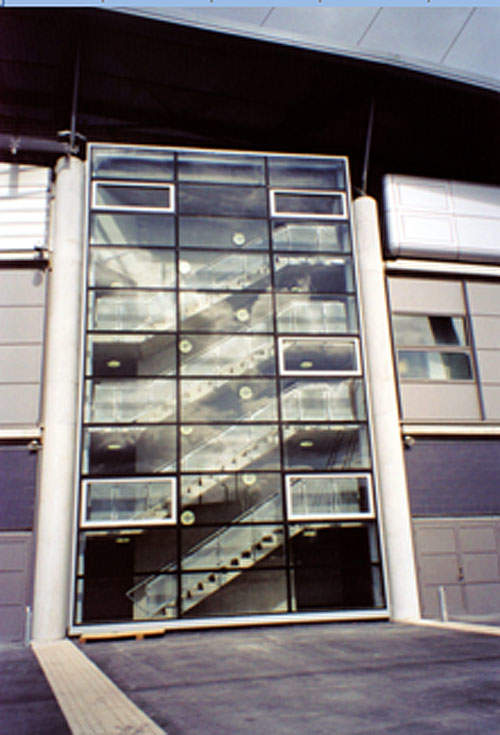 Manchester City Stadium (UK)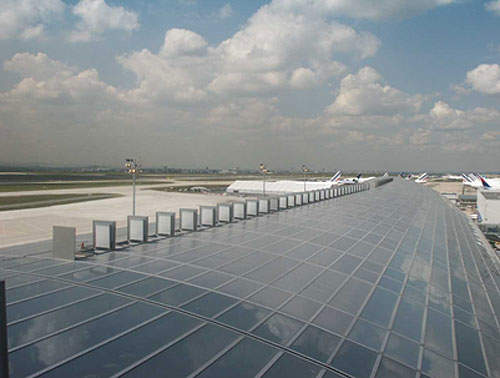 Charles de Gaulle Airport Terminal 2E 'La jetée' (France):
To keep escape and access routes free from smoke
To facilitate fire fighting operations by creating a smoke free area
To delay the development of the fire
To protect the content of the building
To reduce the thermal effects on structural components during a fire
Our vents can easily be fitted on many structures, including:
Prestige monuments
Atriums
Tower building
Curtain walls
Building with specific acoustic expectations (cinemas, theatres etc.)
Airport / railway stations
Shopping malls
Entertainment centres
Public buildings
Architectural facade vents
Our EXUBAIE facade vent is a glazed or opaque casement (NSHEV) with a mechanism that is completely integrated in the thermally broken profile (no visible drive when units is closed). It is much appreciated by architects this product is especially dedicated to curtain wall where high aesthetic level is required.
Our OTF facade vent is a casement (NSHEV) which can be installed with or without a thermally broken profile. The OTF vent is available in all shapes, and Can be equipped with visible drives (electrical or pneumatic).
Our LUXLAME facade vents feature louvers (NSHEV) with thermally broken profiles and insulated glass. LUXLAME is available in a wide range of dimensions, and offers very good thermal value.
Architectural roofing vents
Our CERTICIEL range of roofing vents feature a mechanism which is completely integrated in the thermally broken profile. CERTICIEL vents can be integrated directly on glass roof or on a base.
Our CERTILIGHT range of roofing vents feature visible drives and a thermally broken profile. CERTILIGHT vents feature a high acoustic value.
Our CERTILUX range of roofing vents feature standard louvers with polycarbonate or clear glass. Their dimensions can go up to 7m². Many standard profiles are available to fit any existing structures.
There is also a large range of possibilities for industrial or semi industrial applications (louvers – domes…)