It is a well-known fact that building designers' creativity can be severely hampered by fire protection and life-safety requirements. Smoke Control is a market leader in designing and installing systems to meet the challenges created by innovative building design.
Smoke Control offers a number of smoke and fire protection systems including fire resistant glazing, fire or smoke curtains and smoke and heat release ventilation.
All of our systems have been tested to the necessary fire and smoke standards and building code regulations, and our high-performance systems have been tested to onerous mechanical tests and project specific ad-hoc tests. The experienced technical staff at Smoke Control can also provide deemed-to-satisfy solutions if required.
Smoke Control provides a full life cycle service to our clients ensuring experience and expertise is applied at all stages of the project from design through to installation, commissioning and maintenance.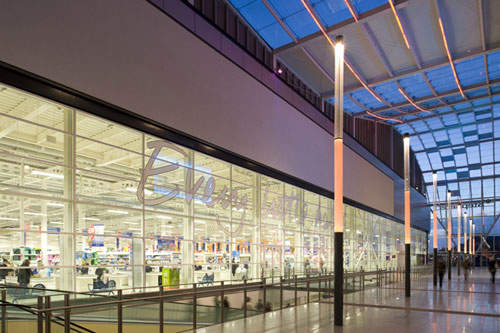 A Stopline fire-rated glazing system installed in a shopping centre in the UK. The system provides fire protection to the shop front and car park.
A horizontal fire curtain protecting a 10 x 4.5m opening. The solution provides fire compartmentation for up to 2 hours and was 60% cheaper than alternative fire protection systems.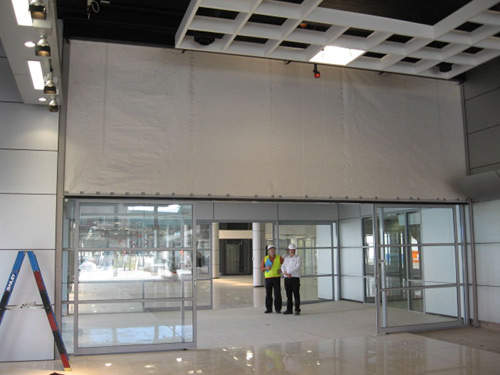 A vertical fire curtain providing fire separation in a large prestige car dealership. The solution is concealed in 'non-fire' mode and provides 2 hour fire compartmentation.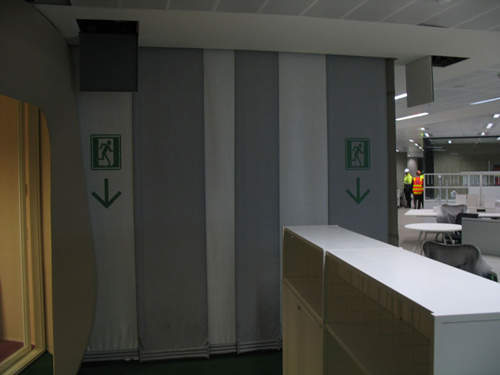 A walk through smoke curtain system installed to allow occupants to egress from the building when the curtain is fully deployed.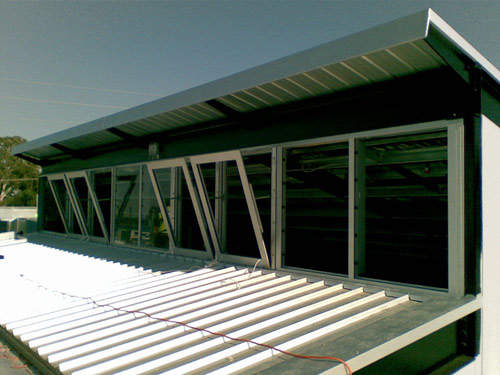 3 x 8m long banks of operable smoke vent windows to provide required smoke venting, natural light and ventilation.
Fire-rated glazing systems
Smoke Control has redesigned fire rated glazing to provide cost effectiveness for a solution that was once thought to be expensive and cumbersome. To ensure quality within the system, Smoke Control has partnered with Vetrotech Saint- Gobain, one of Europe's largest and most experienced glass manufacturers. All of Smoke Control's Fire Rated Glazing Systems incorporate Class A safety rated glass.
By utilising Saint Gobain's glass, Smoke Control combines form and functionality whilst addressing life safety and property protection. Saint Gobain's glass provides maximum transparency enabling perfect integration alongside non-fire rated glass.
Fire-rated glazing systems for vertical installations
The Stopline fire-rated glazing system is ideal for vertical installations, such as for use in screens, doors and windows. The Stopline system provides fire and insulation ratings up to -/240/- and -/120/120 with a number of options that target various integrity and insulation levels to suit your needs. These include Stopline, Stopline – R and Stopline 120.
Horizontal fire-resistant glazing system
Liteflam is a horizontal fire resistant glazing system that provides a unique and exciting solution for both architectural design and fire compartmentation. Liteflam is a patented fire resistant glazing system providing virtually unlimited system dimensions and impressive load bearing capabilities. The system is available in a range of surface finishes for the structural sheet and in a double glazed system to provide enhanced acoustic performance.
Liteflam fire rated glass flooring is available with fire resistance levels of 30/30/30, 60/60/60, 90/90/90 and 120/120/120 depending upon your needs.
Fire and smoke curtain systems
Smoke Control offers a number of flexible solutions when addressing the need for smoke or fire curtains for compartmentation or as part of a complete fire and smoke control strategy. Relatively small fire loads have the ability to generate large cubic metres of smoke, degrading visibility and health in short periods of time. To combat this, Smoke Control offers a number of smoke curtains and smoke containment screens that have the ability to cater to various practical and design needs. Smoke curtains and smoke containment screens are an ideal invisible solution for use in protecting lift shafts, atriums, servery openings and many other applications.
Similarly, Smoke Control provides a number of options in regards to fire curtains and fire shutters, all of which have been engineered to complement the building design, aiming to maximise and open up internal space.
The compact design of Smoke Control's curtain and shutter systems enables easy integration into both new and existing buildings, whilst the flexible options provide for both vertical and horizontal applications. Fire Curtains are an invisible solution for protection of interconnecting stairs through multiple storeys (non essential stairs) and large voids, lift shafts and general fire compartmentation requiring large open spaces during the buildings normal use.
Smoke and heat exhaust systems
Smoke Control provides market leading natural smoke and heat exhaust ventilators. These are manufactured to the highest global standards and models are complaint to European, ISO and Australian Standards. Smoke Control has a wide range of systems including operable windows, Louvre windows, acoustic vents and standard louvered smoke vents. The wide variations of models address all client considerations for aesthetics, efficiency and value. Smoke Control also provides complete curtain wall design to neatly integrate the smoke and heat exhaust systems into the building. A number of designs are unique and the only one of their type in the world.