Leading UK interior fittings installers Roger Wilde have teamed up with Woodtrade of Marktheidenfeld, Germany to bring you a new breakthrough in wood flooring. Structural veneer lumber (SVL) is subtly used to create beautiful yet tough parquet tiles made from ecologically sustainable Oregon pine (pseudotsuga menziesii). This product is called SVL Floorline.
SVL Floorline is hardwearing and stable, ideal for offices, public buildings, industrial floors, or simply as a sensually elegant wooden floor for the home.
Roger Wilde also design and supply several leading ranges of fire-rated glass flooring products.
Laminated wood flooring, wall boards and beams
SVL is the only laminated wood product available on the market in which all the laminations feature the grain running in the same direction (unlike a typical plywood product in which every alternate laminate is at 90° to the one above it). This makes SVL extremely stable and stronger than anything else on the market. It also looks better than plywood-type laminates as the wood grain is similar looking across the surface and has uniform lacquer uptake. The SVL range of products includes flooring, wall boards and beams.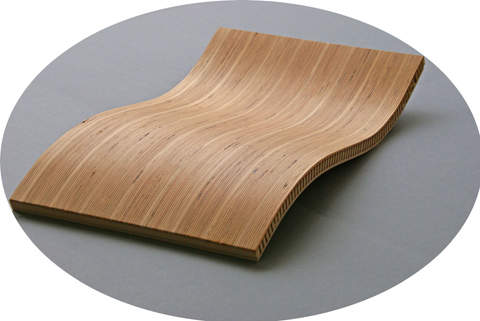 Curved SVL wall panels which may be curved on a vacuum bed to any desired radius.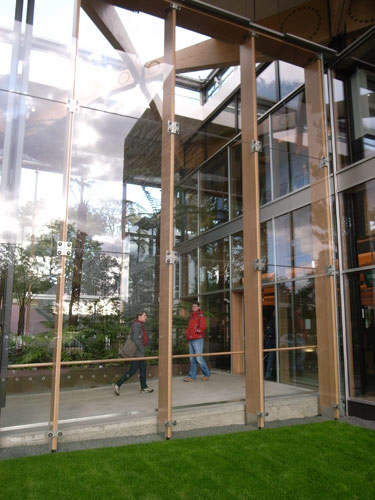 Composite SVL laminated timber glazed screen.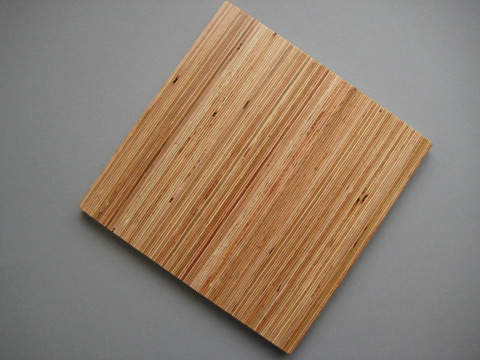 Resin impregnated paper backed 2.5mm veneer sheet. Low cost alternative to full thickness boards which may be adhered to furniture / wall boards, even ceilings and walls directly as a decorative covering.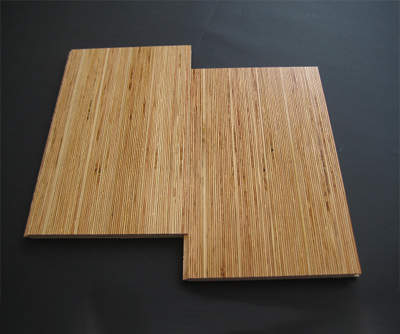 New tongue and groove pre-finished engineered wood floor planks.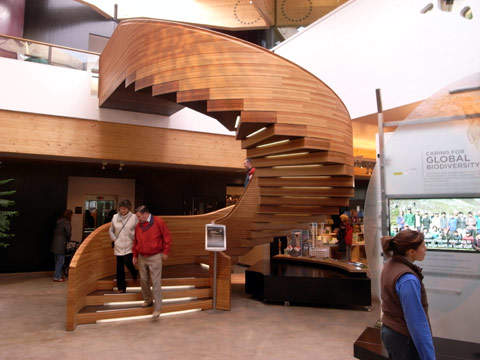 A spiral staircase at the Royal Botanical Garden, Edinburgh.
Curved SVL wall panels
SVL curved wall panels can be shaped on a vacuum bed to any desired radius. Delivered flat, the panels are slotted on the back to assist bending by customer. SVL is available in a 14mm thick one-faced wall board which is fully water-resistant. This is ideal for external applications.
Resin-impregnated veneer sheets
SVL products can also feature resin impregnated paper-backed 2.5mm veneer sheet, which is a low-cost alternative to full-thickness boards which may be adhered to furniture / wall boards, and even ceilings and walls directly as a decorative covering.
Tongue and groove pre-finished floor planks
SVL is also available in tongue-and-groove pre-finished engineered wood floor planks. These planks are not suitable for wet or humid areas.
Wood products for glazing applications
SVL products can be used with glazing products as a highly effective transom and mullion system which is stronger than aluminium section for section, has no cold bridging issues, and looks fantastic. Our glazing products can be designed, supplied and fitted as a fully functioning system prefabricated in Germany.
Glass flooring
Thoughtfully designed and professionally installed glass flooring can make a spectacular statement in almost any building. Light and space can be liberated in even the dingiest of existing buildings, and with new buildings, glass flooring offers endless design possibilities.
Our LITEFLOOR range of glass flooring is a walkable laminated safety glass with a special slip-resistant coating which is typically constructed from three individual sheets of glass. The upper sheet is a heat strengthened safety glass with the slip-resistant coating fused onto the upper surface. The two lower levels are either float or heat-strengthened glass and act as a carrier to the live and dead loads. The highly tear-resistant pvb interlayers hold the glass sheets together thus ensuring the structural integrity of the complete unit.
For external applications, Litefloor can be double-glazed and the unit treated to minimise heat-loss from a building. When used externally or in areas exposed to the wet, a pattern giving a minimum coverage of 50% slip-resistant coating is recommended. This coating is available in a range of colours – but a neutral colour such as steel grey is normally recommended for areas exposed to heavy traffic.
LITEFLOOR is "made to measure" and there is a wide choice of finishes available as standard. The flooring can be supplied in any shape or size between 20 × 50 cm and 150 × 220 cm. Roger Wilde offers complete design, supply and installation of LITEFLOOR systems including, where required, supporting steelwork. Roger Wilde is unique in also being able to offer its patented Fire-rated Glass flooring system, fully tested to US, British and European standards.
Fire-rated glass floors
Roger Wilde is the world leader in fire-rated glass flooring. Our fully tested and patented "load bi-pass" system gives our LITEFLAM range of fire-rated glass floors superb performance with over 90mins integrity/90mins insulation and /90mins load-bearing capability – meeting the requirements of British and European standards, and US building regulations.
The LITEFLAM system has been exhaustively tested – with large scale tests both in the UK at BRE Garston and in the USA at the South West Research Institute in San Antonio. In addition we have carried out a large number of indicative tests on 1.5metre × 1.5metre panels and combinations of smaller panels.