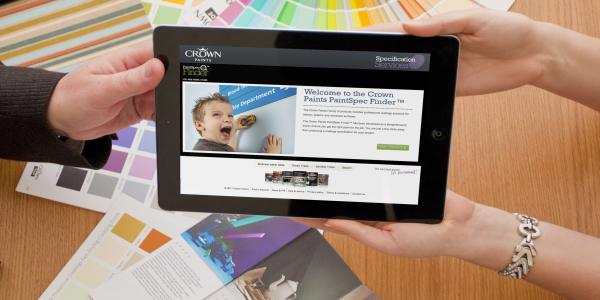 Crown Paints will be using Ecobuild 2012 as a platform to launch its new online resource, PaintSpec Finder™ which heralds a new approach to the delivery of instant and technically-detailed specification plans for architectural, construction and property professionals.
Generating tailor-made, accurate specifications in an accessible format regardless of the complexity or size of the project, PaintSpec Finder at www.crownpaintspec.co.uk represents Crown Paints' continued investment in specification support services and transforms the delivery of the company's existing Master Spec concept.
Visitors to Crown Paints' stand S651 will be shown the features of PaintSpec Finder, which is a user-friendly, pictorially-led interface offering benefits, including immediately-delivered, precise specifications and access to constantly-updated technical information.
Users are guided through a highly visual and intuitive process to obtain their bespoke specification data.
The results are based on a series of questions relating to internal and external areas and the different types of substrate that require decoration or redecoration. The facility also signposts users who need to select additional features, such as scrubbability or anti-bacterial protection.
Once the responses are analysed, appropriate systems are drawn from the Crown Trade, Sandtex Trade and Sadolin ranges, with a brief overview of their attributes.
The relevant technical and health and safety data can also be attached to the completed specification, which comes with a personalised cover sheet showing the customer's name, the project and the user's own details.
This information is then delivered in the format of the user's choice, either as a printable document or in an email direct to their inbox.
Vernon Kinrade, Crown Paints specification sector manager, said: "PaintSpec Finder is an invaluable resource for specifiers looking to access detailed information in a highly effective format – and we are delighted to be launching it at Ecobuild."
"The concept is based around the premise that 80 per cent of specifications can be standard if the specifier can answer some straightforward questions. However, for users, the personal service element associated with Crown Paints remains a key theme. Throughout the process, there is the option to request help from our specification services team, with support from one of our consultants either by phone or email."
The launch of PaintSpec Finder is the latest initiative developed by Crown Paints to help the specification professional access best in class service and fit for purpose products – all delivered with an emphasis on sustainability, without any compromise on quality.
Last year the company launched a pioneering carbon footprint tracking system. This assesses the carbon footprint of every product in the Crown Paints' range and at Ecobuild Crown Paints will update visitors to the stand on its progress.