Vetrotech Saint-Gobain UK is one of the leading producers of fire-resistant glass products. Since the beginning of mankind, fire has been a part of our lives. Along with its warming and luminescent qualities, fire also presents risks. Fire can become out of control and spread. In these instances human life and property must be protected against its destructive potential.
The desire to balance design innovation, benefits from increased visibility, natural lighting, enhanced aesthetics and multi-functional performance, together with building code requirements and protection needs, can be achieved using fire and safety rated glass from Vetrotech Saint-Gobain.
Vetrotech Saint-Gobain, as a producer and developer of fire protection safety glass, is able to offer the industry's broadest range of products to meet both standard and unique conditions.
Fire-resistant glass products
The need for higher performing, more flexible, multi-functional fire-resistant glass products is increasing with tightening fire and building regulations, and the demand for more sophisticated uses of glass in construction and architectural designs. The days when one product would suffice for every possible application, irrespective of the product's suitability and price, are long gone.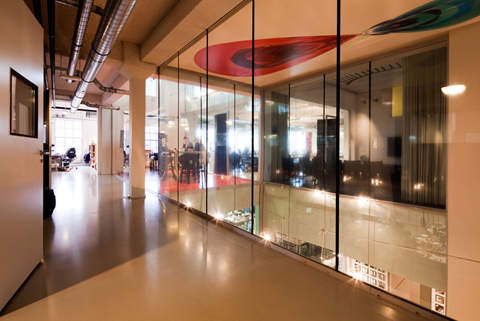 The Wieden & Kennedy, Amsterdam has a CONTRAFLAM structure butt-joint solution. CONTRAFLAM is a multi-laminated and fully insulating fire resisting glass.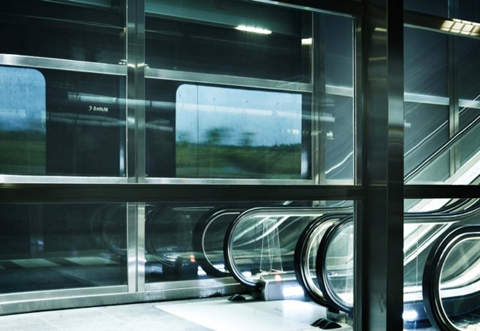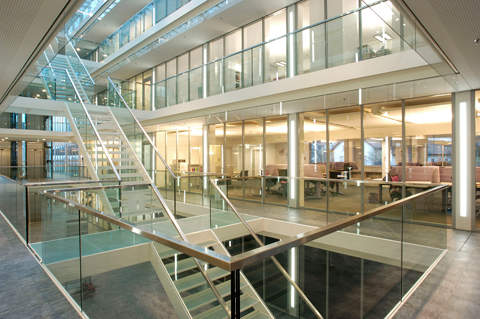 The Malmö City Tunnel in Sweden has the CONTRAFLAM 60 with silkscreen printing.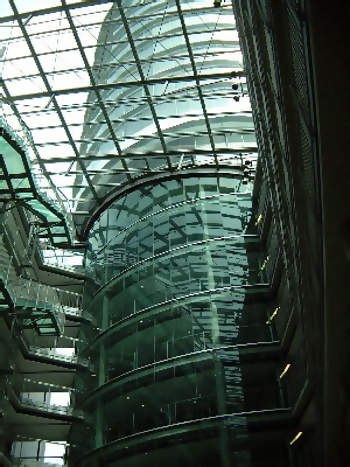 Business Park, Wallisellen / Switzerland uses SWISSFLAM glass.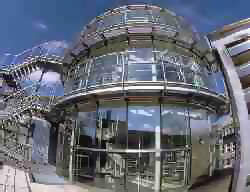 Fire-resistant glass for doors and screens
Vetrotech Saint-Gobain, strives to supply the best solution for each specific application and this is reflected in its product range. It boasts eight individual product types within its range, starting with the PYROSWISS, its most economical 30 minute integrity (E30) product, suitable for doors and screens, through to CONTRAFLAM offering from 30 minutes to 120 minutes integrity and insulation (EI30 – EI120), and now widely recognised as the most sophisticated product available.
Clear fire-resisting safety glass
PYROSWISS is the original clear fire-resisting safety glass, combining 30 minutes of (E30) fire resistance with safety glass characteristics and flexible, multi-functional usage. It allows almost the same versatility as conventional architectural glass, with high-impact mechanical strength and tempered glass break-safe characteristics tested to class A, BS 6206:1981.
VETROFLAM has been developed to meet the new radiation control classification of Euronorm EN 357 July 2000. As a 6mm-thick single sheet the product provides in excess of 60 minutes integrity, and demonstrates a significant reduction in the transmission of radiated heat through the glass, typically less than 15kW/m² from a distance of 1m.
Multi-laminated fire-resistant and insulating glass
CONTRAFLAM LITE is a multi-laminated fire resisting and partially insulating fire resisting glass. Produced from two sheets of tempered safety glass, separated by a single, clear, colourless advanced intumescent interlayer. The nominal thickness of the product is 14mm, but may be increased for extra large panel sizes exceeding 1500mm x 3000mm, to provide additional rigidity.
CONTRAFLAM is a multi-laminated and fully insulating fire resisting-glass. It is produced from two or more panes of tempered safety glass and is separated by clear, colourless advanced intumescent interlayers. The number of sheets of tempered safety glass and interlayers is determined by the level of required fire resistance.
UV and fire-resistant glazing system
CONTRAFLAM STRUCTURE is a new glass product offering the ideal solution for realising frameless fire-resistant glass systems in interior applications. The product consists of two or more sheets of tempered monolithic safety glass separated by intumescent interlayers, which turn opaque and form an insulating barrier in the event of a fire.
The fire protective interlayer based on nanotechnology is UV resistant and offers extremely high-light transmission values. The frameless vertical silicone joints in this fire-resistant glazing system allow for new design options and architectural solutions by far exceeding the scope of all solutions known today.