The Rooflight Company was founded in 1993 by architect, Peter King RIBA and has gained a reputation for innovation and design excellence. Today, as an organisation progressing in the field of contemporary architecture and interior design, the Rooflight Company offers an extensive range of roof windows, both off-the-shelf and bespoke to the customer's requirements.
High modern performance with traditional appearance
The Conservation Rooflight has built a high profile within the building profession for staying ahead of building regulations and embracing technical developments while remaining faithful to its Victorian heritage. Conservation Rooflights are favoured by English Heritage, the National Trust and planning / conservation officers and are available in a wide range of standard and bespoke sizes.
Contemporary, frameless roof windows
A rooflight with an equal focus on form and function, the ultra-low profile and edge-to-edge glazing of the Neo frameless roof windows are the result of a close collaboration between designers and architects, representing a new concept in design. Fully Part L-compliant and exceeding the weather tightness requirements of BS 6375, sustainability is at the heart of these contemporary roof windows. The Neo range is available in two materials, steel or Fortecom, in a wide range of standard and bespoke sizes.
Finely detailed, low-profile rooflights
Based upon tried-and-tested linking strategies that provide different visual appearances, the Studio Linked and Studio Designer ranges offer all the qualities and advantages of the Conservation Rooflight and the Neo ranges, for projects that require a run of finely detailed, low-profile roof windows. Most BS colours and glazing options are available in a wide range of standard and bespoke sizes.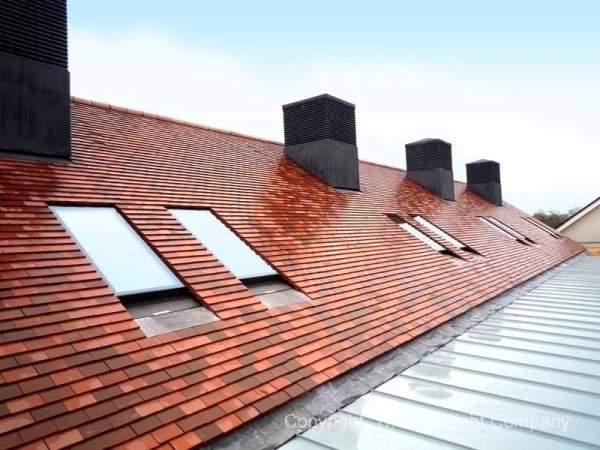 Aesthetically pleasing, flush fitting, neo frameless rooflights were specified for Grade II-listed Georgian building Broadclyst School in Devon.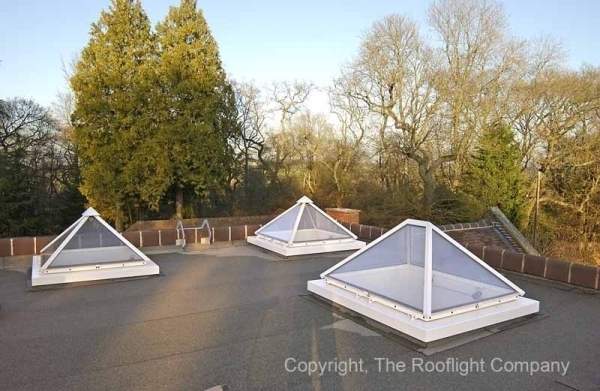 The Conservation Rooflight at Porth Farm. Flush Conservation Rooflights were specified by this rural National Trust property for its discreet design.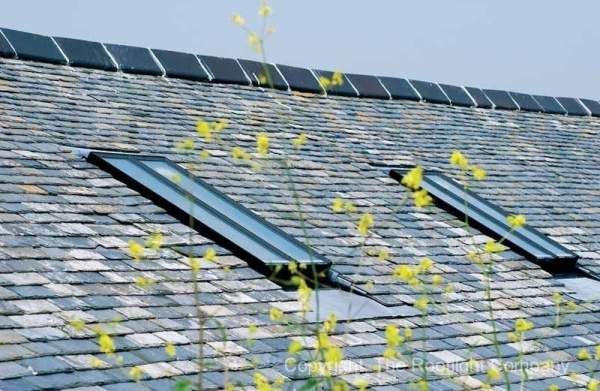 48 trapezoidal rooflights and 63 Studio Designer rooflights were installed on the reconstruction of The Roundhouse roof at Derby College.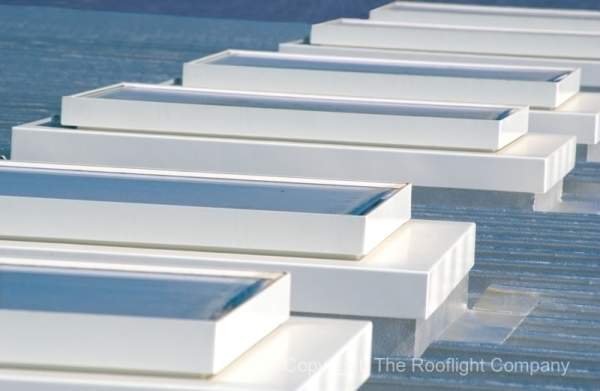 16 slim-line Plateau rooflights were specified by this college in Reading for its aesthetically pleasing design.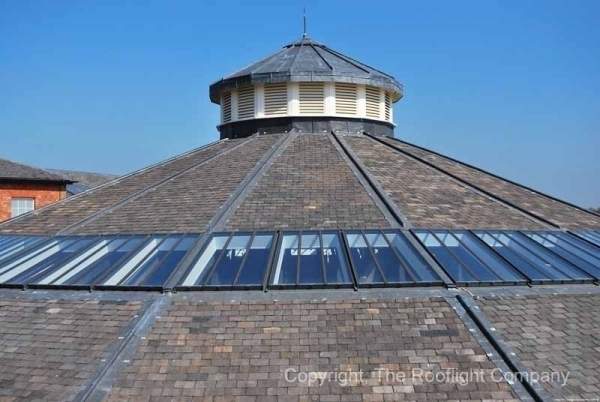 For this large flat roof extension, Pyramid and Lantern rooflights were specified to ensure maximum light exposure and the required ventilation.
Windows for maximum light gain on flat roofs
Suitable for most flat roof constructions, the Pyramid Rooflight range offers high-performance, long-life and low-maintenance Pyramid roof window units. With Thermoliner condensation control, a high degree of air tightness and a robust 3mm fine steel line design, these pyramid windows are available in standard and bespoke sizes and colours, with up to 12 years rooflight guarantee.
Aesthetically pleasing, slim steel profile rooflights
The Plateau Rooflight offers a sleek, aesthetically-pleasing roof window with a slim steel profile of only 95mm above the kerb height. Offering Thermoliner condensation control and a high degree of air tightness and exceeding current building regulation requirements, the Plateau Rooflight combines high performance, seamless design and easy installation for any flat roof construction. This product is available in both standard and bespoke sizes, with the Rooflight Company's full technical help and support.
Rooflight with extra security
With features including the first rooflight to be Secured by Design-certified to the Loss Prevention Standard 1175-6 Level 3, the Plateau Added Security Rooflight and Secured by Design range offers secure glazing options, tamper-proof hinges and security bars to reduce the risk of intrusion. Together with low-profile casement standing and availability in a range of colours and sizes, these added security rooflights successfully combine both aesthetics and security.
Roof windows to improve light and ventilation
Available in various designs, Bespoke range offers all of the high-performance qualities of our other roof windows, together with eye-catching designs that improve light and ventilation.
Roof lanterns for contemporary or Victorian architecture
A versatile and energy efficient way to enhance many types of building, the Lantern Rooflight offers slim steel sections, silicone fronting to glazing with high performance and visually-pleasing aesthetics for flat roofs.
Maximum natural light while providing an external platform overhead
Designed to be installed flush within a timber decked roof construction with a toughened glazing specification, the Walk on Rooflight provides a seamless flat roof window solution, which is suitable for residential purposes.
The Rooflight online shop
Featuring an online quote generator, providing you with the finishing options for their range of rooflights, accessory choices, such as ironmongery and flashing kits, as well as a range of blind colours, the Rooflight Company Online Shop provides a secure service to process orders online and give you the support you need when specifying rooflights.
To contact us, please use the form below to send us your enquiry.