The privately owned business was founded in 1903 by Danish immigrant Hans Andersen and his family in Hudson, Wisconsin, US where logs arrived via the St Croix River. Today, Andersen Corporation is an international enterprise employing over 9,000 people at more than 20 locations with headquarters in Bayport, Minnesota, USA a 200,000m2 facility that covers 65 acres. Andersen annually manufactures more than six million wood windows and doors, with sales worldwide.
Energy efficient doors and windows
Andersen Energy Efficient product lines include vinyl-clad, aluminum-clad and solid wood window and door products in a variety of wood species. Andersen's newest product line the 100 series utilizes our Fibrex material which is a patented composite made primarily of reclaimed wood fiber and vinyl.
Energy efficient window glass and divided-light products
Whether your design demands performance, clarity or architectural detail, Andersen has the glass and divided light solutions to make your views spectacular. For performance needs in a variety of environments, Andersen offers a multitude of glass options, including our High-Performance™ Low-E4® glass and our exclusive Andersen Stormwatch® and Eagle HarborMaster® systems for severe weather conditions. And for visual impact, made-to-order decorative glass and divided lights give you infinite possibilities, so your design will be as original as your inspiration.
The new Low-E4™ glass reduces water spots up to 99% and minimizes dirt build-up on the window when activated by sunlight. Andersen Low-E4™ glass saves time and money. It dries faster with fewer water spots and energy-efficient Low-E4™ glass also adds the thermal protection of Low-E glass to a home.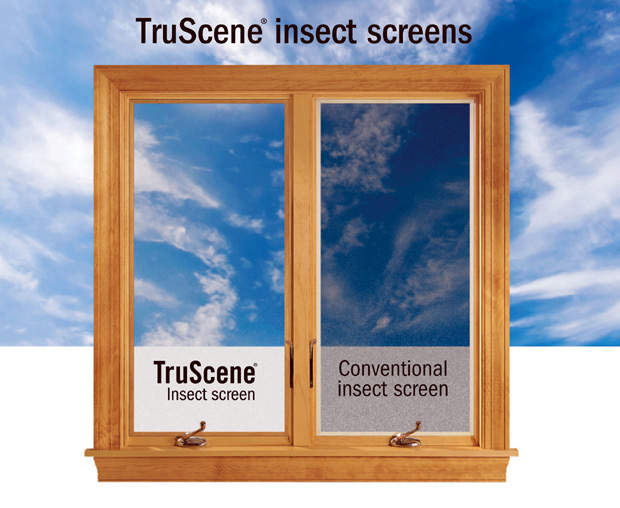 Clear view with truscene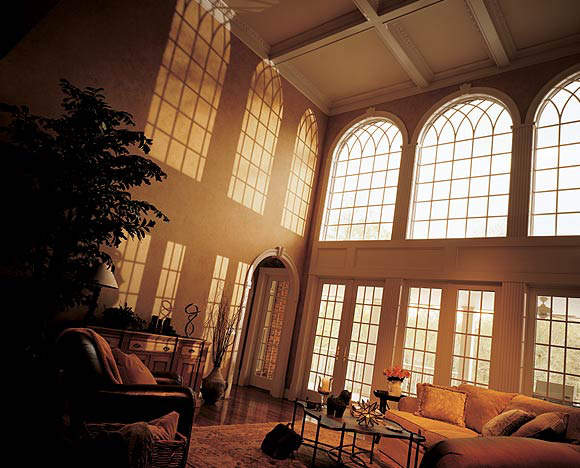 Elegant Views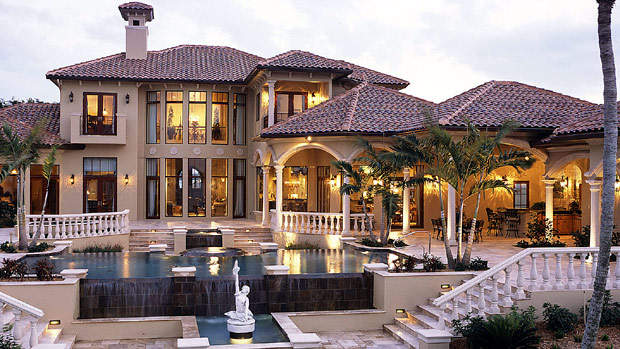 Custom Designs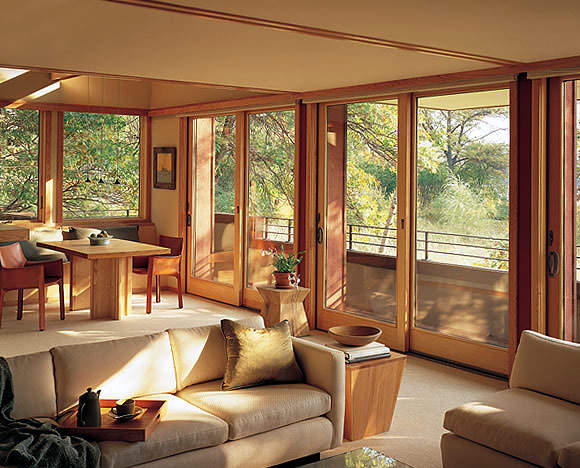 Contemporary Style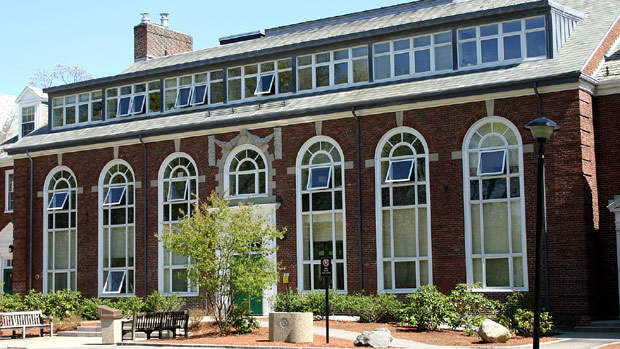 Commercial and Historic Renovations
Sound and UV-ray reduction glass
High-Performance™ Low-E4 glass reduces sound penetration and protects your interior from damaging UV rays. During shipping and finishing, a removable film protects Low-E4 glass from dirt or mortar. Like all Andersen windows and doors, Low-E4 glass comes with a 20-year limited warranty.
Architectural entranceways
Andersen architectural entranceways create entranceways for customers of sophisticated taste. Custom designed and crafted by hand, they showcase a look and feel of artistry, intricacy and extraordinary beauty. When stunning architecture demands an elegant introduction, nothing but the best will do.
Exterior color finishes for doors and windows
Color enhances your design, and we believe it shouldn't have to cost more. Our aluminum-clad Eagle line includes 50 Complimentary Colors™, a carefully selected modern palette available at no additional cost. For a look of distinction, we offer seven spectacular anodized finishes that truly shine. Our extensive color offering far exceeds anything in the industry today. Add to that our complimentary two, three and four-tone exteriors, and the Eagle line sets your windows and doors apart from the rest.
Natural wood window and door interior finishes
Natural wood adds character to your design. A clear pine interior finish can be selected at no additional charge. For infinite possibilities, we offer seven additional distinctive wood varieties and will source virtually any other wood species your design demands. All of our wood selections can be finished to perfection in one of eight interior stains, two basecoat colors or clear polyurethane. And with our stain-matching capabilities, you can trust us to customize a finish to meet your design needs.
Window and door support sevices
Our internal support staff includes product specialists with over 25+ years of service with our company to help select windows and doors to meet your specific project needs. Our team includes an AIA certified architect who can provide direct support for design, product selection and envelope integration detail. We can also provide guidance on product selection to best meet your LEED and Sustainability objectives. Our total solution approach helps you with each stage of your project from initial design phase through to project completion. The Andersen team is available to provide on-site installation, technical and service support to your project.