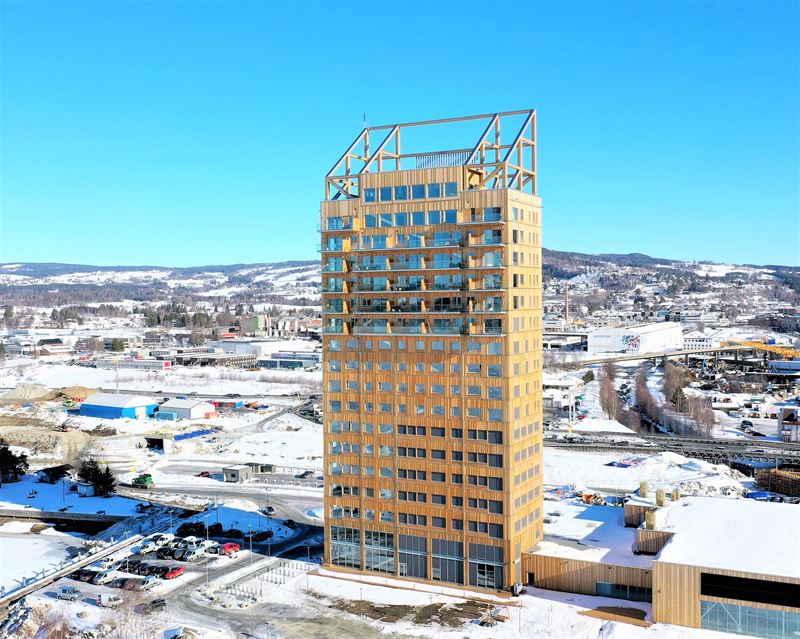 Woodsafe took home the 'Project of the Year' award at the Wood Protection Association (WPA) Award Event 2020.
For the sixth year, the award has become a popular annual event in the UK as a relevant and important part of the wood industry. https://www.thewpa.org.uk/
Mjöstornet in Brummundal Morway is with 85.4m above sea level the world's tallest wooden building. The award Project of the Year at WPA's ceremony was taken home by Woodsafe Timber Protection for the flame-retardant impregnated wooden façade for exterior use.
Mjöstornets wooden façade is a Thermowood D Pine delivered by Woodify AS in Norway and flame retardant impregnated with Woodsafe Fire-X.
"The fact that Woodsafe takes home the prize in a fierce international competition is another measure of the value of our services and end product not only in the Scandinavian market but also internationally," says Market Manager Daniel Pesic.
This year the conditions have been different with Covid-19 and in order to guarantee the safety of all participants the WPA Awards was held in a virtual space.
WPA's CEO Gordon Ewbank and the events host commented: "Organising the 2020 award as an online event means that, despite Covid-19, our industry can still come together in a safe way to recognize and reward excellence.
"Team Woodsafe is honoured by this award and looks forward to the coming years with a series of new super cool wooden-projects in the pipeline," says Thomas Bentsson, CEO.
Many thanks for the award and greetings from the staff at Team Woodsafe!