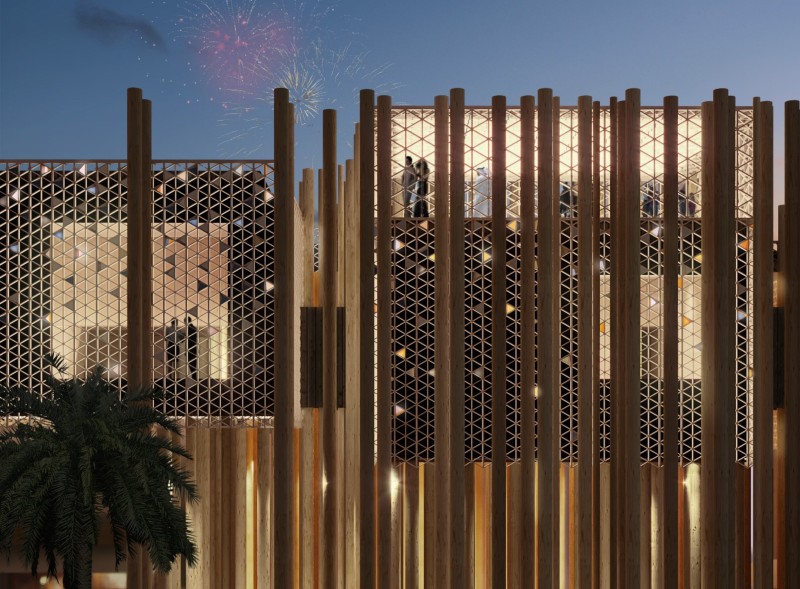 On-site at Expo2020 in Dubai, Sweden has built a magnificent exhibition hall called 'The Forest.' This is a spectacular wood construction landmark situated in the Sustainability Area at the World Expo Dubai that will be accessible to the general public at the grand opening on the 1st of October 2021.
Before re-emerging in Dubai, the Forest has been growing in the deep forests of Sweden for over 100 years. Sweden has strong traditions in sustainable forestry, which serves modern wood-working industries with timber of the highest grades. Due to its low carbon footprint, there is an ever-growing demand for increased use of wood in areas where it historically has not been considered. Especially in areas where fire safety is an issue. The World Expo Forest is the perfect example.
How was it possible, to raise an almost 100% wooden construction on a site where it is not allowed to build in wood at all?
Part of the answer is the ALL-IN-ONE concept where two able players on the Swedish market have joined forces in a common concept where state-of-the-art know-how in passive flame-retardant treatments is combined with deep knowledge in complex woodworking in a wide range of wood species. Over the last decade, our common processes have been refined and developed for the Scandinavian market and we are now set to look beyond. Our contribution to The Forest is our way to introduce the concept to a broader market.
In The Forest, you may experience wood knowledge that has been developed for centuries. To this knowledge, we have added flame-retardant know-how and combined the two into fire-safe products with the same visual appearance as standard wood products. In The Forest, you may experience, see, touch and understand the ALL-in-ONE concept and its unique traits.
Many regions and industries have great expectations on new ways to build in wood on a larger scale in their business plans. The Forest in World Expo, Dubai, is the perfect platform to meet and further investigate the enormous opportunities that wooden construction products in combination with enhanced fire properties can enable.
"The opportunity to meet people in different industries and use the Expo2020 as a platform for business development and innovation is fantastic, we are very excited about that", says Daniel Pesic, Market manager at Woodafe Timber Protection.
World Expo Dubai has a grand opening on the 1st of October 2021 and ends 31 March 2022.
The ALL-in-ONE concept will contribute with the knowledge needed for enabling increased use of wood aiming at a more sustainable building sector. We will also put the construction products together and thus be a reliable and experienced partner for architects, developers and contractors throughout the building project from start to end. We hope our appearance in The Forest will be the start of long-term relations with new partners in new markets.
Since 2011, Woodsafe and Backegards have successfully combined their common knowledge into one common concept ALL-in-ONE. Woodsafe contributes with state-of-the-art knowledge in fire retardant treatment and Backegards with all the knowledge needed to produce various wooden products that cope with the Flame Retardant treatment. We refer to this as an ALL-in-ONE concept. Buying into our solution is buying into a well-proven concept where many years of experience are combined into great looking products with leading fire safety properties at minimised risk.