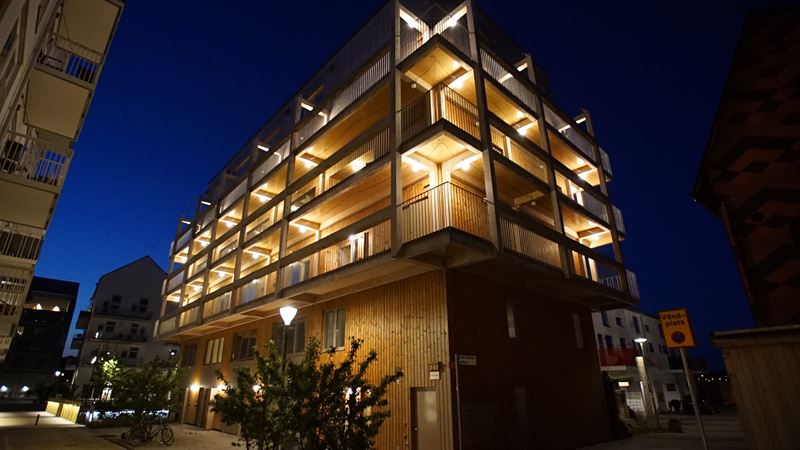 ALL-IN-ONE by Woodsafe offers a unique package of expertise where all parts of the flame-retardant wood production chain are gathered under one roof.
"With our partner, we take control of the entire process. We guarantee our clients exactly the quality they want," says Thomas Bengtsson, CEO of Woodsafe.
As a purchaser of flame-retardant wood, it can be difficult to gain an overview of the entire value chain, as it often involves different suppliers, sometimes in several countries.
Woodsafe is now launching ALL-IN-ONE by Woodsafe, a quality-assured production chain where only one player takes care of and documents the quality of the wood material, from raw material preparation to final delivery.
"Architects and developers struggle to gain insight and determine the quality differences between the various delivery options for treated wood. Our ALL-IN-ONE concept brings together the entire supply chain for flame-retardant wood under one roof and is a premium choice for quality-conscious clients," explains Thomas Bengtsson, CEO of Woodsafe.
Woodsafe's ALL-IN-ONE concept is a unique value chain where the processing of wood raw material into finished high-end products is quality assured by the same supplier at every stage. This clearly defined concept is the foundation for the any given construction project. Excellence and quality assurance at e.g. advice when purchasing, raw materials, planing, sawing, profiling, flame retarding, surface treatment and the right documentation, are clearly reflected in the end product.
The ALL-IN-ONE concept is available through Woodsafe's approved ALL-IN-ONE partner Bäckegårds List AB, located in Burseryd in the countryside of southern Sweden.
"Building with wood and taking a chance on fire safety and the quality of the wood just to find the cheapest solution is not a good idea. With ALL-IN-ONE by Woodsafe, we ensure that the unique character of the wood emerges with flame-retardant properties that are not visible or that disrupt the overall impression," says Thomas Bengtsson, owner and founder of Woodsafe.
Woodsafe is part of a sustainable value chain with trusted suppliers and players. This provides unique opportunities to satisfy set sustainability goals while still being able to give free rein to the developer's requirements and the architect's creativity.
"Wood as a building material is bio-economic and promotes the reduction of CO2. Woodsafe's processing methods also guarantee fire safety for residents, as well as environmental benefits," adds Thomas Bengtsson.