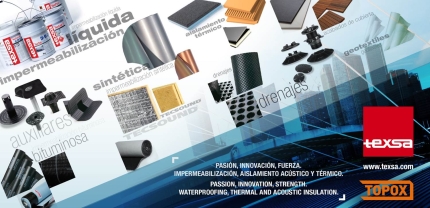 TEXSA manufactures roofing / waterproofing, geotextiles, drainages, thermal and acoustic insulation products, as well as the corresponding auxiliary materials for the construction and distribution industries.
The company aims to supply durable waterproofing for long-lasting constructions.
Waterproofing and roofing solutions for buildings and structures
TEXSA offers a complete and innovative range of products that meet and exceed market standards, so clients find the appropriate solution for every type of worksite.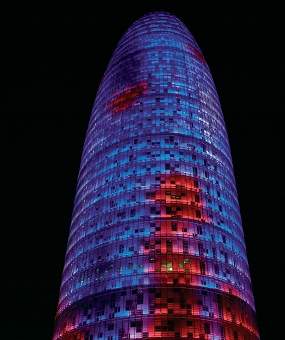 Texsa is a specialist in roofing and waterproofing solutions for the construction and civil engineering (Torre Agbar. Architect: Jean Nouvel).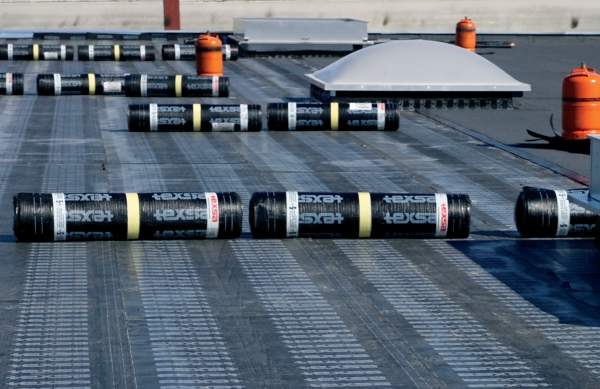 The company's product range includes bituminous waterproofing membranes.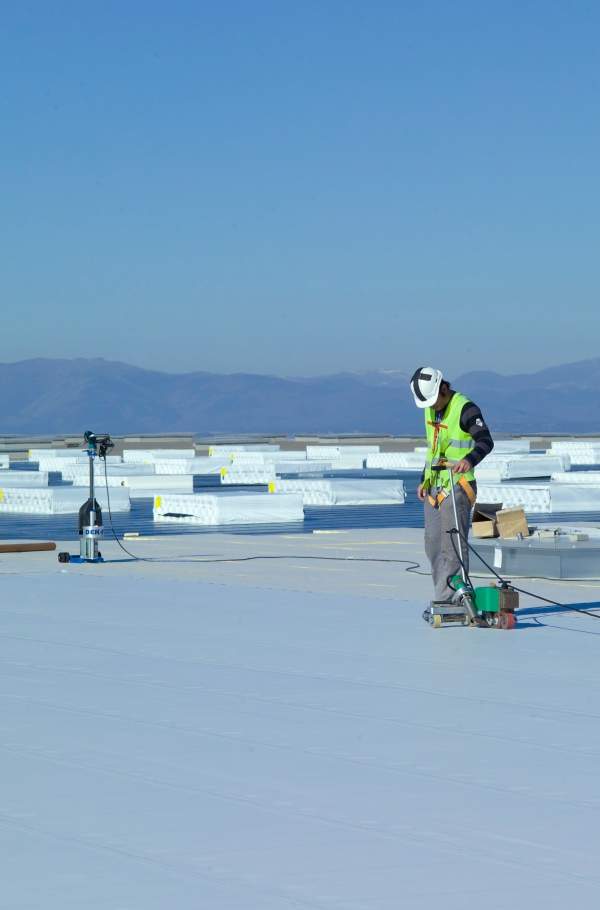 The TEXA synthetic waterproofing range is especially designed for longlasting waterproofing.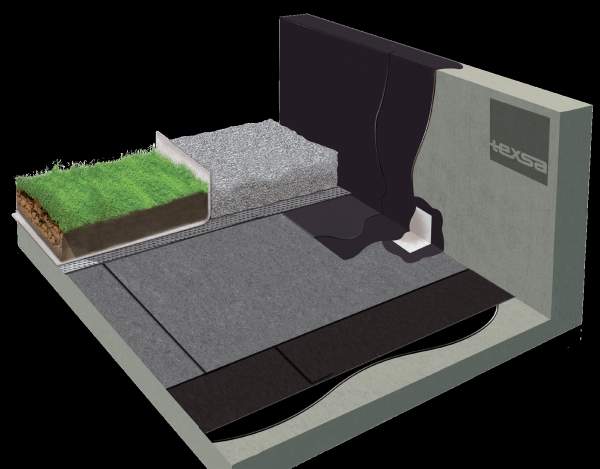 The company's liquid waterproofing products include cold-applied, liquid resin systems for extensive protection.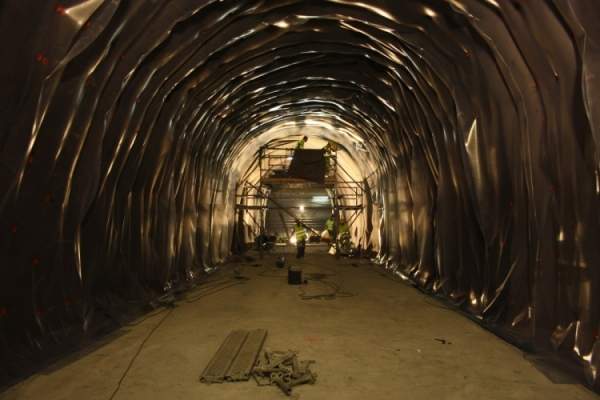 TEXSA's synthetic waterproofing solutions are suitable for both exposed and non-exposed constructions.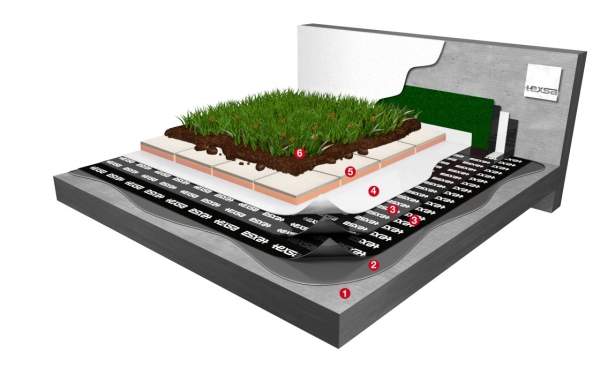 TEXSA's geotextiles are part of innovative constructive systems in building and civil engineering.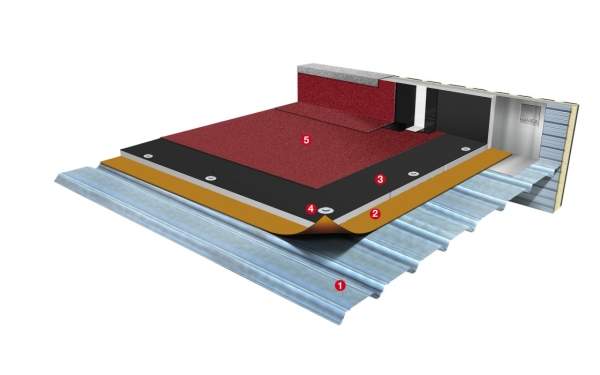 TEXSA's innovative waterproofing, acoustic and thermal insulation systems for roof decks.
Architects, engineers and distributors worldwide have collaborated closely with TEXSA to overcome the architecural challenges of the 21st century. Kiev Olimpic stadium (Kiev, Ucrania) Arq. GMP Gerkan, Marg and partners.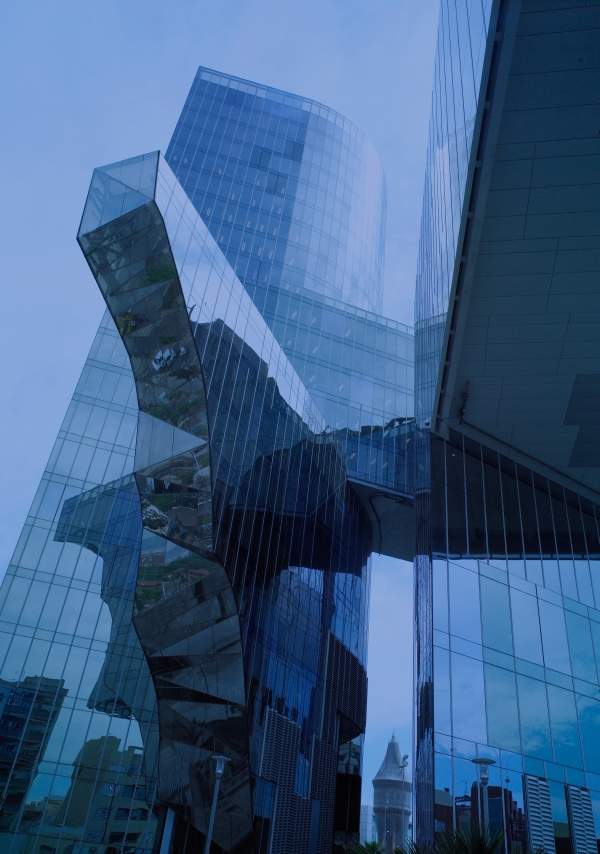 Previous projects TEXSA has worked on includes Torre Marenostrum, Barcelona, Spain. Architect: EMBT Benedette Tagliablue.
The company provides original and efficient solutions that are based on elastomer (SBS), also in self-adhesive version, or plastomer (APP) bitumen, cold-applied waterproofing resins and synthetic membranes in PVC and TPO.
Bituminous waterproofing membranes
MORTERPLAS SBS is a range of elastomeric waterproofing bituminous membranes, with low-temperature flexibility less than/equal to -15ºC.
The upper finishes will determine if the membrane can be exposed, being a cap sheet finished with slate or aluminium or an underlay finished with thermally bonded film.
TEXSELF is a series of self-adhesive waterproofing membranes with SBS, with a low-temperature flexibility of less than/equal to -15ºC. It has a high-adherence on concrete, cement, wood and metal supports, as well as an easily removable silicone film on the bottom side, making it ideal as a tanking and dump-proof membrane.
MORTERPLAS APP is an array of plastomeric bituminous waterproofing solutions, with a high-softening point and flexibility. The robust APP plastomeric mastic gives the membrane great resistance against atmospheric agents and high-durability with low-temperature flexibility of less than/equal to -15ºC.
The MOPLY N admixed bitumen waterproofing membranes feature APP plastomeric polymers and low-temperature flexibility of less than/equal to -5ºC.
All the bituminous membranes are available with different reinforcements and finishes.
Synthetic waterproofing membranes for roofing
VINITEX PVC synthetic PVC-P membranes are manufactured by a casting system or co-extrusion. They feature different physicochemical properties, and homogenous or reinforced with polyester mesh or fibreglass, depending on the application.
TEXSALON TPO polyolefin synthetic membranes of modified polypropylene (TPO) allow a single layer membrane of different chemical and physical properties on both sides.
TEXSA's PVC and TPO range provide waterproofing for roofs, especially designed for different supports. Systems are available for exposed and non-exposed roofs.
Liquid waterproofing solutions
TEXSA GROUP offers diversified liquid waterproofing solutions for every application, ranging from advanced, third-generation polymethyl methacrylate (PMMA), rapid curing technology to economical, easy-to-use flashing and finishing options.
The TEXSA range of cold-applied liquid resin systems offers cost-effective, load-bearing, high-performance solutions for seamless, waterproofing of parking decks, balconies, patios, terraces, pedestrian areas, wet rooms and repairing existing roofs.
Acoustic insulation membranes
TECSOUND® is a high-density, highly viscoelastic, synthetic soundproofing membrane that offers excellent levels of acoustic insulation in constructions.
Available in a range of sizes and weights, TECSOUND® offers solutions for all building systems and industrial applications.
Impact noise insulation flooring
The TEXFON impact noise insulation layer for floors comprises a high-tenacity, polyester-based, non-woven felt that is laminated for bituminous protection. It offers an impact noise insulation of 22dB.
TEXSILEN is a polyethylene foam closed cell membrane, between 3mm and 5mm thick, for the impact noise insulation in types of floors. In the 'plus' version, it is available in 5mm and 10mm in thickness, providing high compressive strength and excellent acoustic insulation.
Polystyrene foam boards for thermal insulation
The XPS TOPOX range consists of rigid, extruded polystyrene foam boards with a closed-cell structure and excellent thermal conductivity.
TEXLOSA R is an insulation tile, featuring an extruded polystyrene foam base with a closed cell structure. It is self-protected on the upper side with a 35mm-thick mortar screed, with white or grey rough, rustic finish.
It is a self-supporting insulation and drainage product, combining thermal insulation and roof protection. In addition to the advantages of an inverted roof system, it offers a permeable concrete finish, enabling easy maintenance and access to the waterproofing layer in case of repair.
The AISLADECK range is made up of rigid thermal insulation boards, specially designed for deck roofs, and formulated with polyisocianurate (PIR) using a foaming process.
Available in various finishes depending on the application, AISLADECK VV boards are coated with fiberglass tissue on both sides, BV boards that are covered with fibreglass tissue and an asphalt finish, and AL boards, which are layered with 50 micron aluminum foil.
Geotextiles solutions for buildings
ROOFTEX and ROOFTEX V are non-woven geotextiles. They have 100% PET fibres, are needle punctured with subsequent heat treatment and calendared, used as a separating, filtering, drainage and protective layer in buildings. The ranges are available in densities varying from 120g to 400g.
The solutions have a number of features, including:
Puncture resistance to the waterproofing membrane
High-permeability to water, allows the passage of water, maintaining the fine soil particles
Acts as a permeable barrier between materials with different structures
TEXXAM is a thermally bonded, non-woven polypropylene geotextile used as a separating, filtering, drainage and protective layer for buildings and civil works. It is available in densities from 90g to 250g.
Drainage and protection membranes
DRENTEX STAR and PROTECT are high-density polyethylene (HDPE) dimple membranes, which are used for waterproofing and drainage system protection in underground structures.
The DRENTEX IMPACT line comprises three-dimensional dimple membranes with perforated / non-perforated polystyrene, incorporated with one or two polypropylene geotextiles.
The non-woven polypropylene prevents soil from blocking drainage and the entire system drains water and protects the waterproofing on a variety of different structures.
Features include:
A stable and reliable, rot, root and fungi-proof drainage system
High compression-resistance, which ensures that the drainage volume is not reduced by pressure from the soil
Easy to transport and install