Soltecture combines ten years of experience as a world leader in the manufacture of CIGSe-based thin-film modules with its optimal system solutions for solar construction. Soltecture offers its clients a comprehensive service and first-class quality products as well as planning, installation, and financing services.
Solar modules and energy systems for commercial roofs and family dwellings
Whether for large commercial roofs or single-family dwellings, Soltecture offers aesthetically pleasing and highly efficient solar modules and energy system solutions. As reflected in the company's name, it focuses on the fusion of solar power and leading energy technology with architecture and design.
Systems for building applied photovoltaics and integrated photovoltaics
Soltecture offers complete system solutions for building applied photovoltaics (BAPV) and building integrated photovoltaics (BIPV), with perfectly matched components for easy installation. Architects, contractors and installers value Soltecture's modules because they are high-quality, high-yielding and elegant.
Solar module flat roof system
The Tectum flat roof system is hardly exposed to wind and is so lightly constructed that it can also be installed on lightweight roofs with low load-bearing capacities. This has been proven by comprehensive wind tunnel tests and static loading calculations.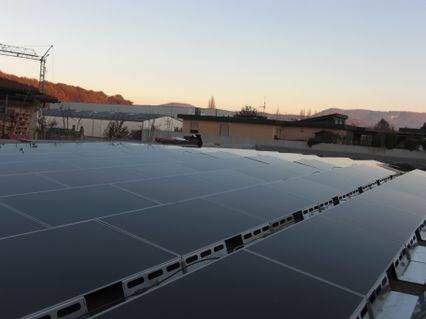 The Tectum flat-roof system consists of one single element: the Linion L laminate. The underlying aluminum construction is fully preassembled.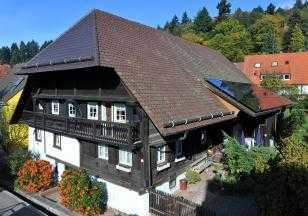 The shapely endplates on the horizontal and vertical profiles and the active anti-theft protection SOL Guard make Soltecture's Sertum on-roof system the number one choice.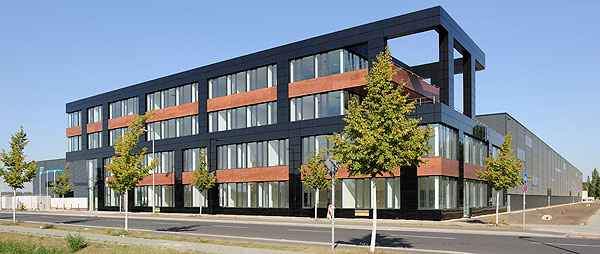 Facade system solutions by Soltecture increase the value of a building and convert simple metal sheet panels into representative glass facades.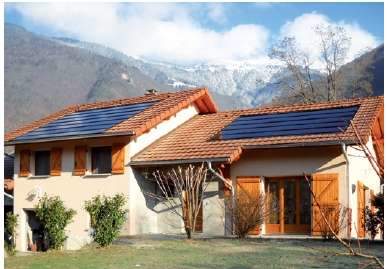 With Pallium, Soltecture delivers a complete roof-integration system, inclusive of all parts and easy to install.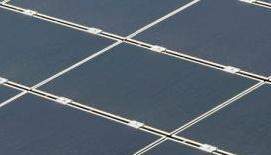 The black pinstriped look: Soltecture's thin-film modules are an elegant design solution.
Roof-mounted system for framed modules
The Sertum roof-mounted system delights through its visual perfection. The uniform generator surface meets even the most precise architectural demands and matches the elegance of roof-integrated systems. The insertion system is the perfect choice for homeowners who don't want the visual appearance of their homes to be dominated by metallic and glimmering blue modules.
With Soltecture's roof-mounted system, a visually discrete solution is now available on the market that is second to none. The smooth generator surface prevents snow from accumulating, enabling the snow to slide off as soon as it begins to thaw. In addition, the profiles are shaped to prevent sliding snow from breaking off the module's frames.
Frameless facade system for solar modules
The frameless facade solution from Soltecture consists of the black Linion L laminate module and the proven facade cassette. The two are combined to form a single element, enabling them to be quickly and easily installed. The innovative adhesive technology eliminates the need for disruptive clamping brackets or cleats.
The solar facade system forms the external building envelope. This enables the system to discharge water in a controlled manner and to protect the layers behind from moisture.
Roof-integrated solar system
Soltecture's Pallium roof-integrated system opens up new possibilities in solar construction. The modules are installed like tiles on the roof battens of your house and completely replace conventional tiled roofs. The protective roof over your head simultaneously generates clean, renewable energy. With its homogenous black glass surface and black frames, the Linion R roof-integrated modules meet the most demanding architectural requirements. With Pallium, Soltecture provides a complete system, ready for installation and with all parts required for integration into the roof.
Reliable and stable CIS-based thin-film solar modules
Soltecture's production is in accordance with the high-quality standards of the semiconductor industry. It manufactures its CIS-based thin-film solar modules solely in Germany. The uniformly black glass surfaces provide proof of quality and make the modules amongst the most attractive on the market.
As a German quality manufacturer, Soltecture has been producing and selling solar modules based on CIS semiconductors since 2005. It places particular importance on the reliability and long-term stability of its solar modules and subjects its products to quality tests that are even more stringent than those required by the commonly applied IEC standard 61646. Soltecture grants its end customers an independent product warranty lasting ten years for all modules and an output warranty lasting 25 years.
Laminate clamp for solar construction
Soltecture set itself the challenge of developing a clamp to ensure that laminate modules can be secured safely in comparison with conventional clamps. Soltecture has always relied on maximum quality and functionality through innovative design. The Inteo Clamp meets the highest safety requirements required in buildings. The silicon used is non-combustible in accordance with UL94-VO. In comparison with conventional clamps, which mostly use EPDM plastic, the dielectric strength is also significantly increased.
The clamp provides ideal stabilisation for modules on roofs with high snow and wind loads. The Inteo Clamp provides a core element in intelligent solutions for solar construction, an area in which Soltecture has considerable expertise.
Planning, consulting and installation services for solar modules
Soltecture offers extensive services in planning, consulting, installation and financing of its solar modules and system solutions. Soltecture has an array of services, including an online planning tool, SOLdesign, which allows quick and efficient planning and ordering of a solar energy system, SOLfinance for project financing, and SOLtraining, a specialised training service for Soltecture's partners. These systems have been developed and tailored for various system solutions, offering custom-fitted consulting services for developers and installers.