RMD Kwikform is a global supplier of formwork, shoring and access solutions. The company delivers unique solutions for construction applications including single and double sided wall formwork, slab support and tableforms. RMD Kwikform has over 50 years experience gained from working across a broad spectrum of projects and industry sectors around the world.
With engineering excellence and an international network of 47 branches, RMD Kwikform has local knowledge backed up by vast international experience.
CUSTOMISED FORMWORK, SHORING AND ACCESS PLANNING SERVICES
RMD Kwikform's extensive experience of international work has allowed us to develop our key services, including formwork, shoring and access planning, design and supply; installation instructions and advice; site supervision and ongoing technical support, commercial flexibility, local access to a wide range of unique formwork products and a proven network of experienced erection subcontractors.
Maintaining a large product range, RMD Kwikform has the capacity to develop a customised solution irrespective of the project demands. Wherever you are in the world, RMD Kwikform will undertake a universal approach to each new build or refurbishment project. We believe this is the key way we can be effective – to work through each project step by step, from start to finish.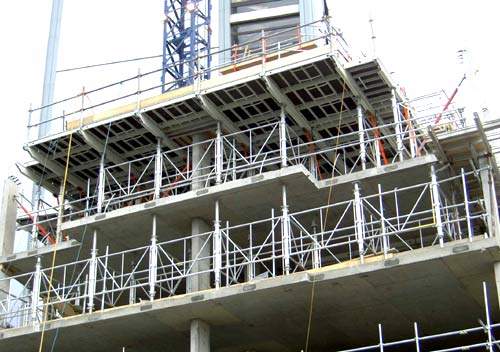 RMD Kwikform are a highly experienced formwork, shoring and access solutions specialist.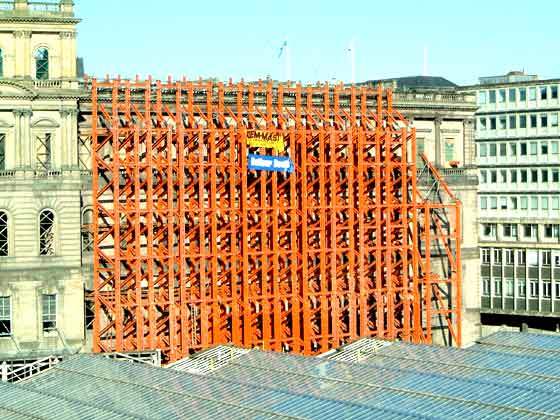 RMD Kwikform can manage 1,000kN Megashor and Superslim Soldiers for use in complex façade retention schemes, such as the GPO Building project in Scotland.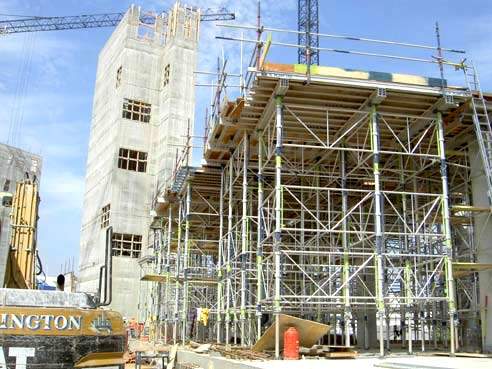 The company has been contracted to numerous high-profile new build and refurbishment projects, including stadium work on the Millennium Stadium at Cardiff Arms Park and the new Wembley.
BUILDING CONSTRUCTION ENGINEERING – RESIDENTIAL, COMMERCIAL AND INDUSTRIAL
RMD Kwikform has immense knowledge and experience of the construction of buildings, whether residential, commercial or industrial. The innovative designs of our engineers ensure that we provide our clients with the most effective engineering solution, which not only matches but also exceeds their requirements.
ALSHOR PLUS AND AIRODEK SHORING SYSTEMS
RMD Kwikform's product range is proven. Our Airodek and Alshor Plus shoring systems have been developed with a strong knowledge of our customers' requirements, and have been designed for exceptional versatility. As such, the Airodek and Alshor Plus shoring systems can be operated both together and independently.
Alshor Plus, 120kN aluminium shoring system, incorporates unique features, such as blade and pocket connection of frames, dome base allowing greater degree of rotation and load release mechanism giving a quick and effective release of the load. The simplicity of Airodek allows quick and easy erection, with the uniquely designed crown locating the corners of up to 4 panels simultaneously, minimising the chance of them being dislodged.
NEW BUILD AND REFURBISHMENT PROJECTS
RMD Kwikform has successfully supported contractors on both new build and refurbishment projects, providing shoring, formworks and access solutions that maximise effectiveness and minimise time and in use costs.
RMD Kwikform's 1,000kN Megashor and Superslim Soldiers were used for a façade retention scheme for the Grade A listed façade of one of Edinburgh's landmark buildings, the old GPO sorting office building. The Victorian building is to get a new lease of life as a six-storey retail and commercial centre, retaining five existing façades.
For the construction of the new 13-storey Isokon building in Glasgow's city centre, Alshor Plus shoring has been used in conjunction with the Airodek soffit formwork system for the construction of the 4,680m2 of in situ concrete floors. The innovative features of both systems have resulted in substantial time, labour and cost savings.
GLOBAL SPECIALISTS FOR FORMWORK AND SHORING SOLUTIONS
RMD Kwikform was founded in 1948, as specialists in formwork and shoring solutions. Our international experience is underpinned by our local understanding through our 800 employees working from 47 branches within 14 countries throughout the Middle East, Europe, Asia, Australasia and the Americas. RMD Kwikform is a division of Interserve plc, which has a global turnover of $2 billion.