Prinz Optics is one of the world's leading manufacturers of Sol-Gel dip coated architectural glass and optical filters. VarioTrans® colour effect glass in particular opens up new avenues for architects when it comes to the individual design of both interior and exterior facades, as this design glass is a dichroic filter that allows particular light wavelengths to penetrate and reflects others.
The glass can therefore appear coloured or transparent, depending on the light radiation or viewing angle. The broad range of optical filters available enables use of illuminants with every desired light colour and, consequently, applications including the individual design of facade lighting.
Colour-effect glass for building exteriors
VarioTrans® colour effect glass available for exteriors (as triple-laminated composite safety glass/partially pre-tensioned glass) and interiors (as double-laminated composite safety glass/partially pre-tensioned glass) is a glass surface finished with visual interference layers. Familiar perceptive qualities of glass, such as transparency and reflection, are complemented by further properties as a result, including varying colours, multifaceted perspectives or coloured shading. The colouring effect achieved, which varies according to solar radiation, observation angle and background, depends on the layer applied or combination of layers, rendering it calculable for designers.
VarioTrans® is non-absorptive, as radiation which is not permitted to penetrate is removed from the beam through reflection.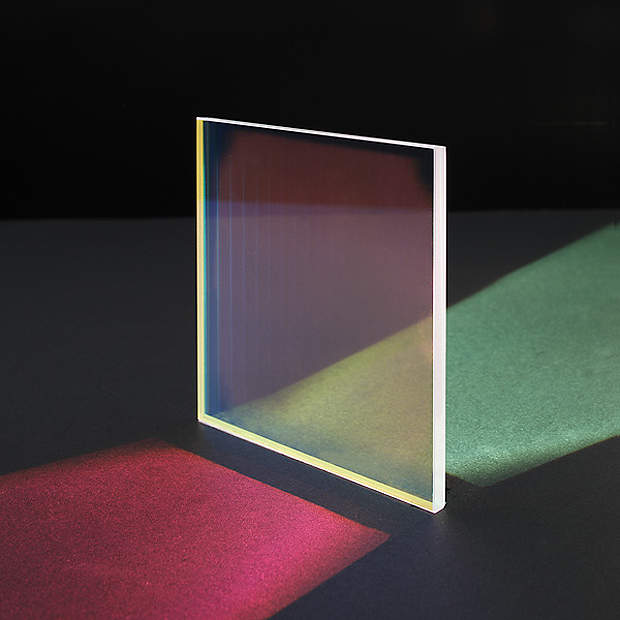 Green filter with frontally-reflecting complementary colour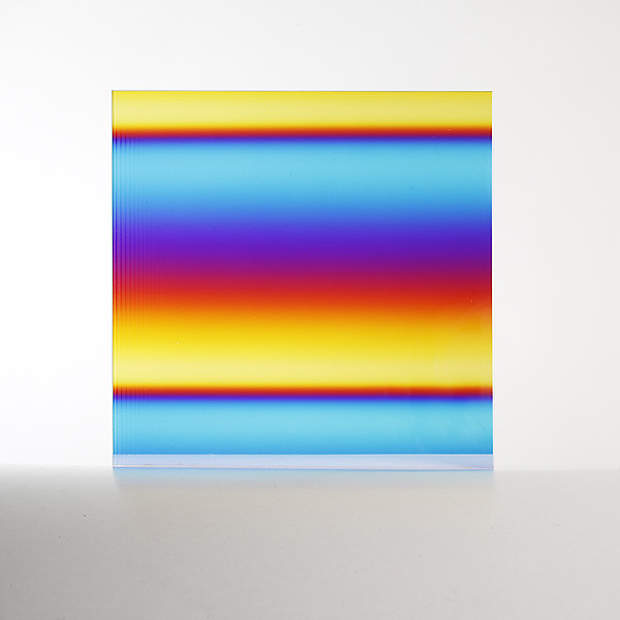 Variotrans colour graduation filter. Any combination of graduations can be realised.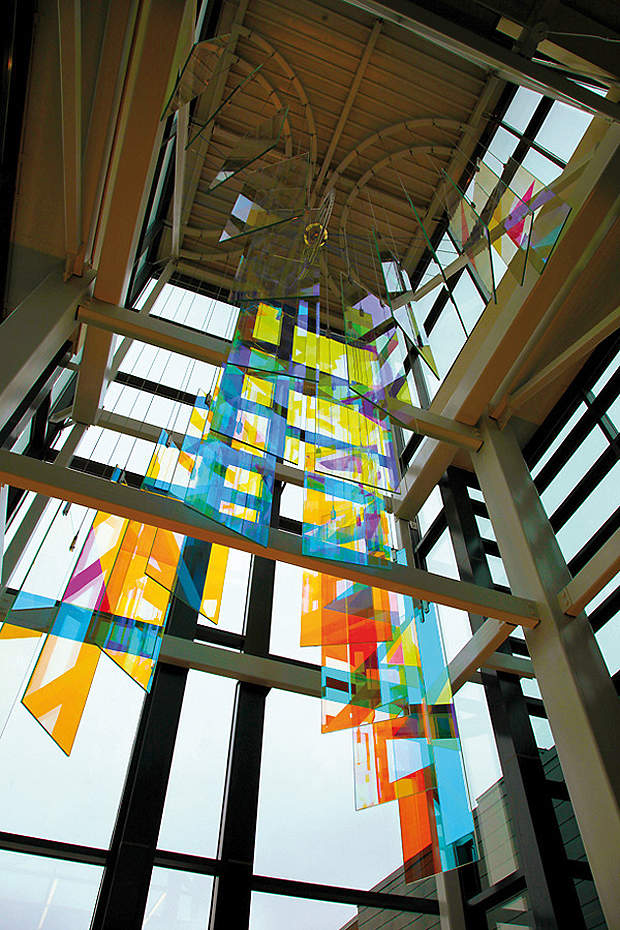 School building in Minneapolis, USA: a colour composition of yellow hues with strong blue and magenta. 2 x 12 dichroic filters shape this illuminating installation which constitutes the stairwell to an art room.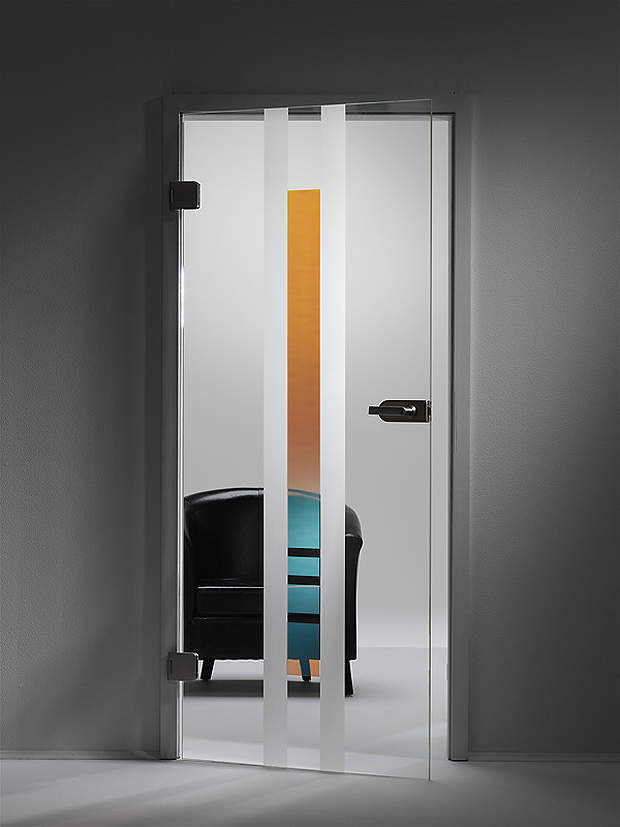 Door consisting of composite safety glass with Variotrans elements. New colour combinations are generated by complementary colours from the colour circle each time the door moves and when the viewing angle changes.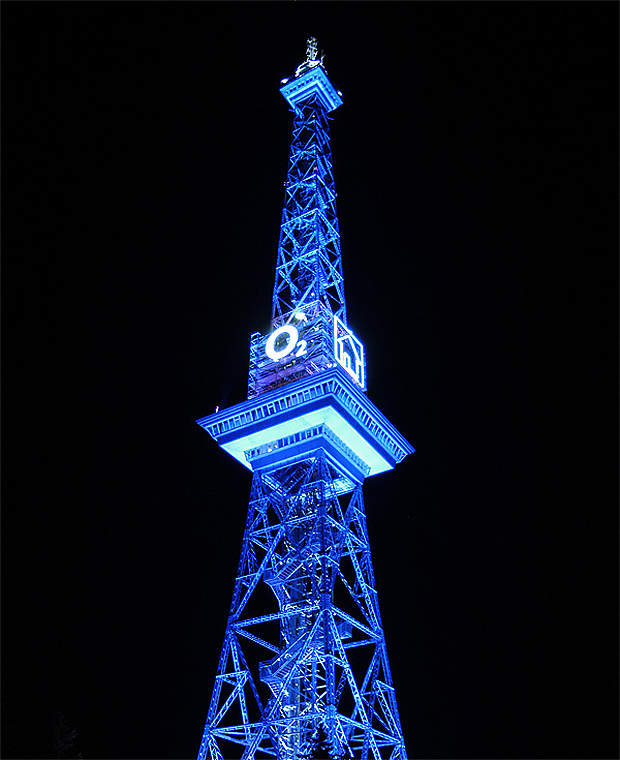 The Funkturm (radio tower) in Berlin: illumination with Prinz Optics filters
The inorganic coating generated through dipping in Sol-Gel is absolutely resistant to UV rays. The lively colours generated from the light are maintained to an unlimited degree. Dichroic coating does not affect transparency, and the weather and temperature resistance and stability of the glass are retained completely. VarioTrans is extremely resilient as a composite glass and meets the requirements of all building regulations.
Dichroic glass for building interiors
An apparently weightless, brilliant and immensely resilient material, VarioTrans® dichroic glass is predestined for spatial divisions or room-in-room design. The glass appears at one moment to be transparent, then suddenly reflective and demonstrating a variety of colours when viewed from another angle.
Glass doors made of VarioTrans® are sturdy and easy to care for. They are, primarily, an eye-catching feature in any room: transparent and, simultaneously, multicoloured, colour graduated or demonstrating a variety of colours, depending on the light or angle involved.
The doors are delivered ready for installation.
Dynamic glass facades
The functionality of this glass is complemented by the aesthetics of animated colours. Buildings whose facades are partially or completely glazed with VarioTrans® provide a fascinating display of alternating visual effects, depending on available lighting conditions. Both transparent and reflective, VarioTrans® lends a unique urban accent to structures and meets the requirements of all building regulations.
Optical filters for effective facade lighting
The versatile options inherent in chemical nanotechnology means that the colour of light emitted by illuminants can also be designed to meet requirements using the Sol-Gel dip coating, thus adapting the effect to suit the architectonic characteristics of the facade.
In contrast to coloured films and coloured glass panes, these filters are resistant to temperature, UV and weather conditions.
Prinz Optics also provides you with a comprehensive consulting service
Prinz Optics GmbH combines 15 years of production experience with a competent consulting service, flexibility and short delivery durations.
Our customer-oriented consulting and development service ensures the optimum use of colour effect glass and optical filters, as our primary concern is to ensure that our clients' ideas and projects are realised in the most elegant and cost-effective manner possible.
We will, of course, be delighted to fulfil your request for samples as speedily as possible.