International metals specialist Luvata is committed to working with architects on new concepts to help meet their design aspirations and to develop copper as a thoroughly modern architectural material. The growing diversity of colours, surfaces, alloys and systems available with Luvata's Nordic ranges is boosted by its impressive environmental credentials.
Pre-patinated copper surfaces for construction and design
The innovative Nordic Green™ system offers unparallelled design opportunities and the ability to control the type and intensity of pre-patination. It also removes limitations on the length of pre-patinated copper sheet or strip used on a project because whole coils are treated on the production line, not just limited size sheets.
For the first time, architects and installers can determine specific pre-patinated copper surfaces for use in long-strip and other larger-scale installation techniques. The new Nordic Green Living process from Luvata is carried out in the factory and can be accurately controlled so that, as well as the solid green patina colour, other intensities of patina flecks can be created revealing some of the dark oxidised material behind. The same flexibility is available with Nordic Blue™ also.
Pre-oxidised copper surfaces for design and construction
Nordic Royal™ is an alloy of copper, with aluminium and zinc, which is very stable and keeps its warm golden shade. Unlike pure copper, which develops a dark brown colour with oxidisation followed by its distinctive green patina, it has a thin protective oxide layer containing all three alloy elements when produced. As a result, the surface retains its golden colour and simply loses some of its sheen as the oxide layer thickens with exposure to the elements to give a matt finish, as demonstrated by accelerated weathering tests.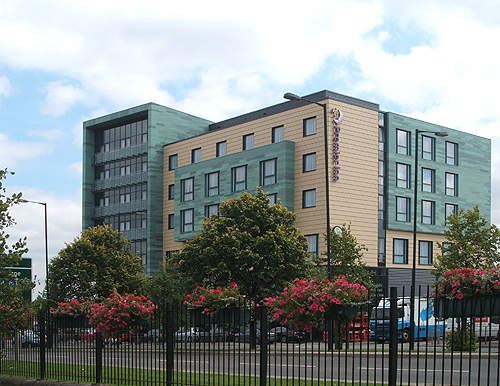 Three different intensities of Nordic Green Living copper were used in random combinations on this British hotel to create an abstract surface of horizontal bands.
Perforated trays of Nordic Royal copper alloy cover this poetic visitor's shelter overlooking Kielder Water lake in the north of England.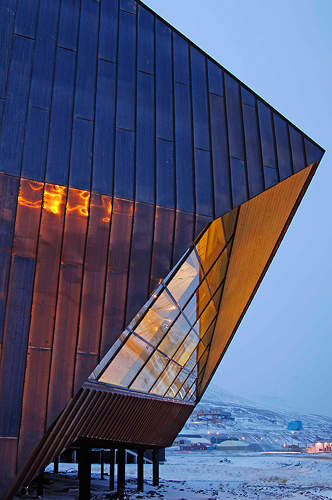 Because of its long-life, sustainability and suitability for sensitive environments, Luvata's Nordic Standard copper envelopes this major university research building located within the Arctic Circle.
Other surfaces include Nordic Brown™ pre-oxidised copper with either light or dark brown oxidisation to both faces, Brass alloy and Nordic Decor™ a textured, rolled surface. And all these finishes can be supplied as facade systems with profiles, cassettes and panels, as well as flat surfaces.
Copper design techniques
Luvata is constantly exploring new techniques such as press modelling technology which offers even more design potential for copper by introducing three-dimensional shapes and decorative elements into façade design. It also provides endless opportunities in interior design and decoration, cladding and mouldings. Digital press modelling is a highly automated system for sheet copper which takes three-dimensional design straight from the designer's desk to the finished product.
Copper mesh and sheets for buildings
The use of copper mesh and perforated copper sheets also offers a fresh design dimension for buildings. They can be used externally as rain-screens, solar shading and opaque cladding – or internally as partitions, screens and other interior design elements. Transparency can be generated by stretching or piercing copper sheet, or weaving copper wire into a mesh. Luvata Nordic copper sheet products are easy to water-cut and perforate in various ways and the different shades of colour and surface treatments widen the design possibilities even further.
Environmentally-friendly copper cladding
Although the copper industry is well-known for its strong environmental credentials and recycling practices, Luvata's Nordic range is exceptional with 97% of copper produced for roofing and cladding applications over the last 2 years coming from recycled material.