HIGHTEX has a long history of building large PTFE span tension fabric roofs and facades using architectural membranes such as PTFE-coated glass fabric, ETFE pneumatic foil cushions, PVC-coated polyester fabric and additional fluoropolymer based fabrics. Projects include the Abuja Stadium for the All African Games in 2003 as well as the Berlin Stadium, Germany, used for the 2006 FIFA World Cup Final.
Triple-layer membrane roof
In 2006 Hightex completed one of the largest membrane projects in the world, designing and constructing the energy saving, sound-optimised, triple-layer membrane roof for the Suvarnabhumi Airport in Bangkok, Thailand.
PTFE membrane retractable roof
Hightex recently completed its work on the Tenara -PTFE membrane element of the retractable roof over the Wimbledon Centre Court at the All-England Lawn Tennis Club. The 'folding fabric concertina' allows the roof to be folded into a highly compressed area and parked over the fixed canopy when not in use over the court. The 7,000 square metre roof can open and close in under ten minutes.
PTFE coated glass fabric tensile membrane roof/ facade
During 2009 Hightex will finalise the PTFE coated glass fabric tensile membrane roof / facade as part of the upgrading of the First National Bank (FNB) Stadium in Johannesburg, South Africa, which will be the stadium for several first and second round matches, one quarter-final and the final match at the FIFA 2010 Football World Cup. In addition Hightex is constructing the membrane facade for the new Green Point Stadium in Cape Town also for the FIFA World Cup 2010.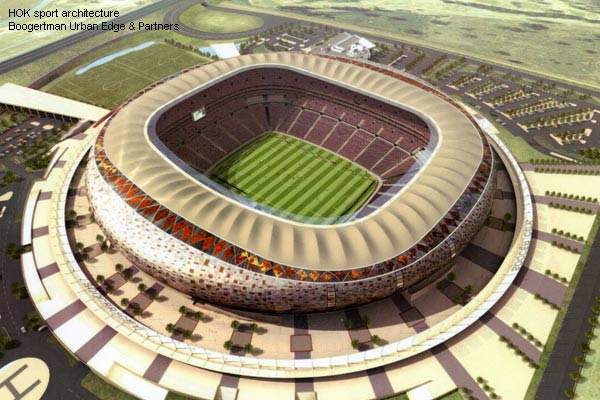 Soccer City, South Africa: the FNB Stadium renovated for FIFA World Cup 2010 matches and the final. Traditional African pottery inspired the design for this 50,000 sq/m PTFE tensile roof.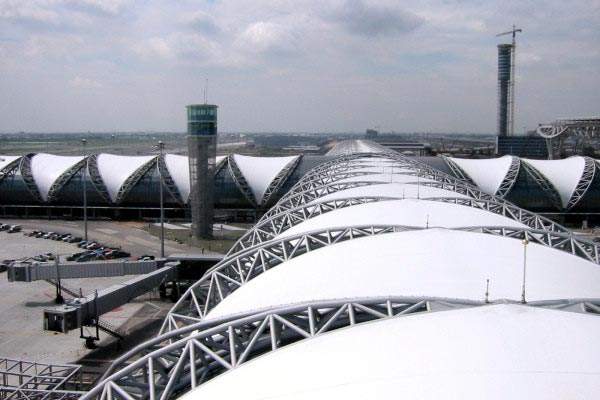 Suvarnabhumi Airport Bangkok, Thailand: the three-layer membrane roof structure consists of an outer skin of PTFE, transparent thermoplastic sound-insulating middle layer, and a sound absorbing low-E coated inner layer.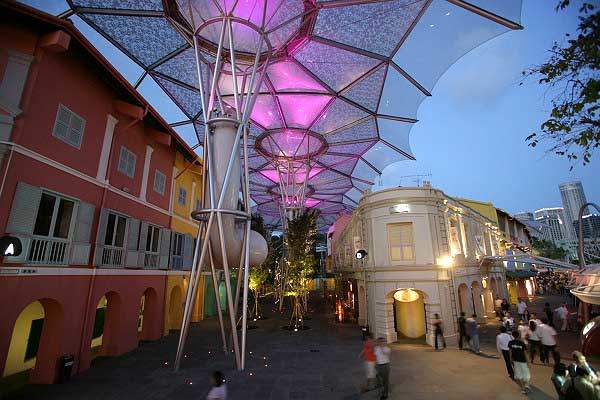 Clarke Quay, Singapore: these transparent ETFE cushion street roofs, provide shading and cooling between shops and houses, are patterned with custom decorative fritting and emphasised with colour lighting.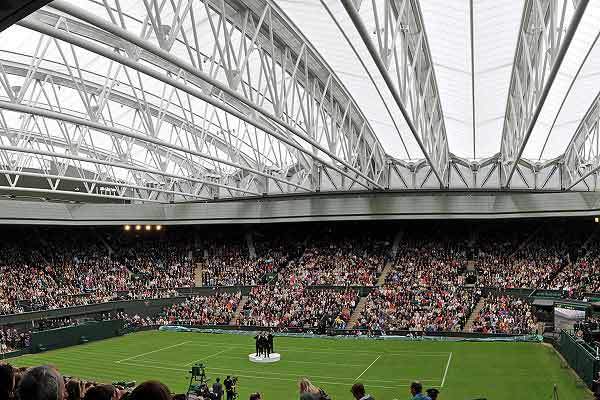 Wimbledon Centre Court, UK: very translucent PTFE (Tenara) membrane forms this 'folding concertina' roof over the prestigious tennis court. The system can open and close in under 10 minutes.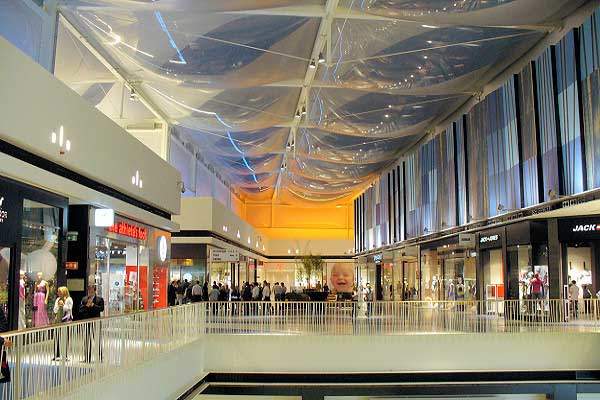 Dolce Vita Tejo, Portugal: the world's first shopping mall to use a new and innovative ETFE roof design with high performance selective filters and Low-E coatings applied to the cushions.
Small, large, complex, simple, temporary and permanent membrane structures
The Hightex team has built on decades of research with hundreds of membrane structures all over the world- small, large, simple, complex, temporary and permanent.
Following the introduction of fluoropolymers such as teflon, hostaflon, polytetrafluoroethylene (PTFE) and ethylenetetrafluoroethylene (ETFE) in the seventies, latest modern technologies enable our specialists to create new generations of advanced membrane materials with new options such as integrated natural energy systems to produce lightweight and efficient intelligent building envelopes.
Hightex is one of the foremost international companies in the field of tensile fabric engineering, still a young and vibrant industry. Exploiting modern fabric technology and associated structural engineering techniques, we are at the cutting edge, designing and creating tensile membrane structures with stunning architectural elegance and impact. Fabric engineering is an unrivalled solution for construction.
The Hightex Team continues to be a technology leader in the creation of breathtaking membrane architecture – elegant, energy efficient, long lasting, clean and economical structures.
Fabric architecture – providing the full package
Hightex can offer a wide range of services to the construction industry. The aim is always to enable a contractor/ client to place one contract for the membrane element of a project, and to include within this contract all the ancillary items of the structure to minimize coordination requirements for the contractor. Among the services typically offered by Hightex are the following, though for each individual project other services may be added.
Budgeting support
Concept design advice on fabric selection and feasibility
Early stage design input
Full design service
Project Management
Structural design
Foundation design
Membrane analysis
Form finding
Load analysis
Pattern making
Turnkey design/fabrication/installation service
Membrane fabrication
Structural fabrication
Full installation
Extensive warranties
Maintenance services
World leaders in membrane structures
Hightex is a world leader in creating tensile fabric and pneumatic cushion structures using membranes such as PTFE, PVC and ETFE for countless application types, ranging from temporary transportable structures to technically advanced airport terminal buildings.
We are able to offer free form aesthetic individual structures that can be fully transparent, coloured, retractable or thermally efficient.
The projects shown here represent some of the buildings Hightex has achieved from an unrivalled list of over 800 structures worldwide.