Glazing Innovations offer a total solution for architectural glazing. The company primarily offers a highly professional service to meet the industry's bespoke design, manufacture and installation requirements. Glazing innovations provide their services to both the commercial and the high end residential market and pride themselves upon their fundamental technical knowledge of architectural glazing design.
Glazing Innovations are continually developing a range of standard modular systems to compliment their range. The company also offers architectural glazing consultancy packages and an ongoing maintenance service. Glazing Innovations offer a professional, commercial approach to all contracts undertaken and the company prides itself upon being able to work effectively with a contracts team to achieve an aesthetically pleasing outcome.
Architectural glazing offers an incredible amount of technical and aesthetical flexibility within construction and Glazing Innovations have an ongoing pledge to offer such a service.
Bespoke architectural glazing design and architectural glazing developments
Primarily, Glazing Innovations offer a full bespoke architectural glazing design service. The company is able to undertake contracts based upon many of the architectural glazing systems available within today's market (including frameless glazing systems, structural glazing systems, framed curtain walling/patent glazing systems and frameless shuffle glazed walls).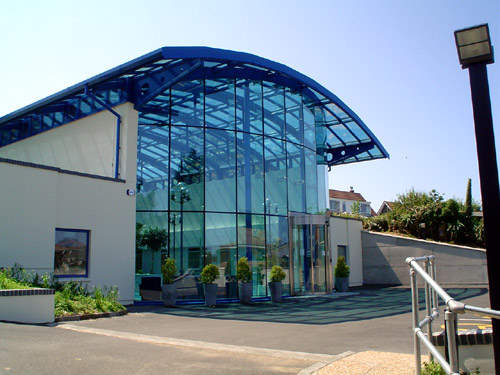 Frameless glazed faceting facade and patent glazed barrel vaulted roof installed to the Mill House Medical Centre, Guernsey.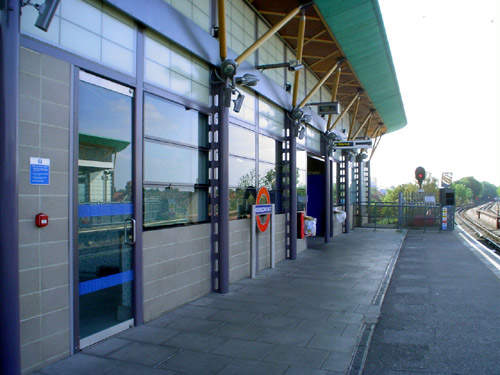 Structurally glazed screens and frameless glass doors, complete with manifestations. Installed during night possessions to Hounslow London Underground Station.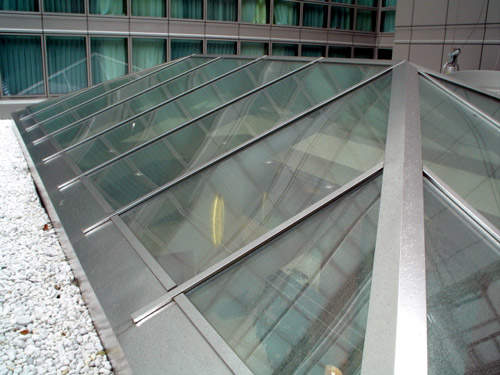 Stainless-steel clad, dual pitched glass atrium rooflight. Supplied to the Marriott Hotel, West India Quay.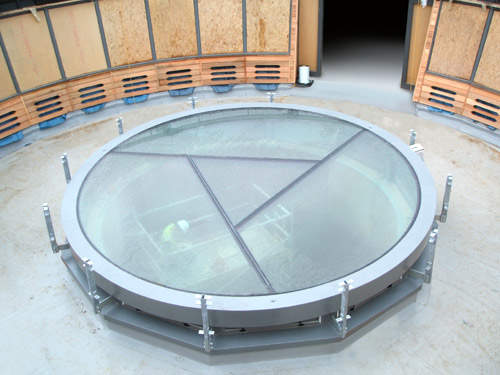 Bespoke Circular Rooflight and Perimeter Ventilators. Designed for crane lifting in its entirety to the Eden Project, Cornwall.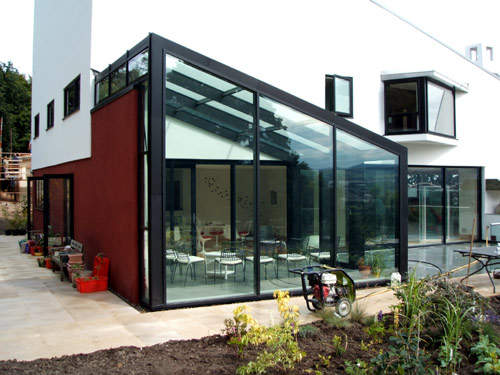 Bespoke framed conservatory, supplied in large 2m(w) x 4m(h) glass units and anodised aluminium framework. Supplied to a residential property in Edinburgh.
Glazing Innovations are also capable of developing extrusions and system details to meet an individual glazing design's requirement. The company provides its own structural glazing system and undertakes bespoke architectural glazing contracts ranging from £15k to £1M in value.
Glass rooflights, glass skylights, glass atriums and walk-on glass floors
Glass rooflights, skylights, atriums and floors are a brilliant way of introducing natural daylight into any room. A contracts requirement may require a series of smaller glass rooflights/skylights, or may incorporate a much larger glass atrium for aesthetical value. Ventilation in glass rooflights/atriums is often provided in the form of top hung vents; however some less apparent forms may be incorporated within the glass rooflights / atriums glazing
design.
Due to the nature of the application, you may wish to have a glass rooflight/skylight installed as a walk on floor. In this instance the rooflight will provide natural daylight to the area below, whilst providing a walk on glass specification for external detailing (such as terrace areas and balconies). Structural Glazing is often utilised within Glazing Innovations glass rooflight and glass atrium products.
Glass balustrade, glass canopies and glass partitions
Structural Glass Balustrade are available in modular form from Glazing Innovations at a significantly reduced competitive rate. Glazing Innovations will shortly also be establishing Structural Glass Canopies and Glass Partitions in modular form.
Typically single glazed applications; structural glass balustrade, glass canopies and glass partitions can provide a complete frameless, structural glass solution. Glazing Innovations can also provide glass balustrade to a bespoke design, incorporating featured support posts or special glass balustrade finishes.
Glass facades, glass fenestrations, glass lobbies and glass conservatories
Glass facades, glass fenestrations, glass lobbies and glass conservatories are also supplied by Glazing Innovations Ltd. Over these product ranges the company specialises in the supply of contemporary structural glazing and frameless glazing systems, however standard framed curtain walling may also be provided. Glazing Innovations are not restrained to most limitations evident through standard system supply and can provide a complete pre-order technical service to establish interfacing details. Frameless Glass Facades and Frameless Glass Conservatories are often enquired over. However more frequently Structural Glass Facades and Structural Glass Conservatories provide a budget friendly alternative.
Comprehensive architectural glazing online resource
Glazing Innovations offer a fresh approach to architectural glazing. As a result our company has provided a valuable array of architectural glazing resource on our website. Including NBS Specifications, PDF Sales Drawings, CAD Sales Drawings, Budget Quotation Generators, Programme/Planning Considerations and Technical Appraisals. All are tailored to assist Glazing Innovations trade customers (architects, building contractors and glazing installers).