EnergyGlass™ is an Italian company established in 2007 with the main objective of designing, producing and supplying architectural elements to produce renewable energy: photovoltaic modules in safety and security glass (BIPV). EnergyGlass is leader in both the Italian market and globally.
Building-integrated photovoltaic (BIPV) solutions
BIPV solutions represent the way to get a building's external surface to produce and store renewable energy.
EnergyGlass matches two complementary competencies that used to be separated in the market:
Photovoltaic and production of modules 
Stratified security glazes for architectural use
The photovoltaic modules in safety and security glass, designed and produced by EnergyGlass™, are the ideal solution for architectural integration needs when glass becomes a building element, barely reducing the aesthetical and functional needs.

Photovoltaic glass composition.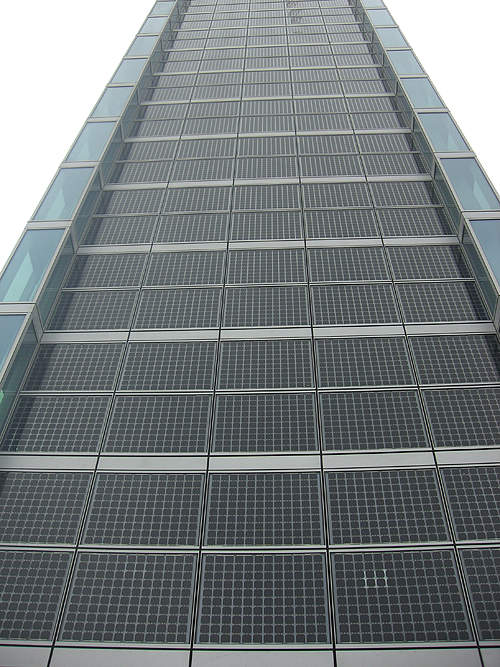 EnergyGlass facades elements built with SunPower technologies for the new seat of Regione Lombardia in Milano.
Culture, innovation and design combined to realize the Bell Tower of an ancient Church in Tuscany.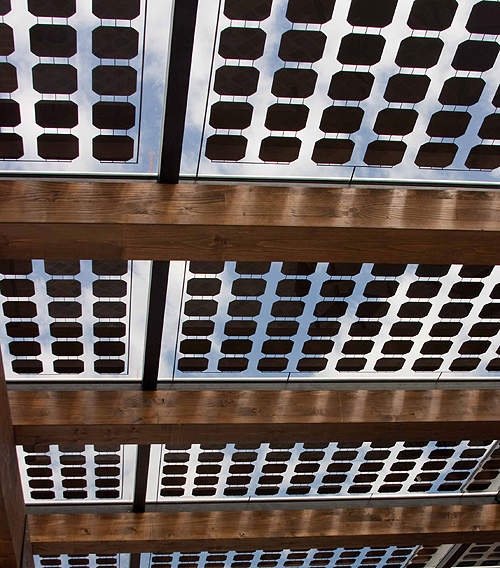 EnergyGlass Photovoltaic modules in safety and security glass to realize a veranda.
EnergyGlass' mission is to support architects and builders in co-design renewable energy elements and components to produce photovoltaic glasses.
PVB Solar stratified glass
The glasses are stratified with PVB Solar, an interlayer that gives glass the characteristics of durability and lightness, typically used for laminated safety glass used in construction. EnergyGlass is the first Italian company with production facilities in Italy, which through a specified research and experimentation process supported by the University of Milan (Politecnico di Milano) and by the producer of PVB Solar, has refined the glazing lamination process to make it perfectly compatible with the presence of photovoltaic cells.
Customised BIPV systems
BIPV is the way to adapt photovoltaic systems to architectural needs. Personalization allows a harmonious continuity of elements in the awareness of preserving safety. The customer has the opportunity to personalise the product through the following variables:
Measurements and shape to adapt the photovoltaic glasses to the retaining structure
Transparency and day-lighting function determined by the distances among the photovoltaic cells
Variable power in conjunction with the number of photovoltaic cells per square metre
Photovoltaic systems for structural applications
EnergyGlass integrates the knowledge and experience of the photovoltaic sector with that of safety glass used in building for:
Facade and skylights elements
Curtain walls
Glazing used for roofs
Parapets and balconies
Greenhouses
Anti-noise barriers
Any other situation where it is possible to use safety glass