With a history dating back to 1843, Cumbria-based Burlington is the UK's leading producer of natural stone products. Prized by interior designers, architects, specifiers, developers and discerning homeowners the world over, Burlington's natural stone remains unequalled when it comes to its intrinsic aesthetic and technical properties.
Luxurious interior and exterior natural stone products
Today, the company manufactures a diverse range of luxurious interior and exterior natural stone products, all of which deliver a stunning and fashionable permanence to any residential or commercial architectural design style, both traditional and contemporary. Combining craftsmanship skills with environmentally sensitive extraction processes and modern production techniques, the company shapes Lakeland stone from deposits laid down over 450 million years ago.
Natural stone products for interiors
Unsurpassed in terms of its quality and tactility, comes an interior natural stone product portfolio that includes flooring (standard and bespoke), wall cladding, vanity units, work surfaces, swimming pool surrounds, reception desks, and step treads and risers. Equally, the company can produce specialist pieces such as tabletops, cills, fireplaces, dado rails and architraves. Such is the versatility of both the stone and Burlington's production processes that interior products are limited only by the imagination.
Natural stone roofing slates and landscaping
Burlington stone is equally at home in the external environment. From the highest quality natural roofing slate, to an infinite number of landscaping opportunities, Burlington has the capability to transform the exterior of any project, scheme or property.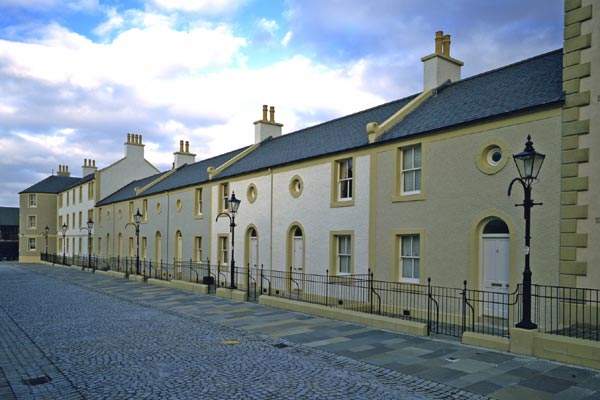 Burlington's natural slate roofing creates fascinating and striking roofscapes. Available in Blue/Grey and Westmorland Green, Burlington roofing slates are available in three different formats: patterns, sized and randoms.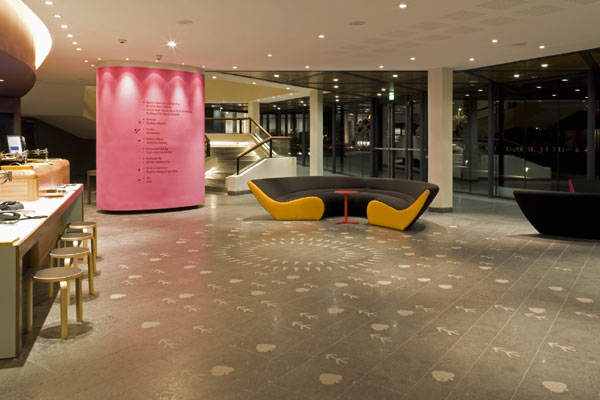 Eden Court Theatre, located in Inverness, Scotland, not only incorporates Burlington's Brandy Crag flooring featuring unique 'Floorscape' artworks, skirtings, step treads, vanity units and splashbacks were also specified for the project.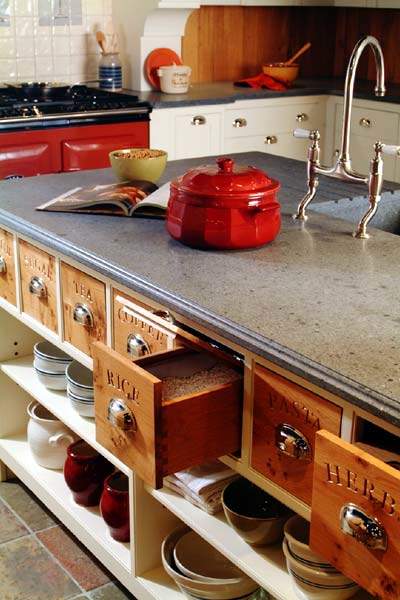 Burlington's kitchen work surfaces add fashionable permanence to traditional and contemporary settings. Hard wearing and easy to clean and maintain, they come in two thickenesses and five different edge profiles.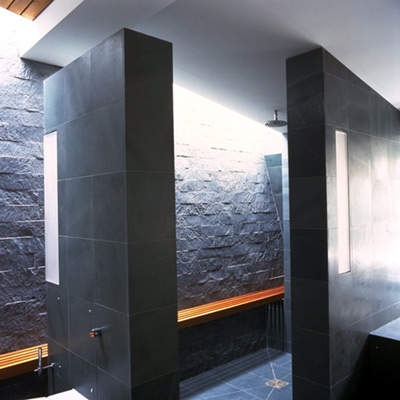 Stark and unimaginative functional spaces can be transformed into fashionable and luxurious retreats using Burlington natural stone.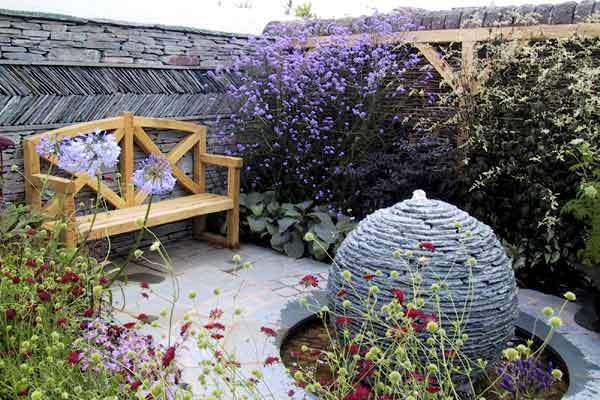 Burlington offers an expansive portfolio of products from its landscaping division that are suitable for private gardens, public schemes and corporate developments.
Natural slate roofing
The company's roofing slate, for example, has been used for more than 400 years to create stunning and weathertight roof coverings the world over. Using a choice of either random, patterned or sized material, Burlington's roofing slate creates fascinating and striking roofscapes, enabling architects, designers and consumers to develop clean lines and incisive detailing.
Natural stone landscaping products
Additionally, Burlington's range of natural stone landscaping products can be used to create stunning yet functional commercial and domestic schemes, from formal to informal, traditional to contemporary.
Such is the diversity of Burlington's product offering – available in modular units or supplied to bespoke design requirements – that landscape designers and home owners can combine uniform shapes and lines with more random materials as a means of bringing designs to life.
Whether it is dimensional or crazy paving and tiles, random or weathered walling stone, water features and fountains, mulches, crushed slate and paddlestones, obelisks, rockery stones, copings or seats, the permanence of stone provides a perfect contrast to the evolving shape of planting, whilst interacting with other landscaping materials.
Colours and finishes for natural stone
In addition to an almost limitless product offering that sets Burlington's stone apart from the rest, so too does the palette of colours that is available. Sympathetically teased out of the ground from Burlington's six quarries comes a unique mix of five sumptuous stones – blue/grey, pale green, mid green, olive green and silver grey – together with two limestones, Caulfeild and Lord.
Adding to the romance of each stone's rich colouring are contrasting veins and markings that emphasise its natural origin, together with a range of smooth and textured finishes that facilitate use in wet conditions.
Durable and technically proven natural stone products
Alongside the character and natural beauty inherent within Burlington's stone, it is a material that is extremely practical, hard wearing and durable. Indeed natural stone is renowned for its outstanding technical properties, whilst being easy to clean and maintain.
Service and support for natural stone
With its main head office and production facility located in Kirkby-in-Furness, Burlington operates additional offices in Cumbria, London and Plano, Texas.
ISO 9001 certified, Burlington has the capability to offer standard products for immediate sale, or produce highly individual pieces to bespoke designs. Supporting this function, Burlington has an experienced in-house technical support team with to provide invaluable advice and design assistance.