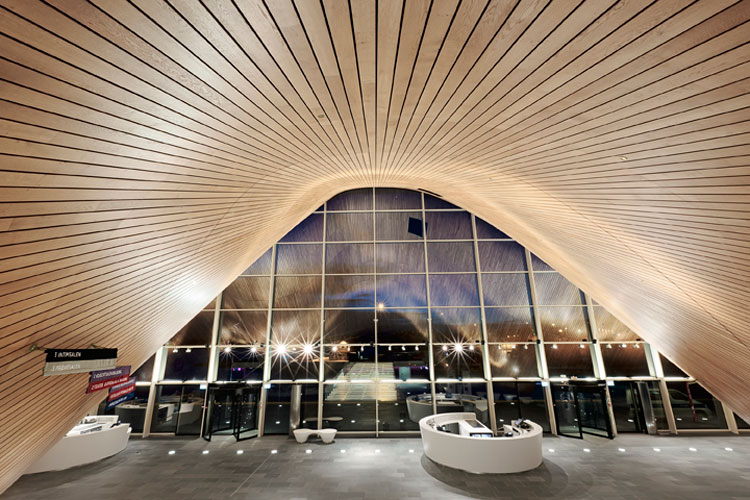 Blumer-Lehmann provides timber construction services for housing projects, offices, gastronomy and tourism venues, as well as premises for the agricultural, industrial, commercial, public and educational sectors.
The company oversees all stages of the wood process, including sawmill services, timber construction, and the production of pellets and energy in its biomass organic rankine cycle (ORC) wood power plant.
Blumer-Lehmann offers consulting services, engineering, production, logistics and installation and project management worldwide.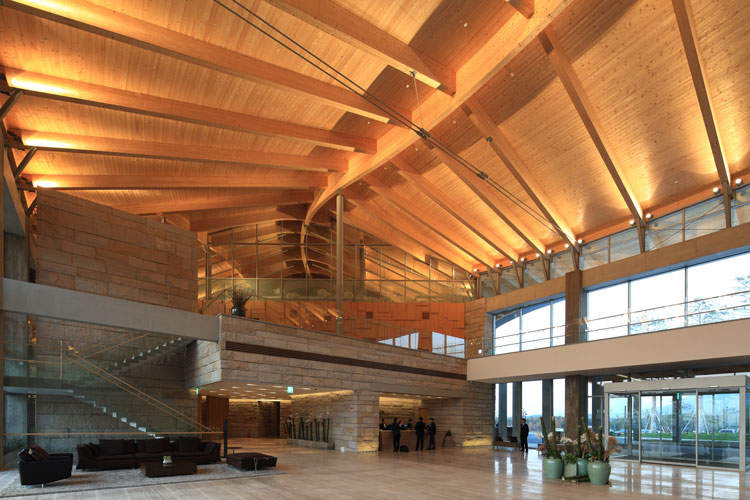 Hillmaru Country Club, South Korea: architectural roof design inspired by a bamboo leaf as part of a sophisticated natural ventilation and daylight concept.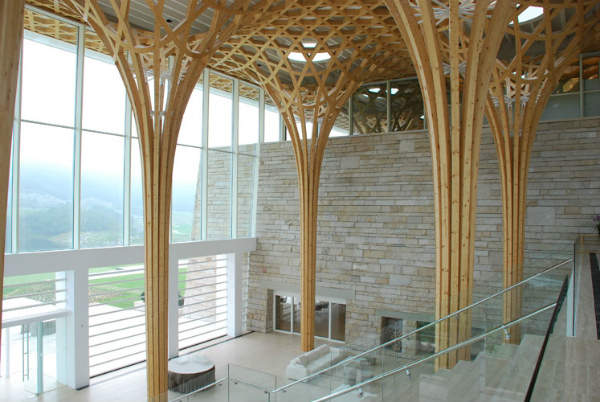 Yeoju, South Korea: impressive free-form roof construction of the club house at Heasley Nine Bridges Golfclub, by Shigeru Ban Architects.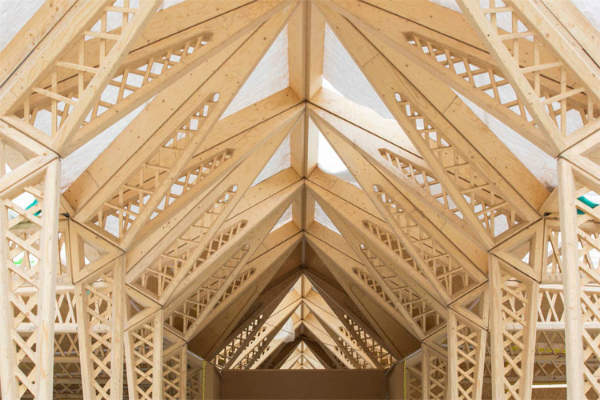 Maggie's Cancer Care Centre, Manchester, UK: timber construction with innovative architecture by Foster & Partners.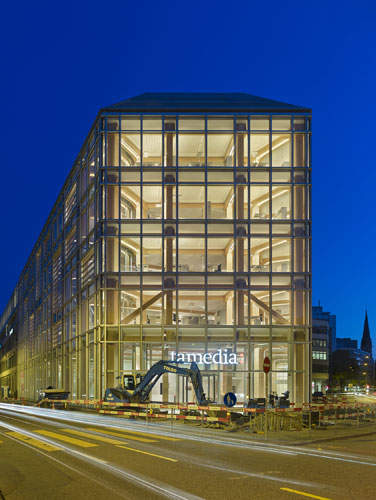 Tamedia AG, Zurich, Switzerland: spectacular seven-storey office building with visible bearing structure, designed by Shigeru Ban.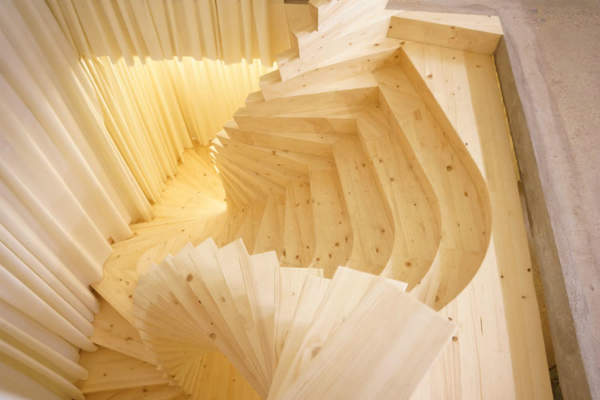 acme Architects and Design, London, UK: stairways to heaven, curved staircase with two wings.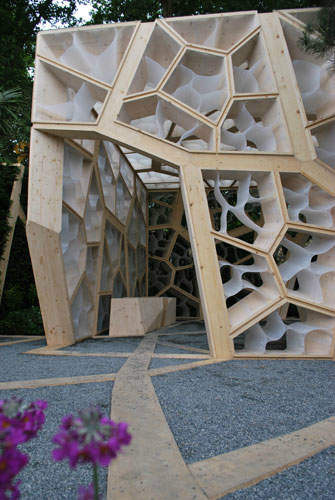 London, UK: a nature-inspired garden pavilion constructed in wood and recycled plastic elements symbolising a leaf cell structure.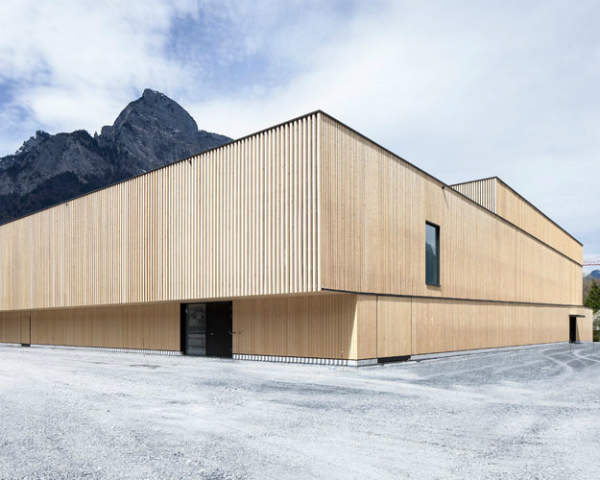 Sportzentrum Riet, Sargans, Switzerland: a sports facility with a four-section wood sports hall.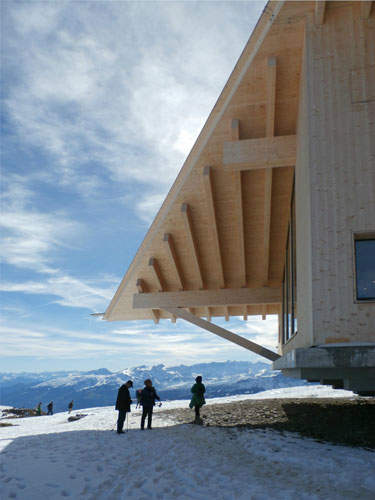 Chäserrugg summit building, Switzerland: cable car station, restaurant and various event spaces designed by Herzog & De Meuron.
High-tech timber construction services
Blumer-Lehmann provides sustainable and responsible timber construction services for a wide range of facilities.
Local sourcing and a fully integrated process along the wood lifecycle allow the company to supply high-quality construction and a comprehensive service.
Its specialists also supply conversions and renovations for buildings, in accordance with the latest energy standards.
Blumer-Lehmann uses cutting-edge computer-aided engineering (CAE) and computer-aided manufacturing (CAM) design programmes to explore the potential of wood as a high-tech building material.
The company uses its connections, modern materials, and computer numerical control (CNC) to offer clients multiple possibilities for their timber construction projects.
Technical and aesthetic wooden structures
Blumer-Lehmann's free form department develops, engineers, manufactures and installs complex supporting and covering wood structures for projects worldwide.
Cellular supporting structures and the uniqueness of each component make free form structures exceptional.
Blumer-Lehmann is a well-known expert due to its qualified employees, flexible design tools and CNC production, which allow it to deliver high-quality solutions on time and budget.
The company assists clients throughout each project, ranging from technical development to construction, service and maintenance.
It provides project management to coordinate steps, such as development of the geometry, structural engineering, production, logistics, site facilities, installation and follow-ups.
Modular and temporary timber construction
Blumer-Lehmann provides modular temporary constructions for clients requiring additional space at short notice.
Pre-assembled modules or system elements meet the highest ecological, energy, air-conditioning, structural and soundproofing requirements at maximum comfort and cost-efficiency.
The flexibility of these modular constructions also extends to duration of use and financing solutions.
About Blumer-Lehmann
Blumer-Lehmann's experience of wood constructions enables it to supply clients with innovative solutions.
The company is a dedicated partner for contractors and investors throughout every stage of a project.