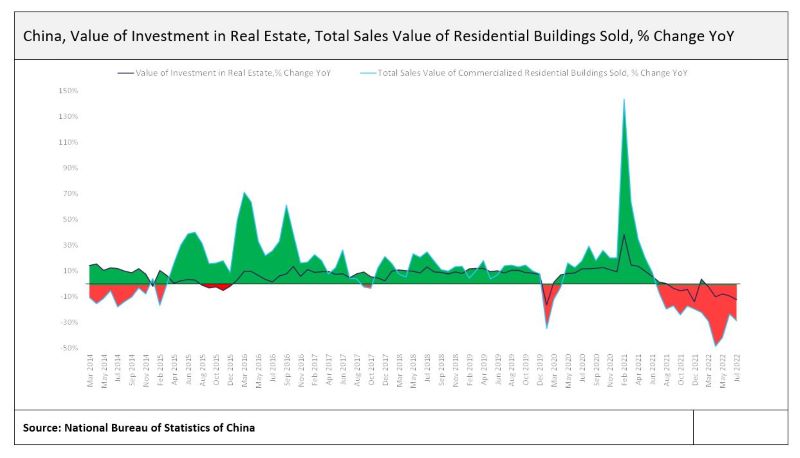 The growth of the Chinese economy slowed to a marginal expansion of 0.4% year-on-year (YoY) in Q2 2022, bringing growth in the first half of this year to 2.5% YoY. Restraining growth during the second quarter were the lockdowns enforced under the government's dynamic zero-Covid strategy and the continued slump in activity in the real estate sector. Despite a number of government measures to drive a recovery in housing demand, such as cuts to the five-year Loan Prime Rate, the reference rate for mortgage lending, a 20 basis point cut to the minimum lending rate for first time buyers, and an easing of house purchase restrictions at the local government level, potential home buyers remain cautious.
With home buyers deterred, housing sales have suffered. The accumulated value of commercialised residential building sales decreased by 31.4% YoY in the first seven months of 2022, the largest fall in the first seven months of a year on record. New residential investment has also suffered, falling by 6.4% YoY in the first seven months of this year, and this has contributed to a 3.8% YoY fall in the floor area of residential buildings currently under construction. With average house prices continuing to fall in July 2022 by 0.11% month-on-month, home buyers are likely to maintain their wait-and-see approach, further softening activity in the sector. The collapse in demand has also significantly restricted developer cash flows, leading to works on a number of unfinished projects being disrupted. This disruption has led to owners of some unfinished pre-sale properties refusing to make mortgage payments, which is expected to further dent buyer sentiment.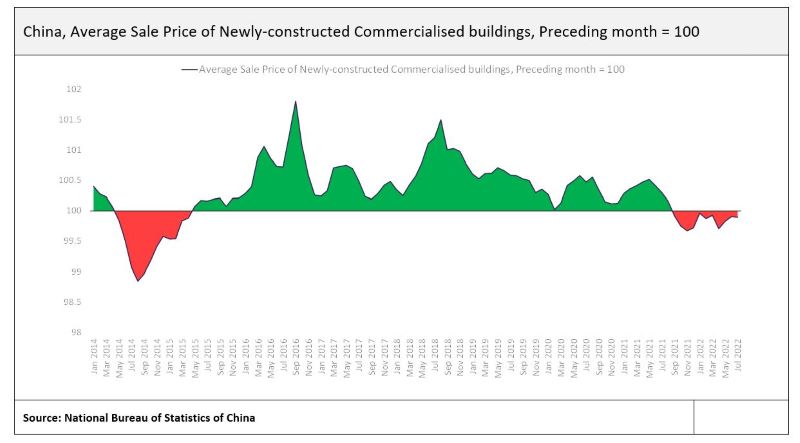 However, despite the weakness in the residential sector, activity in the construction industry remains relatively buoyant, with the growth of the sectors value-add increasing to 3.6% YoY in Q2 2022, bringing growth in the first half of this year to 2.8% YoY. The growth of the construction industry has been, and will be, primarily driven by infrastructure works this year, with the Chinese government accelerating works on infrastructure construction in order to drive economic growth. Investment in infrastructure increased by 7.4% YoY between January and July 2022, predominantly driven by a 14.5% YoY increase in water conservancy infrastructure investment. Recent measures to increase funding for infrastructure construction include a $120 billion increase in the credit quota of policy banks, with a further injection of $45 billion funded primarily by bond sales by the China Development Bank. The government are also considering allowing local governments to sell up to approximately $220 billion of the 2023 special bond quota, through which local governments fund infrastructure construction.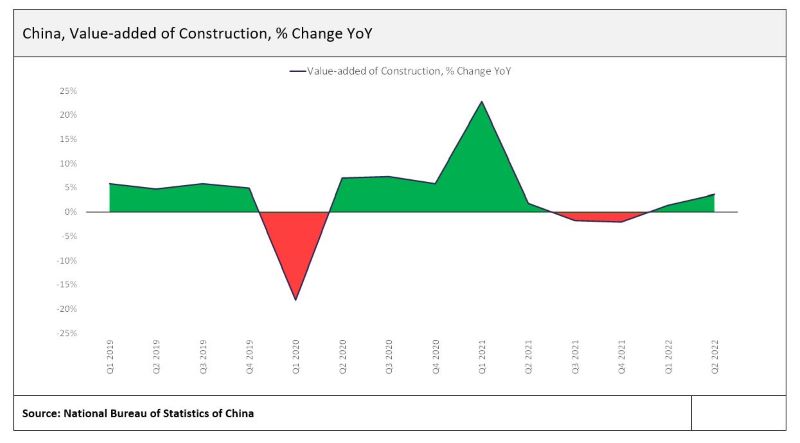 GlobalData currently projects that the output of the construction industry in China will increase by 4% this year. While the slowing of residential construction will weigh on output, demand for works in the public infrastructure sector and low base effects due to the contractions in Q3 and Q4 2021 will be sufficient to drive this growth. However, risks are weighted to the downside, with the prospect of future lockdowns and slowing domestic and global economic growth weighing on new private construction investment.