The construction industry continues to be a hotbed of innovation, with activity driven by an increased focus on environmental sustainability and workplace safety, and the growing importance of technologies such as robotics and the Internet of Things (IoT). In the last three years alone, there have been over 248,000 patents filed and granted in the construction industry, according to GlobalData's report on Innovation in Construction: Waffle slab.
However, not all innovations are equal and nor do they follow a constant upward trend. Instead, their evolution takes the form of an S-shaped curve that reflects their typical lifecycle from early emergence to accelerating adoption, before finally stabilising and reaching maturity.
Identifying where a particular innovation is on this journey, especially those that are in the emerging and accelerating stages, is essential for understanding their current level of adoption and the likely future trajectory and impact they will have.
80+ innovations will shape the construction industry
According to GlobalData's Technology Foresights, which plots the S-curve for the construction industry using innovation intensity models built on over 179,000 patents, there are 80+ innovation areas that will shape the future of the industry.
Within the emerging innovation stage, mullion-transom curtain walls are the disruptive technologies that are in the early stages of application and should be tracked closely. Heat-insulated glazing panels, drainage gully grating, and acoustic ceiling panels are some of the accelerating innovation areas, where adoption has been steadily increasing. Among maturing innovation areas are abrasion-resistant decorative flooring and road construction milling tool, which are now well established in the industry.
Innovation S-curve for the construction industry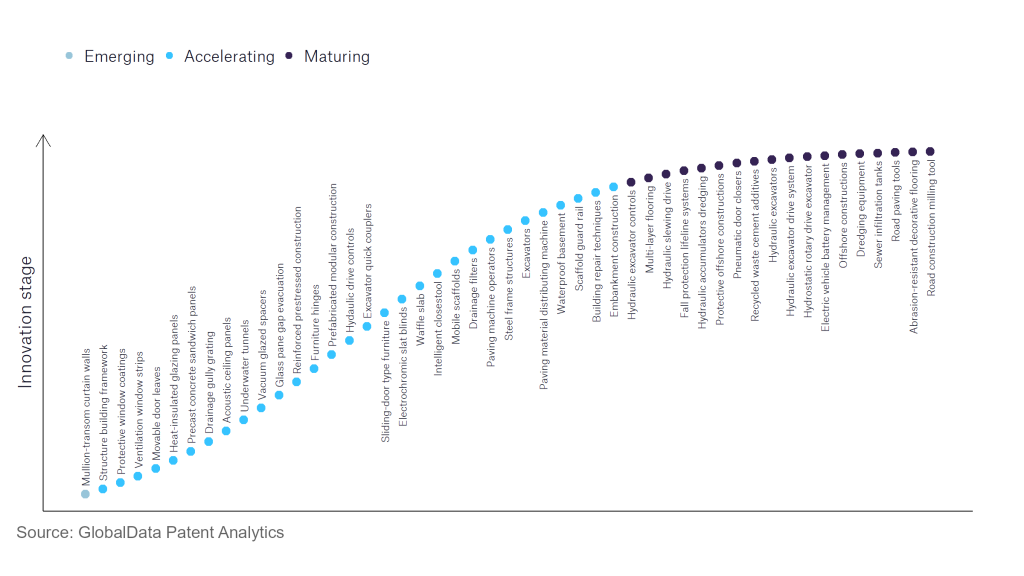 Waffle slab is a key innovation area in construction
A waffle slab is a type of reinforced concrete slab that has a grid-like pattern of deep recesses, or voids, in its underside. The pattern gives the slab a structural advantage by increasing its load-bearing capacity and reducing its weight. Waffle slabs are commonly used in construction for floors, roofs, and decks in high-rise buildings, car parks, and industrial structures. They provide greater strength and stiffness than flat slabs of the same thickness, making them an efficient solution for large spans and heavy loads.
GlobalData's analysis also uncovers the companies at the forefront of each innovation area and assesses the potential reach and impact of their patenting activity across different applications and geographies. According to GlobalData, there are 20+ companies, spanning technology vendors, established construction companies, and up-and-coming start-ups engaged in the development and application of waffle slab.
Key players in waffle slab – a disruptive innovation in the construction industry
'Application diversity' measures the number of different applications identified for each relevant patent and broadly splits companies into either 'niche' or 'diversified' innovators.
'Geographic reach' refers to the number of different countries each relevant patent is registered in and reflects the breadth of geographic application intended, ranging from 'global' to 'local'.
Patent volumes related to waffle slab
Source: GlobalData Patent Analytics
Leading companies in the development of waffle slabs include China State Construction Engineering (CSCEC), a provider of construction and engineering services. CSCEC's key innovations in the space include a novel steel truss concrete slab form support system. The novel steel truss concrete slab form support system provided by the invention has the advantages of being simple to operate, the investment is reduced, and influence, which is caused by reinforcing a lower part floor, on other procedures of construction in the lower part floor can be avoided.
PERI, a manufacturer and distributor of formwork and scaffolding systems, is also a leading innovator in the space. Key patents by PERI include a slab formwork system comprising a plurality of formwork elements which have on their underside girders that can be coupled to heads of vertical support.
In terms of geographic reach, key innovators in the space include Form700, a construction service provider, and PERI.
In terms of application diversity, key innovators in the development of waffle slabs include the State-owned Assets Supervision and Administration Commission of the State Council (SASAC), a Chinese state-owned provider of asset management, supervision and other services, and China Construction Third Engineering Bureau Group, a provider of construction and engineering services.
To further understand the key themes and technologies disrupting the construction industry, access GlobalData's latest thematic research report on Construction.