Turkey's balance of trade has been widening since November despite efforts from President Recep Tayyip Erdogan's government to turn the country's current account deficit into a surplus. The value of exports has risen sharply this year owing to efforts to increase manufacturing output to reduce the deficit, reaching a record high of $23.4 billion in April, fueled by a sharp rise in steel and iron exports. Between January and May 2022, the value of exports rose by 20.4% on the same period in 2021. However, despite the boost to export industries coming from the weak lira and global supply shortages, the rise in exports has been offset by a sharper rise in the value of imports, which rose by 40.8% in the first five months of 2022 compared to the same period in 2021.
Turkey's trade deficit currently stood at $10.6 billion as of May 2022, 155% larger than in May 2021. The rise in the value of imports is primarily attributable to a sharp rise in the cost of energy, of which Turkey is highly dependent on imports from Russia, Iran and Azerbaijan, compounded by the lira's rapid depreciation and unexpectedly harsh winter months. The rise in import costs is having a profound impact on construction costs and this is likely to constrain construction output growth in the near term.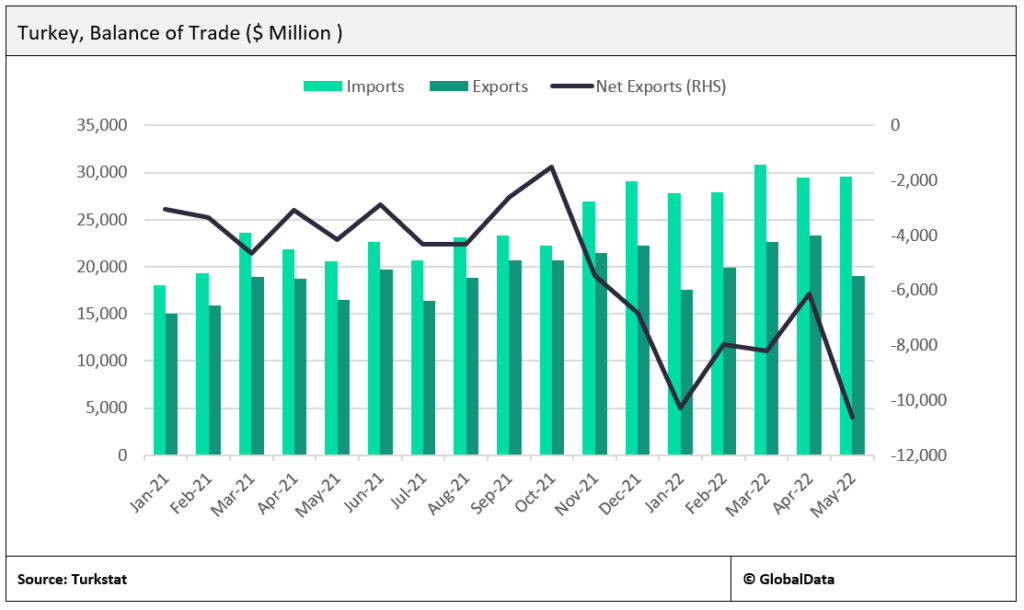 The latest available data shows that construction costs rose by 107% YoY in April, marking an acceleration in the rise of costs from 101.6% and 90.3% in March and February respectively. Since November 2021 – when interest rates began to fall – total construction costs have risen by 63.9%, driven by a 71.9% rise in materials costs and a 39.6% rise in labor costs. This rise in costs is reflected in the turnover value in the Turkish construction industry, which rose by 91.8% YoY in April according to Turkstat's Construction Turnover Index. The rise in turnover suggests high costs are feeding into prices charged to customers rather than an increase in activity.
High construction costs will weigh on the profitability of construction projects in all sectors. The cost of imports is likely to rise further due to external factors and the continued deterioration of the lira crisis, adding further pressure to the balance of trade. Furthermore, residential construction – Turkey's largest construction sector – faces downside risks on the supply-side owing to high construction costs which could lead developers to reassess the profitability of new housing developments. Moreover, high costs will restrict the government's ability to provide affordable housing at the scale it has planned. However, demand for housing in Turkey remains relatively strong despite rising real estate prices owing to the government's low-mortgage scheme introduced in June 2020 and strong demand for safe assets as an inflation hedge.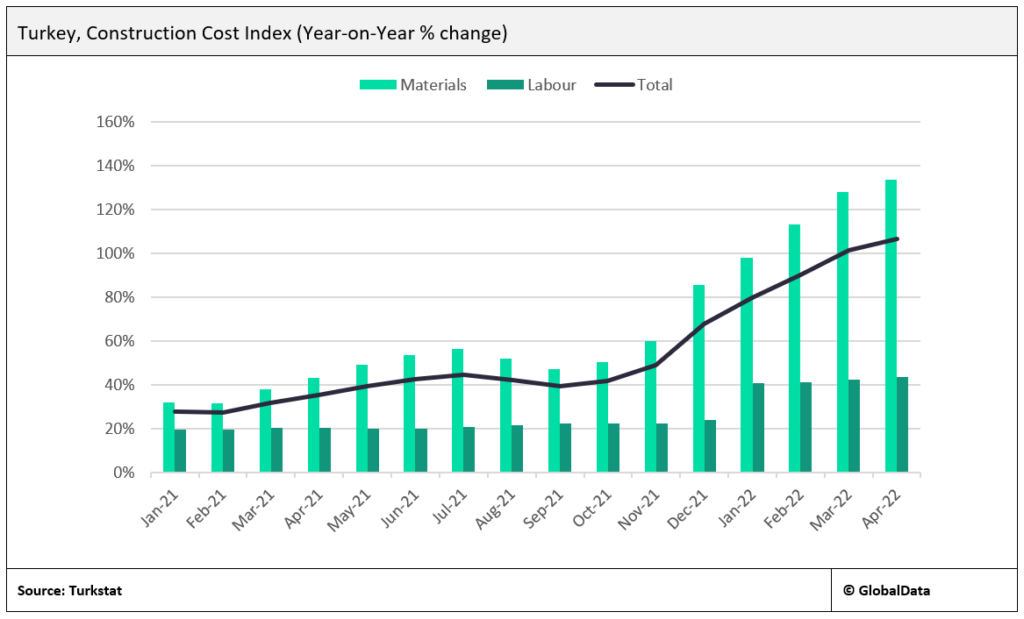 The total number of housing sales has been rising since September 2021, with the latest data showing a 107.5% YoY increase in May. In the first five months of 2022, the number of sales rose by 37.7% on the same period in 2021. However, this has been driven primarily by second-hand sales as opposed to first-hand sales of new properties. Second-hand sales rose by 42% during this period whereas first-hand only sales rose by 28.1%. However, the number of mortgaged sales between November 2021 and May 2022 rose by 87.4% compared to the same period in 2020/2021, while non-mortgaged sales have risen by 46.9% over the same period. This suggests that more people are taking advantage of the government's low-mortgage rate scheme to purchase property as a hedge against inflation. Previously, mortgaged sales had been relatively flat since Q3 2020, preceded by an initial surge in mortgaged sales following the introduction of the policy in June and July. This resurgence in demand for Turkish real estate despite deteriorating economic conditions suggests that housing demand is likely to be a key driver of construction activity over the coming quarters.