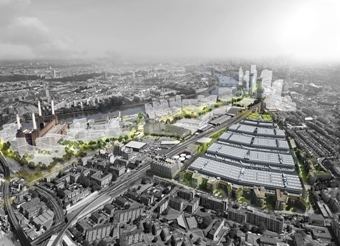 Wandsworth Council in London, UK, has approved two mixed-use projects in the Nine Elms regeneration scheme, the One Nine Elms scheme and the New Covent Garden Market scheme, which will create a total of 2,978 new homes.
Under the One Nine Elms plan, two towers of 58 and 43 storeys will be built replacing the existing tower built in the 1970s on the corner of Wandsworth Road and Nine Elms Lane to create 487 new homes, office space and a hotel, as well as a new public square.
One Nine Elms is being developed in a joint venture between CIT and Green Properties, while Kohn Pedersen Fox is the architect for the project and Martha Schwarz is the landscape architect.
About 50% of the development will include public spaces, with a public viewing space at the top of the tallest tower.
Wandsworth Council has also approved a planning application by Covent Garden Market Authority to upgrade its 40-year old market facilities to create 2,491 new homes, shops, cafes, bars, commercial space and a 200-bed hotel.
Wandsworth Council planning chairman Nick Cuff said each new development will create new homes, new open spaces and new job opportunities for local people.
"By the time the process is complete this old industrial area will have become an ultra modern district on the South Bank, complete with new parks, a public market, two more tube stations, new cultural attractions and all sorts of exciting new businesses," Cuff said.
"One Nine Elms would see an outdated office block replaced with two glass towers and around half of the site would become a new public square lined with shops, cafes, bars and restaurants," he added.
A new footpath will be built through the development to provide a pedestrian link between the Vauxhall interchange, the Thames Path and the Nine Elms Linear Park.
London's Nine Elms regeneration scheme is spread across 450 acres of land between Battersea Park and Lambeth Bridge on the south bank of the River Thames.
---
Image: The One Nine Elms mixed-use development will see the construction of two new towers replacing the 70s-era tower. Photo:Wandsworth Council