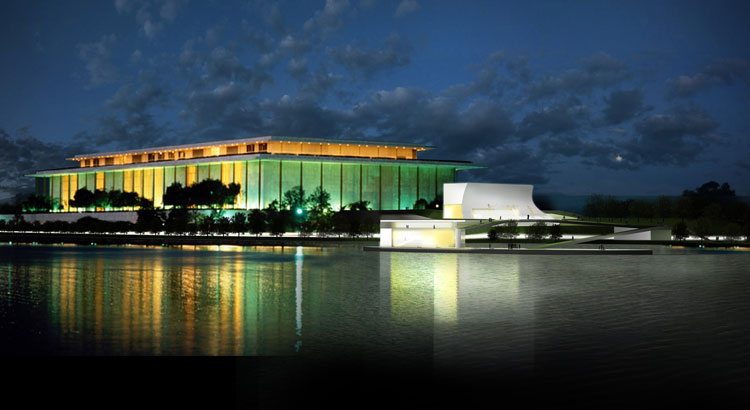 The John F. Kennedy Center for the Performing Arts in the US has selected Steven Holl Architects to design a $100m expansion project, which will be built south of the existing facility.
The project will feature rehearsal space, classroom space and multipurpose rooms for the centre's arts education and arts management education programmes.
Public access spaces will feature gardens, an outdoor video wall and an outdoor performance space on the Potomac River.
The proposed design is about 60,000ft² of indoor space, which is small when compared with the existing 1.5 million ft² complex.
Steven Holl's initial concept for the project includes three connected pavilions that will feature classrooms, rehearsal rooms, lecture space and limited office space.
One pavilion is planned to float on the Potomac River and provide an outdoor stage while public gardens will fill out the space, fusing the Kennedy Center with the landscape and river.
Steven Holl said that the exterior of the structure will be covered in translucent Okalux, glass, and Carrara marble, the same Italian marble which has been used on the original facility.
The silhouette of the current building will remain intact by linking the new structure underground and through the main plaza.
Work on the centre scheduled to start in 2016 and complete in 2018.
Kennedy Center president Michael Kaiser said the centre has the largest arts education programme in the country without having any facilities to serve the programmes.
"I'm so pleased the Kennedy Center will have spaces specifically designed for these functions to help fulfill our mission of bringing arts education to students across Washington and to millions of people across the country," Kaiser said.
The Kennedy Center was opened in 1971 and currently attracts about two million people each year.
The expansion project is the first since the centre was built; a $650m improvement project was cancelled in 2005 due to budget constraints.
---
Image: The expansion project includes an outdoor performance space on the Potomac River and three connected pavilions. Photo: Steven Holl Architects.