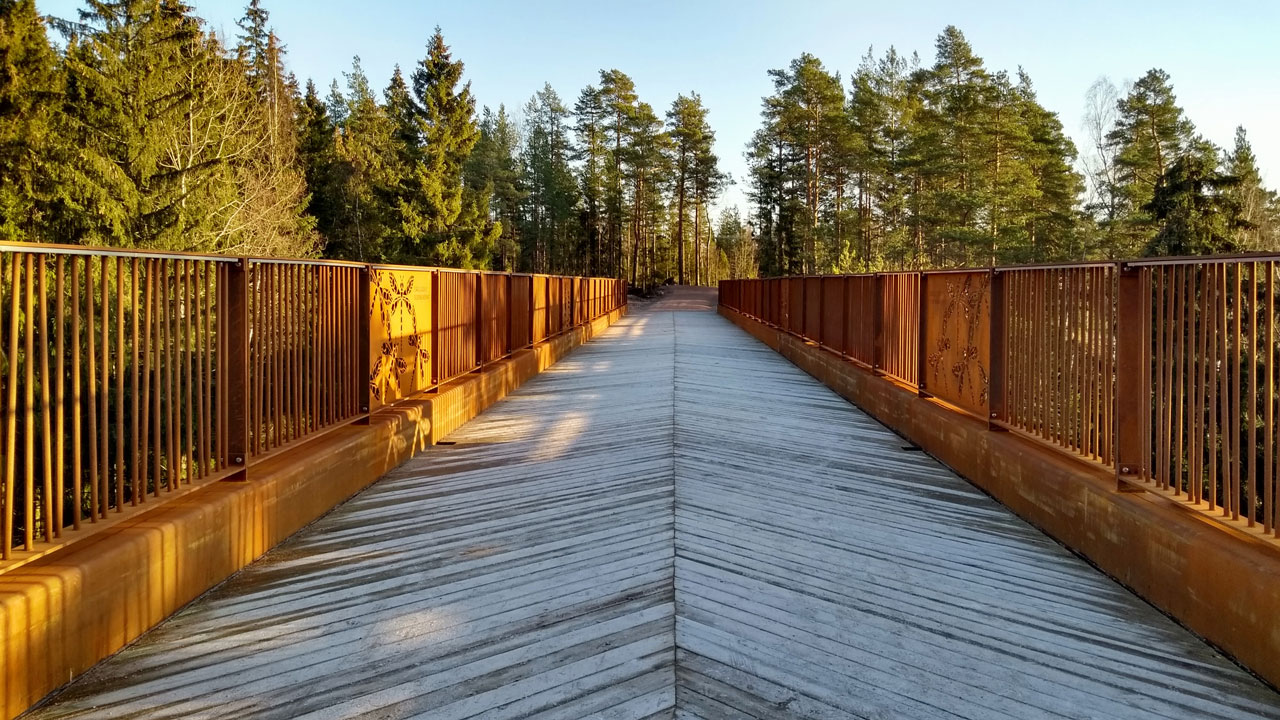 The original weathering steel was developed in the 1930s by the United States Steel Corporation (US Steel) to prevent corrosion and abrasion in their ore wagons. It was developed and patented in 1933 under the brand name Cor-Ten®, deriving its name from 'CORrosion Resistance' and 'TENsile Strength'.
Manufacturing and weathering
In order to produce the steel, a hot rolling process that involves passing the metal between rollers heated to a very high temperature is used. The iron waste material also referred to as 'mill scale', rises to the surface throughout this operation. During the initial phases of weathering, this causes rust runoff and staining.
The material has a solid surface with little shedding or discoloration once the exterior iron waste layer has rusted away. The procedure might be quickened, or the raw material can be 'pickled', in which case the mill scale is eliminated before delivery using an acid-based treatment.
Features of weathering steel
Phosphorus, copper, nickel, silicon, and chromium are the chemical components of weathering steel, a type of steel alloy that forms an adhering protective rust 'patina' when exposed to corrosive conditions. This shielding layer prevents corrosion and additional rusting of the steel.
Patina is less porous than the rust layers that occur on other kinds of structural steel. This barrier against further access from oxygen, moisture, and contaminants grows and regenerates with the weather.
Corrosion rate
It is not necessary to paint steel structures to protect them from the weather. For instance, a bridge made of unpainted weathering steel can last its intended 120 years with no upkeep. Consequently, a well-designed weathering steel building is a desirable, inexpensive, and low-maintenance solution.
Bridges, load-bearing structures, utility towers, guide rails, decorative sculptures, facades, and roofing are all made of weathering steel.
Advantages
Ideal for bridges and other structures where access is challenging or risky
Cost-saving measures include minimum maintenance with no requirement for protective painting
Environmental advantages are that there would be paint-related volatile organic compounds or blast-cleaning waste from periodic maintenance
Speed of construction as without onsite painting activities, overall construction time is low
Advantage of mature weathering steel's propensity to merge harmoniously with its surroundings as it ages
Ideal conditions
Extreme coastal conditions and humid subtropical temperatures are not suited for weathering steel because the patina corrodes further rather than stabilising the protective layer.
For the patina coating to remain intact, alternate damp and dry conditions are necessary. In the absence of this circumstance, corrosion occurs at a rate akin to that of regular structural steel. Specialised welding is needed for fabricating steel that will weather.
Why is weathering steel so popular?
Its strength, durability, usefulness, and aesthetic appeal support its desirability as a sustainable construction material. Compared to galvanised steel sheet, which has a tensile strength of 45–64 kilo pounds per square inch (KSI), this material can sustain greater forces with a tensile strength of 68-78 KSI before buckling or breaking.
In most situations, the naturally existing protective oxidised layer prevents corrosion. New steel that is exposed when the oxidised layer is scratched will quickly oxidise and disappear into the background of the surface.
The raw, organic beauty of its patina, which melds naturally with other natural materials such as wood and stone and offers a striking contrast to the lushness of surrounding greenery, is the main factor behind its popularity in landscape architecture and other permanent buildings.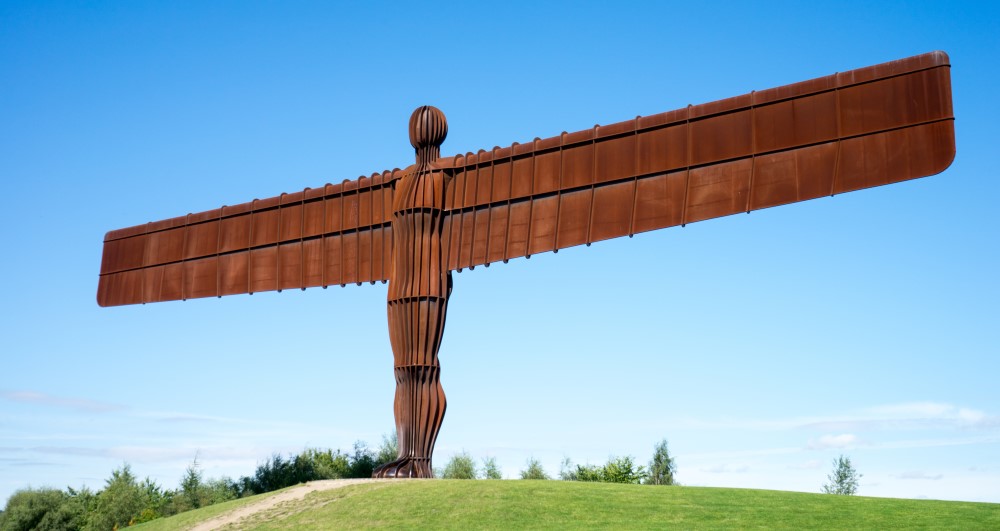 Iconic 'Angel of the North' sculpture
One of the most iconic structures in the world constructed of weathering steel is the 'Angel of the North'. This contemporary sculpture, by Antony Gormley, was completed in 1998 and is located in the north of England, near Gateshead.
Believed to be the largest sculpture of an angel in the world, more than 33m people view it every year owing to its proximity to several of the country's major trunk routes, namely the A1, the A167, and the East Coast Main railway line between the north and south.
With a 54m (177 ft) wingspan, wider than a Boeing 757, and standing 20m (66 ft) tall, it was visible over long distances. Its stability was down to its vertical ribs on the body and wings, which act as almost an exoskeleton, that directs wind towards the sculpture's foundations, enabling it to withstand wind speeds of over 100mph (160 km/h).
What is SSAB weathering steel?
SSAB has been manufacturing weathering steel for many years. It is a high-strength, low-alloy, weldable structural steel with exceptional corrosion resistance. As with all such steel, it develops a patina layer as a coat for any structure, making it environmentally friendlier compared to traditional steel.
A combination of weather resistance and workshop performance makes the product a cost-efficient corrosion-resistant steel with a wide range of applications.
A further benefit of using SSAB steel is that when you specify these high-strength grades for bridges, buildings, and other construction, rolling stock, or an artistic endeavour, lower quantities of steel can be used while maintaining high strength, superior weldability, lower life-cycle costs, and improved sustainability.
An SSAB weathering steel bridge on Lake Kuusijärvi – built to last
This visually striking and award-winning pedestrian bridge near Lake Kuusijärvi in Finland is corrosion-resistant, requires little maintenance, and helps to reduce lifecycle costs and carbon footprint.
A sustainable bridge that's built to last, blends in harmoniously with its natural surroundings and offers a solution to the triple constraints of time, quality, and cost. This is what the City of Vantaa was looking for when it commissioned a footbridge for a national park at Lake Kuusijärvi, just north of Helsinki in Finland.
Ramor 500W: SSAB weathering steel goes ballistic
SSAB is in the process of finalising the development of a new weathering steel product based on its renowned ballistic steel brand, which will be called Ramor 500W. Tough as ever, it will have the additional benefits of adding increased strength, durability, and giving a longer life to any structure where it might be used, owing to its high resistance to atmospheric corrosion
It has a nominal hardness of 500 HBW (new terminology for Brinell hardness) and a typical corrosion index of 7.3, according to ASTM G101-04, a measure to estimate the atmospheric corrosion resistance of low alloy steels. Delivered as quenched cut-to-length steel in thicknesses of 4.0mm – 6.5mm, these sheets are not intended for further heat treatment. Ramor 500W has according to G101-04, a typical corrosion index of 7.3.
The delivered condition is quenched, and the Ramor sheets are not intended for further heat treatment. SSAB will not guarantee performance levels if, for any reason, it is heated above 180°C after delivery. Still in limited production, delivery schedules and quantities have to be agreed upon on a case-by-case basis.
Download the webinar presentation below to gain a deeper understanding of SSAB's weathering ballistic steel products and their applications