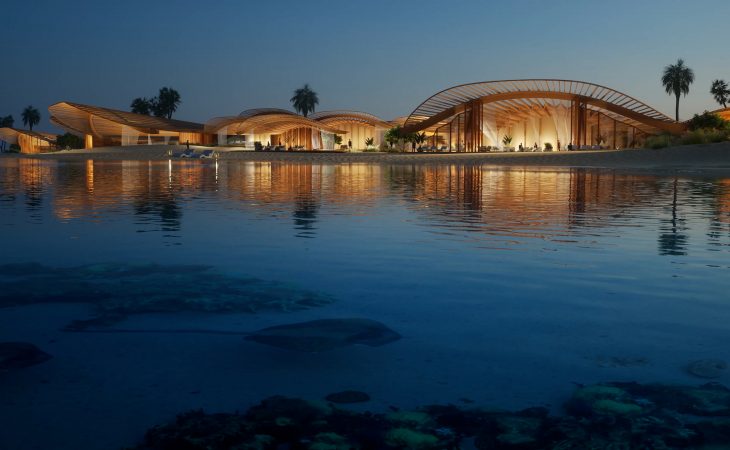 Few names evoke a greater sense of adventure and discovery than Jack Cousteau. It therefore seems fitting that, upon first becoming involved with the Red Sea Project, Gerard Evenden soon turned to the legacy of history's most renowned conservationist and oceanographer.
"Felipe Cousteau, grandson of Jack, is an old friend of the practise," explains the senior executive partner at Foster + Partners. "I called him when the project first arose and asked: 'What can you tell me about the Red Sea?' It's one of the most significant places on Earth for oceanography and research, he told me; a place that could help answer problems and inform solutions around the world."
From Abu Dhabi's World Trade Centre to the Hearst Tower in New York, Evenden is no stranger to working on pioneering projects with global impact, but the architect is clearly inspired by the sheer potential of this unspoiled, sprawling archipelago of more than 90 islands along the west coast of Saudi Arabia.
"You have this ultimate sense of isolation, this feeling that you're standing where few people have stood before," Evenden says of the site. "We knew that, whatever we ended up doing, it had to be unique. I was quickly struck by just how much this project could achieve.
Paving the way
Evenden is leading Foster + Partners' work on what has been described as the world's most ambitious regenerative tourism project.  Home to the fourth largest coral reef system on the planet, and incredible levels of unspoiled biodiversity, a sense of responsibility to protect and enhance place permeates all design decisions. The project also works as something of an incubator for new ideas around sustainable development that could reach well beyond the Middle East.
"Our first goal was working out how we could construct in this virgin landscape without damaging it," recalls Evenden. "We developed this idea of 'light touch', and started to think, if we could get light touch right in this context, then we might actually begin to change the way people think about constructing buildings elsewhere. It's a great opportunity to develop and harness knowledge and new ways of thinking, which can then be shared with the wider world."
New opportunities
 This approach is clearly evident in Foster + Parters' designs for Coral Bloom, a colourful ecosystem of luxury resorts that form the main island of Shurayrah, and Red Sea International Airport, located 15 km inland. Both scheduled to start receiving travellers in 2022.
The Red Sea Project will be powered entirely by renewable energy and Evenden has been keen to ensure that his practise's work makes as much use of local resources as possible, such as leveraging the region's status as a world leader in the production of carbon fibre. A significant proportion of construction is also being completed off-site, requiring the presence of fewer workers, minimising environmental disruption, while ensuring factory fabrication quality.
"It starts with the big picture renewables vision and that feeds into reducing everything else down," the architect explains. "The lighter you build, the less material you're using and the more locally you source, the less carbon emitted. It's not about making sacrifices; it's thinking creatively."
Beyond preservation
Identified as an island suited for development following an extensive marine spatial planning exercise, Shurayrah still poses significant challenges when it came to creative thinking. "We could have built beautiful beaches all around the edges, but that would have destroyed the eco-systems there," says Evenden. "So we decided to cut through the island and create a lagoon which will then develop new eco-systems – it's all about enhancement, rather than removal."
Interestingly, such is their commitment to respecting its natural state, Evenden and his colleagues rejected engineering solutions to resist rising sea levels.
"We're not trying to fight it," he explains. "Instead, we thought about where the sea levels will be in 50 years' time and placed the buildings far enough back from the edge, or positioned them on high enough stilts that it isn't going to be a problem."
In fact, Evenden's wish is for the island to evolve and adapt with minimal human intervention. "We were very interested in the lifecycle," he says. "Guests will return at different stages of their lives – to get married, then ten years later with their kids, and later in retirement. The site should also be seen to develop during this time; a living, changing space that goes through different life phases."
At the heart of Foster + Partners' designs is the desire to ensure guests feel like they're active participants in this living space, generating what Evenden calls a "barefoot" experience. The structures, he says, should almost feel as though they have washed ashore like drftwood; individual components that come together to create a unified whole, evoking a coral system.
Creating a sense of place is more of a challenge when tackling an international airport, but Evenden insists that similar driving principles applied.
"It couldn't be something big and shiny," he says. "Instead, it's earthy, the colour of the sand – something that can sit and mature in the landscape. The planes pull up underneath a canopy, passengers disembark into the fresh air. They move through a series of sensory experiences so that by the time they arrive at the resort itself, they feel prepared for that barefoot condition."
Global connections
 Evenden has seen first-hand the powerful role mega projects can play in transforming a location's profile. More than 25 years ago, he worked on the Bilbao metro project – shortly before the city's centrepiece museum was built and "The Guggenheim Effect" became shorthand for architecture's regenerative power.
"The city was in a derelict state," the senior partner recalls. "We built two metro lines and saw them transform Bilbao by connecting people within the city. The arrival of the Guggenheim brought more people – it was about trying to regenerate a culture which existed in the Basque country."
Despite the virgin nature of the Red Sea site, Evenden sees strong parallels, with the project a way of "really connecting Saudi Arabia to the world through infrastructure".
It is also connecting the global traveller to an increasingly powerful message around regeneration and responsible tourism. "People are changing – they want to visit places where they feel they can learn and give something back," he says. "Red Sea is on such a scale that it can't help but inform the wider discussion around how tourism can deliver that."
It is a sentiment, and sense of ambition, of which Jack Cousteau would surely approve.