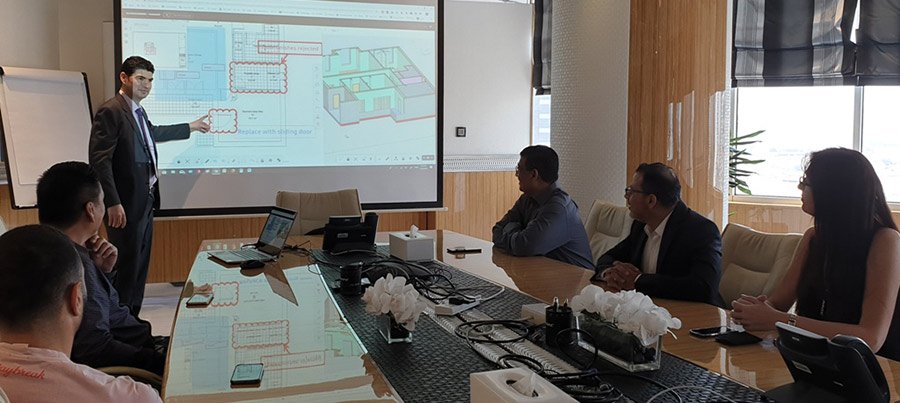 While building techniques are not universal, building industry challenges almost always are. We may be working with the same approximate goals and a similar set of tools and materials, but we're not all on the same page when it comes to the best way to elevate quality and boost efficiency, even at the regional level.
This was the challenge that faced DAMAC Properties (DAMAC), a custom developer in the United Arab Emirates (UAE) that has been working to bring their unique vision for luxury accommodations – residential, shopping malls and villas – to the broader market. DAMAC is striving to bring BIM in construction to the building industry in and around Dubai and looks to harness the power of new technology to help achieve this goal.
Implementation Strategy: A Roadmap to Success
DAMAC has been driving the initiative to integrate BIM into the design, construction and facility management stages of construction within their organization for the last year. First, they developed a BIM strategy and roadmap and then worked with Autodesk Customer Success to train internal and external workers on Autodesk Revit, Autodesk BIM 360 Docs and Autodesk BIM 360 Design.
The construction industry carries risk due to uncertainties in the project stages, less use of technology and lack of training. Therefore, the transition to new technology can be challenging. However, with most consultants using Revit and Navisworks, it was a natural transition.
DAMAC knew that in order to bring the power of BIM into the industry fully, they would need an organized plan built around the idea of promoting and maintaining BIM usage amongst many stakeholders. The plan included:
Develop a BIM integration strategy for projects and between departments
Select the correct, most versatile software solution for a common data environment for data accuracy
Create a comprehensive training strategy for staff
Outline specific steps to increase BIM awareness of Senior Management and Department Heads
Train external subcontractors, designers and trade workers to adopt the DAMAC BIM System
Modify the business workflow and create documents to accommodate the new strategy and requirements
Identify the benefits of BIM Technology from the client (developer) perspective and develop automated tools to increase time and cost savings
This strategy has been the backbone for elevating BIM usage within the company and continues to have a ripple effect across the industry in the UAE.
"Through the implementation of BIM, we eliminated the risk of human error, which supported estimation and budgeting, leading to better overall cost management," says Bothayna Tawfik, Vice President-Design at DAMAC.
BIM In Construction: The Rising Tide
The UAE is still discovering the possibilities that BIM in construction can create, and there is a high demand for consultants, contractors and developers who are fluent in the use of these digital tools. This demand makes training a vital part of the regional upskilling that DAMAC is leading.
One of the challenges that DAMAC has faced is skill loss, particularly at the end of projects, where consultants and contractors who were working with BIM throughout the project move on after completion and go back to their old ways of doing things.
To fight this skill-loss, they've been bringing BIM standardization and continuous training across the industry to elevate awareness of BIM's potential. Talking about time savings, standardization and the ease of collaboration was a big part of this discussion.
"One of the key factors in software implementation is long-term support from the software supplier," says Ibrahim Saad, Implementation Director at DAMAC.
Autodesk Construction Customer Success and Sales Teams have also partnered with DAMAC to continue training and feedback sessions to ensure adoption across the industry to shape the future of digital construction in the UAE
As it always is with new tools, there have been those who are slow to adopt, and the DAMAC team has spent almost as much time getting contractors on board as they have training them, but their efforts have proven worthwhile.
Projects: Success and Growth in a Fast-Moving Market
DAMAC began the integration of BIM on three of their projects as a way of exploring the power of the software. The ZADA project, a 830,000 sqft residential tower; the VERA project, another residential tower coming in at over 700,000 sqft; and the Paramount Tower project, a mixed-use project that combines three towers of luxury living with a fourth tower featuring an 800 room hotel, comprising almost 4 million sqft. These premier projects, all in Dubai, were the pilot programs that proved the concept and showed the ROI of adopting BIM in construction.
Upon realizing over 70% time-savings through the BIM implementation, DAMAC quickly moved on to integrate BIM on ten additional projects.
The increases in efficiency, reduction of errors and elevation of standards are making BIM a vital part of construction in the region, and DAMAC continues to lead the way in driving digital integration through collaboration with partner firms and providing comprehensive training in BIM software tools and techniques.