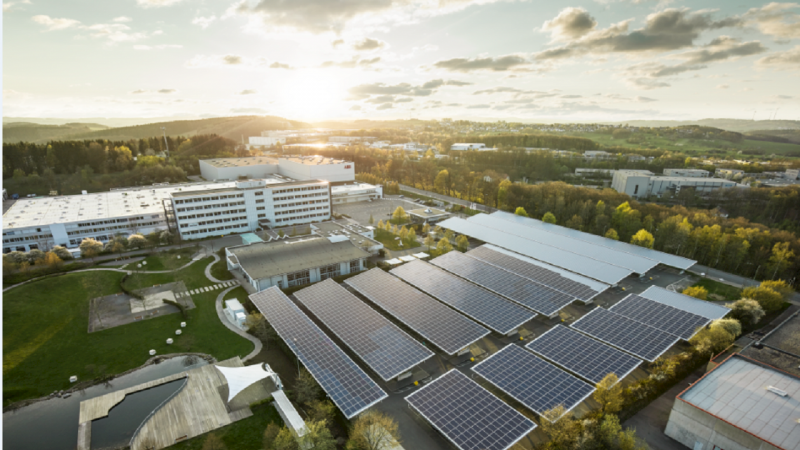 With its "Mission to Zero", leader in digital technology ABB is driving the transition from fossil fuels.
After a two-year design and construction phase, ABB presented its first CO2-neutral production site in Germany last month. As a visible sign of intent, the company is commissioning a solar power plant at its subsidiary Busch-Jaeger in Luedenscheid.
ABB offers products and services that make a decisive contribution toward greater sustainability in industry. Over half of ABB's worldwide revenues are generated by technologies that combat the causes of climate change. The company's goal is to increase this contribution from 57% in 2018 to 60% by 2020.
"The photovoltaic system is part of an integrated solution that covers all aspects of energy production and distribution, making it possible to generate enough power to cover on sunny days 100% of its power requirements," says Tarak Mehta, President of the Electrification business at ABB.
"With this state-of-the-art site, we demonstrate the advantages of creating a system in which all components are digitally networked and controllable. This intelligent ecosystem enhances energy efficiency, sustainability and resource conservation, enabling a genuine zero emission future for industry and beyond."
Trailblazing green technologies
The site is the ABB group's first CO2-neutral and energy self-sufficient factory in the world.
Nico Rosberg, who is now actively involved in the fully electric ABB FIA Formula E Championship after his retirement from Formula 1, and also co-founded the Greentech Festival which will take place in Berlin soon, added: "The best thing we can do to make our world fit for the future is to implement trailblazing green technologies.
"The ABB solutions in Luedenscheid exemplify how the typical requirements of a complete industrial site can be met in a manner that conserves our resources by using them as efficiently as possible."
Measuring 3,500sqm and installed over the car parks on the company premises, the photovoltaic system will deliver around 1100MWh of climate-neutral solar power a year. That's approximately the annual requirement of 340 private households.
In combination with a cogeneration plant, which operates with double the energy efficiency of a coal-fired power plant, around 14% more energy can be generated than is needed at the site. The surplus power is fed into the public grid, contributing to the region's power supply with sustainably produced energy.
Shared solutions for sustainability
To cover peaks in demand, additional green energy is sourced from MVV Energie AG, which guarantees 100% CO2-neutral production.
MVV and ABB extended their cooperation and signed a partnership agreement in April with the primary focus on shared solutions for the sustainable improvement of energy efficiency in industry, medium-sized companies and municipalities on the way to establishing a "smart city".
The cooperation between the two companies is not only about the avoidance of CO2 emissions and the economic marketing of available flexibilities in the energy sector, but also about the design of future cities through innovative technologies, such as storage solutions and charging infrastructure for electric vehicles.
"The best thing we can do to make our world fit for the future is to implement trailblazing green technologies."
Only a few weeks ago, the transport company Hamburger Hochbahn AG placed an order with ABB for the delivery of 44 charging systems for electric buses at what is currently Germany's largest charging depot for electric buses.
The technological centrepiece of the entire system in Luedenscheid is the scalable energy management system OPTIMAX® from the ABB AbilityTM Energy Management Suite.
The digital solution provides for the constant surveillance and optimum control of energy production, consumption and storage and operates largely autonomously. This learning system calculates the optimum energy flow on the basis of predictive data and compensates for deviations in real time.
Significant CO2 savings
Aside from the energy management system and the photovoltaic system with inverters, the entire system brings together other ABB technologies that are digitally interconnected.
For example, a battery energy storage system (BESS) with an output of 200kW and a capacity of 275kWh is responsible for energy storage. In addition, ABB charging points, where staff and visitors can charge their electric vehicles free of charge, provide for an additional improvement in the regional eco-balance. This single-source energy management solution is rounded off by smart switchgear for energy distribution.
The flagship site will save about 630t of CO2 a year and hence make an important contribution to help improve the climate and environmental situation at ABB in Luedenscheid.
ABB (ABBN: SIX Swiss Ex) is a pioneering technology leader with a comprehensive offering for digital industries. With a history of innovation spanning more than 130 years, ABB is today a leader in digital industries with four customer-focused, globally leading businesses: Electrification, Industrial Automation, Motion, and Robotics & Discrete Automation, supported by its common ABB Ability™ digital platform.
ABB's market leading Power Grids business will be divested to Hitachi in 2020. ABB operates in more than 100 countries with about 147,000 employees.