The Wangjing SOHO Complex consists of three curvilinear towers shaped like mountain peaks. Image courtesy of Virgile Simon Bertrand.
The project was designed by Zaha Hadid Architects. Image courtesy of Virgile Simon Bertrand.
The building complex was opened in September 2014 and houses office and commercial spaces. Image courtesy of Virgile Simon Bertrand.
The lobbies of the towers have a 10m-high ceiling. Image courtesy of Virgile Simon Bertrand.
The facade of the towers is made from white aluminium panels and a dual-glazed window wall system. Image courtesy of Virgile Simon Bertrand.
Four landscape-themed gardens spanning 50,000m² provide recreational facilities. Image courtesy of Virgile Simon Bertrand.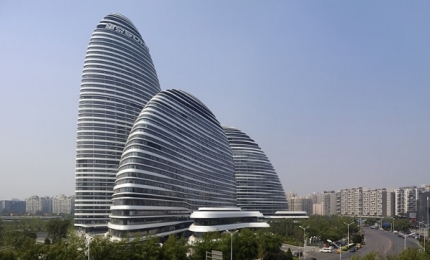 Wangjing SOHO is a mixed-use complex in north-east Beijing, China, which was developed by Chinese real estate company, SOHO China.
The iconic building complex, consisting of three towers measuring 118m, 127m and 200m in height, was inaugurated in September 2014. It is located in Wangjing, one of fastest-growing business districts in Beijing and a hub for IT and telecommunications firms, as well as technology start-ups.
UK-based Zaha Hadid Architects unveiled the building's design in 2011. The complex is built on an 115,393m² fan-shaped site next to the main road connecting Beijing Capital Airport to the city centre. Wangjing SOHO is the first tall landmark architecture visible on the route.
Wangjing SOHO is one of three projects developed by Zaha Hadid for SOHO China. The other two projects are Galaxy SOHO in Beijing and Sky SOHO in Shanghai.
Design features of Wangjing SOHO
The Wangjing SOHO towers feature a fluid design inspired by the movement of the sun, wind and the surrounding city. From the ground level, the curvilinear towers resemble interweaving mountain peaks, gigantic pebbles or Chinese fans while its aerial view resembles three swimming fishes.
"Wangjing SOHO is one of three projects developed by Zaha Hadid for SOHO China."
The towers are 'ever-changing', appearing as individual buildings from certain directions and connected from other angles. They are oriented in such a way to direct people to the various transport links surrounding the structures.
The towers house flexible, open concept office spaces ranging from 1,100m² to 2,200m² in size, where windows open to enable natural ventilation. Ribbons of glass and aluminium wrap the exterior of the towers which, along with their tapering section, allow daylight into the building from all directions.
The towers are surrounded by a public park to the south and landscaped gardens to the north, with activity zones and water features to the east and west. Each tower has a large entrance lobby with a 10m-high ceiling. The lobbies extend through the buildings and open into a central plaza and shopping street.
The four themed landscaped gardens span 50,000m² and include a sports area, recreational theatre, art sculptures and waterscape.
Construction
Construction of the mixed-use complex began in 2011. Towers 1 and 2 were completed by the end of 2013 and Tower 3 was completed in September 2014.
The exterior of the building comprises a window wall system with double-insulated, unitised low-E glass. The external louvers are made from curved horizontal ribbons of custom-designed white aluminium panels of varying heights, widths and depths. The interiors are made with low volatile organic compounds (VOC) to keep the air fresh.
Facilities in the mixed-use complex
The three towers of Wangjing SOHO have a gross floor area of 521,265m², which includes above-ground floor area of 392,265m². The four levels below ground have a combined area of 129,000m². With 43 levels reaching to a height of 200m, Tower 3 is the tallest of the three towers.
The three towers have a combined office space of 364,169m². Towers 1 and 2 include approximately 240,597m² of office area and 42,607m² of retail area. Tower 3 comprises 37 floors of office space, measuring 123,573m², and 4,322m² of retail area.
The retail spaces are mainly in the B1, F1 and F2 levels, and comprise shopping outlets, restaurants and cafes. Three other underground levels B2, B3 and B4 provide parking space for 150,000 cars and 8,256 bicycles.
While T3 has a reception area of 1,100m², T1 and T2 have a reception area of approximately 2,200m² and 1,700m² respectively, as well as two and three-storey reception halls.
---
---
Galaxy Soho is an 18-storey mixed-use entertainment, office and retail complex, which opened in November 2012 in Chaoyangmen, Beijing, China.
---
The complex includes 81 office elevators and 16 elevator halls equipped with access control systems.
Approximately 88% of the office space range from 100m² to 400m² and can be customised to cater to individual investors and start-ups, with a provision for future expansion.
Sustainable features
The building is designed in accordance with the US Green Building LEED certification standards and has obtained LEED Gold pre-certification.
The high-performance glass curtain wall system and dual silver low-E glass reduce artificial heating and cooling requirements. Approximately 40% of the water is recycled and reused. Other sustainable features include energy-efficient control sensors, energy monitoring systems, heat recovery from the exhaust air and high-efficiency fans, pumps, boilers and chillers.
Contractors involved
Zaha Hadid designed the building in association with Patrik Schumacher. China Construction Design International (CCDI) served as the local architect for the complex, while Ecoland along with Zaha Hadid Architects designed the landscape.
China State Construction Engineering Corporation was the main contractor for the project. Arup in association with CCDI were the mechanical, electrical and plumbing (MEP) engineers. The structural engineering services were provided by China Academy of Building Research along with CCDI.
The building's façade was designed by Arup and Inhabit Living Engineering. The lighting system of the building was provided by LIGHTDESIGN.
Wuhan Lingyun Building Decoration Engineering provided the cladding material while Fujitec supplied the elevators and escalators.