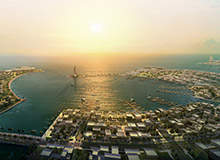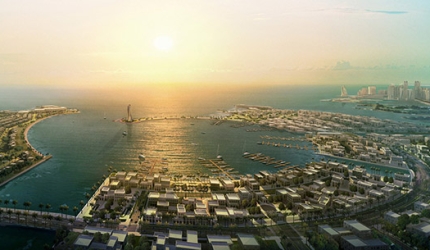 Lusail is a new city under construction in Qatar. It is the first green city being built in the country and the largest development that has been undertaken.
Lusail Real Estate Development Company (LREDC), a subsidiary of Qatari Diar Real Estate Investment Company, is responsible for the development, construction, marketing and management of the city. The total cost of the project is approximately $45bn.
Lusail City is being developed as part of Qatar 2030, the national vision for 2030. Construction started in 2006 and is expected to be completed by 2019. Lusail City, once completed, will have an estimated population of 450,000, made up of 200,000 residents, 170,000 employees and over 80,000 visitors.
In October 2012, Lusail City was selected as the best mixed-use development at the International Property Awards, Arabia.
Features of Lusail City
"Lusail City, once completed, will have an estimated population of 450,000."
Lusail City, one of the largest commercial projects of Middle East, is a coastal city located 22km to the north of Doha. It will be spread over an area of 38km², with a waterfront location stretching over 28km.
The city is designed to have facilities for work, leisure and recreational activities to provide a comfortable life. It will consist of 19 mixed-used entertainment, commercial and residential districts. It will feature four islands, a blue lagoon with two marinas, 25,000 residential buildings, high and low-rise buildings, a business square, which is a 20-storey mixed use tower, and low-rise buildings Piazza 1 and Piazza 2.
Lusail City will also feature commercial towers, hospitals, ports, two golf courses, five stadiums, a commercial park for energy firms, retail spaces, schools, mosques, medical services, sports, entertainment, public avenues, recreational areas, cultural centres and shopping centres. It will also have 22 hotels with international standards.
Some of the major elements of the city include the Marina District, Energy City Qatar, Entertainment City and the Fox Hills residential area.
Energy City Qatar is the first full-fledged oil and gas hub of the region. Qatar has been chosen to host World Cup 2022 games. A key development undertaken in this respect in the city is Lusail Iconic Stadium with a capacity of more than 80,000 seats.
Marina District is one of the 19 integrated districts planned in the Lusail City. It will include waterfront residential and mixed-use, commercial and hotel facilities in approximately 1.8 million m² (19.3 million ft²).
Lusail City design
Lusail City has a unique design with comprehensive planning that has taken into account all the possible disruptions during the construction and maintenance of the city without deterring daily life.
The city will have underground tunnels for maintenance works and underground gas networks. For the first time in the nation, electricity will be supplied to the city through a network of purpose-built stations and underground substations.
The smart city will employ the latest technologies to create a peaceful and safe environment. An operational control centre will control the entire systems and activities functioning through the city. A centralised command and control centre will provide surveillance through the city round the clock to retain the peace.
The parking will be designed to be equally accessible to both residents and tourists. The car parking will be connected by ten underground pedestrian tunnels located throughout the city. Water taxis will also be used to travel through the waterfront.
---
Related project
---
Qatar National Convention Centre (QNCC), Qatar Share on facebookShare on twitterShare on emailShare on printMore Sharing Services9 Key Data Type Convention centre Location Qatar Foundation Education City, Doha, Qatar Estimated investment $1.2bn Development area 177,000m² Completion 2011 Client Qatar Foundation Operator AEG Ogden . The Qatar National Convention Centre (QNCC) will be a new landmark building and the largest of its kind in the Middle East when opened in 2011. The convention centre is being built in Doha as part of the Qatar Foundation Education City. Qatar Foundation is a non-profit organisation founded by Emir of the State of Qatar Sheikh Hamad Bin Khalifa Al-Thani in 1995.
---
Transport facilities in the Lusail City
Several transportation modes will be available in the city. It will include a light rail network (LRT), water taxi system, and cycle and pedestrian network. The Light Rail Transit system will be constructed to connect the city to Doha in the future and also to other countries in the Arab Gulf.
The planned transit network will be composed of 36 stations and four main tram lines located both above ground and underground, stretching for a length of 30.5km. A rail network will be constructed in the future, connecting the Doha Metro Network at an interchange on AlKhor highway.
The highway is carefully designed to provide connectivity to AlKhor highway and fast access to Doha and its international airport. Bicycle and pedestrians routes are planned throughout the city, which connect to the light rail system, car parks and railway interchange.
Sustainability features of Lusail City
Lusail City will be built as per Qatar Sustainability Assessment System (QSAS) standards. The green city will utilise underground tunnels, which will carry chilled water pipes to provide cooling to the buildings in an environmentally friendly and energy efficient manner.
The city will be hygienic as all waste reaches the recycling site through a vacuum network. Sewerage will be transported through underground pipes to the treatment station outside the city, where it will be treated and all waste grey water will be used for watering the green open spaces in the city.
Construction details of the first green city in Qatar
Construction of the entire city is divided into 12 phases, which are being carried out through 12 construction packages (CP1 to CP12).
The major construction projects that are part of the Lusail City development include Al-Khor Highway, Lusail Expressway, Lusail Light Rail Transit, Al-Sidra Golf Residential Development, Lusail mixed-used development, Lusail Entertainment City, Lusail Iconic Stadium, Qetaifan Islands (residential development), and Medical and Education District.
Key players involved with the Lusail smart city development
The three main consultants of the project are Hyder Consulting, Halcrow (CH2M Hill), and Cowi & Partners. Parsons Corporation is the project manager. Germany-based Hochtief is in charge of providing planning and construction services. AECOM is responsible for infrastructure development works.
In early 2012, Samsung C&T Engineering & Construction Group of South Korea was awarded a $296m contract to build one of the primary roads in the city. Dorsch Gruppe is providing supervision and consultancy services contract for the project under a contract signed in April 2012.
"The total cost of the project is approximately $45bn."
In October 2012, Lusail Real Estate Development Company (LREDC) awarded a contract to Al Jaber & Partners (AJP) for the construction of highways, roadway structures, intersections and utility networks as part of construction package six of the city's development.
In April 2011, Draieh Contracting received $164m contract from Damac Properties to construct the Business Square, Piazza 1 and Piazza 2 developments. In the same month, Parsons and AECOM entered into a five-year contract with Qatar Railways Development Company to serve as a project manager and consultant for the light rail transit system in Lusail.
In 2006, China-based Sinohydro was awarded the contract for the marine, earth work and site preparation as part of construction package one of the project.