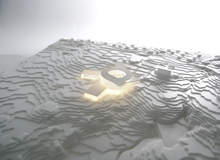 The Faroe Islands Education Centre in Torshavn will be the largest building on the islands when it is completed in 2014. The centre will serve the region as an educational institution by combining the Faroe Islands secondary school, Torshavn's Technical College and the Business College of the Faroe Islands in one building.
It will be a base for all future educational programmes in the region. The building can house about 1,200 students and 300 teachers.
The education centre has been designed by Faroe Islands architects Fuglark and Danish architects Bjarke Ingels Group in collaboration with Lemming & Eriksson, KJ Elrád, Sámal Johannesen, Martin E Leo and Radgevandi Verkfroedingar.
The winning design was chosen from five submissions in December 2009. It was judged by the representatives of the Ministry of Culture, the independent engineering and planning firm COWI, and the principals of the schools. The project has been allocated a budget of €53m ($76m).
"The Faroe Islands Education Centre in Torshavn will be the largest building on the islands when it is completed in 2014."
Design
The centre will offer panoramic views of the sea, the harbour of Torshavn and local surroundings. The building will be integrated in the sloped landscape to form a town square.
The centre of the building will act as a gathering point for the three schools to create a sense of community. The ceiling of the rotunda will comprise a series of circular structures that will be made up of a series of identical concrete elements. The cantilevering classrooms will be supported by steel trusses.
Structure
The centre will be a vortex shape. The cantilevering floors of the vortex are twisted and will spiral from the centre of the building, creating the rotunda space.
The 19,200m2 building will have five floors, each of which will open onto an atrium. The atrium will provide a diagonal view of the landscape.
The interiors, such as stairwells and terraces, will be stepped structures reflecting the undulating landscape and alternating plateaus of the Faroe Islands.
Facilities and interior design
Each school will be organised as a separate facility. The schools will function independently and can be increased for future requirements.
The third floor will be used for athletics. The first and second floors will function as the Technical School. The ground floor will be the administrative core. The first floor will house the Business College of Style and Design and the second floor will be used for the Gymnasium Natural Science. The rotunda will have a cafeteria, a multi-purpose hall, a media centre, a group room and a library.