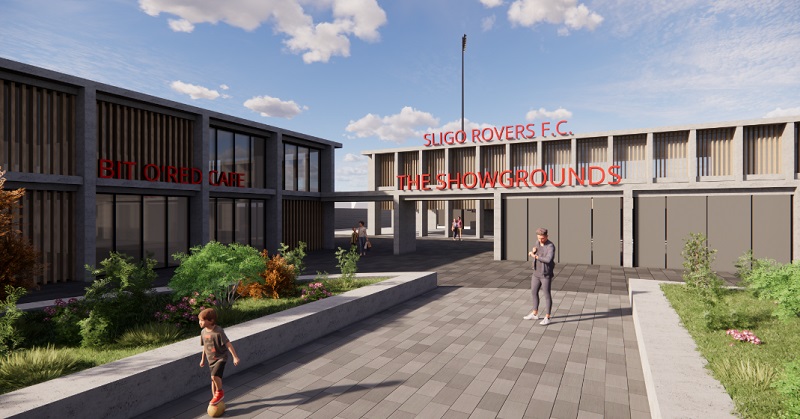 Irish professional football club Sligo Rovers has published a detailed masterplan for a €17.3m redevelopment of the Showgrounds stadium.
Prepared by Rhatigan Architects, the masterplan also includes the creation of an academy hub for the north-west region of Ireland.
The hub will have three playing pitches with associated dugouts, a single-storey building containing dressing rooms and other facilities.
The masterplan presents infrastructural design proposals for the future of Rovers and contains a detailed analysis of the economic, social and financial impact that the redevelopment could have on the club.
Sligo County Council and the Football Association of Ireland have endorsed the plan. Sligo LEADER provided funding to the club for its creation.
The redeveloped Showgrounds stadium will have a seated capacity of 6,000. The existing Tracey Avenue Stand and Railway End Stand will be retained with alterations to both.
Additionally, new stands would be constructed at the Church Hill Road End and in the place of the existing Jinks Avenue Stand.
The redevelopment will also include new floodlights, turnstiles, hospitality spaces, shops, corporate and sponsors facilities, offices, meeting rooms and upgraded media facilities, among others.
Furthermore, the stadium pitch would be extended and the playing surface changed to a hybrid pitch consisting of 95% natural grass.
Sligo Rovers is seeking land within the Sligo area to develop a home for the expanding academy.
The club has already carried out preliminary discussions with Sligo County Council and an eight-acre site is expected to cater to the needs of the expanding club size.
Sligo Rovers chairman Tommy Higgins said: "Today we present a vision that has been created not just over the last year but through the growth and enhancement of the club in its modern existence.
"In the future, we want to develop a facility that can raise standards even further across the board."